Published on
What Is Medium.com? Here's A 24-Minute Guide For 2021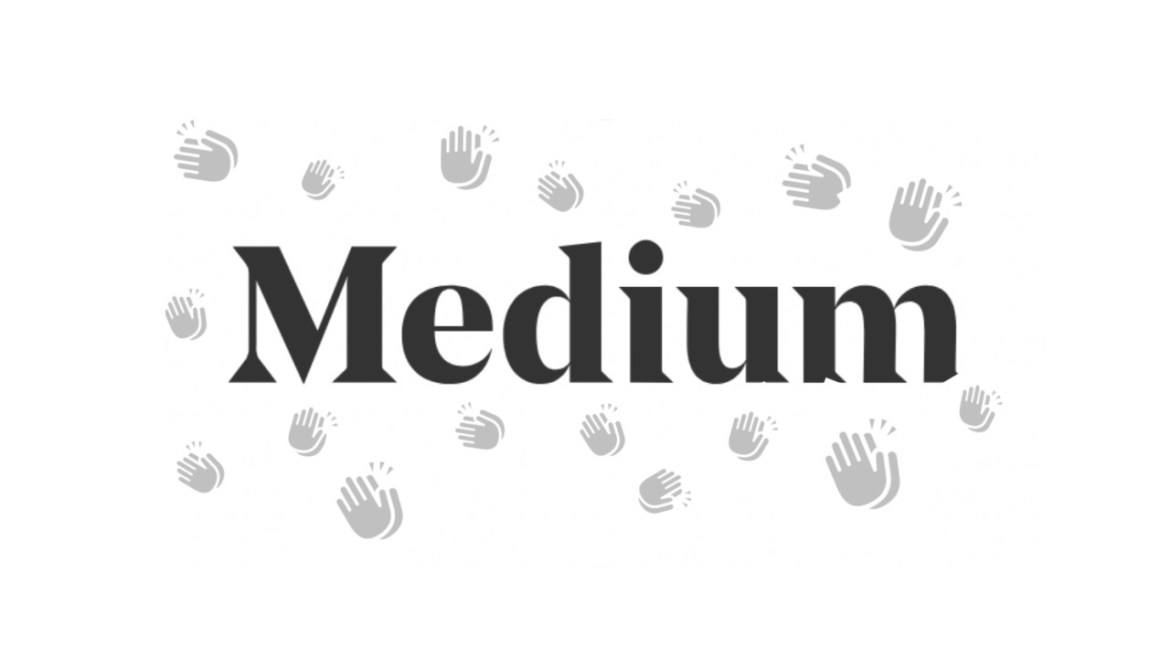 NOTE: If at any point you become lost in this guide, simply take a look at the table of contents (seen at the bottom or side or the screen).
What Is Medium?
So, what's Medium? Medum.com is an open writing platform where bloggers can write, publish, and promote their stories to a vast audience of millions both on and off Medium.
Created by Ev Williams and launched in 2012, Medium's calling card is a basic white background that lets the author's words shine (pictured below).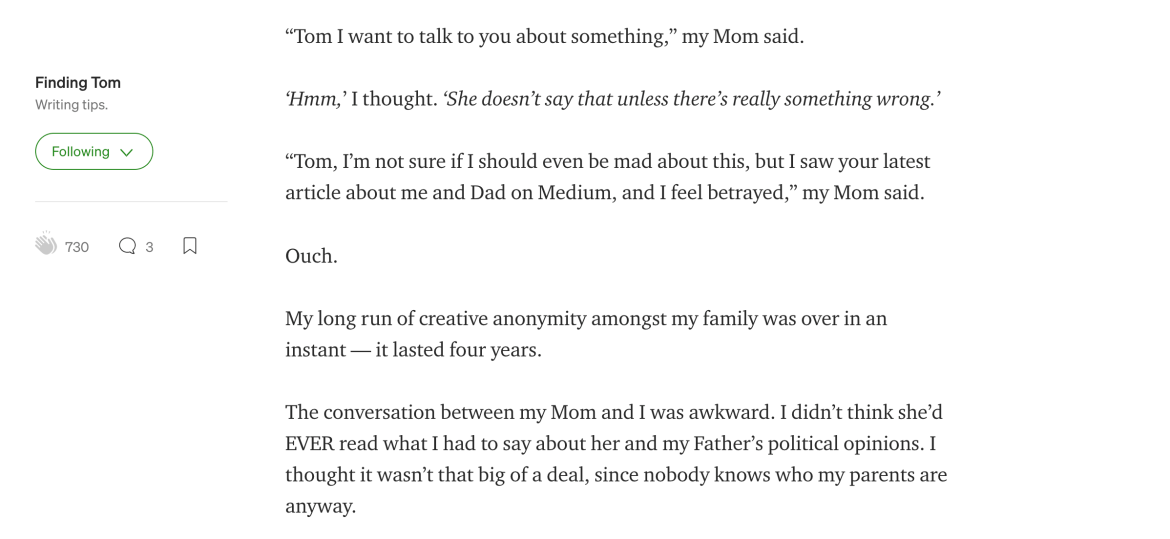 In a way, Medium is similar to Instagram in that it allows users to "follow" their favorite writers. For instance, I follow my friend Michael Thompson and get to see his latest posts on my Medium homepage.
Besides creating your own personal profile, you can also create publications on Medium that allow you to house the stories of many different writers under one brand.
The way that Medium makes money is by charging users a voluntary subscription fee to read unlimited locked stories on the platform. Users can decide for themselves whether they want to pay, but if they don't, they can only read three locked stories per month.
Some reports suggest Medium has 700,000 active subscriptions, putting the platform at $42,000,000 in yearly revenue.
Medium Mission Statement
This is the Medium mission statement:
"Medium's mission is to deepen readers' understanding of the world and to empower writers to share their best work and biggest ideas. We're a tight-knit group of 80 employees obsessing over our product that reaches 80 million readers every month. We're building a subscription publishing platform that connects expert writers with thoughtful readers. Our product allows the best ideas to rise to the top and elevates the most passionate, diverse voices. Our company culture reflects the same. We encourage employees to speak their mind, always do what's right for our users, and take ownership of their projects. We move quickly to get our ideas into the world, working in small, empowered teams, as we try to build a better place on the internet for ideas."
Medium Staff
Medium has a truly global workforce. There is a Medium office in San Francisco and another Medium office in New York City. Besides the Medium staff at these offices, there's a global team of Medium "curators" that work around the clock finding stories to distribute further on the platform.
Their choices determine which stories get views and which stories do not.
How many people work at Medium? It's impossible to know for sure, but we know that in 2017 Medium laid off 50 workers, which at the time was 1/3 of its workforce. My guess is Medium has anywhere from 100-200 staff members.
Even more recently, Ev Williams announced a pivot away from Medium's Editorial direction and offered buyouts to some 75 journalists and editors who were brought on to create and grow several publications on Medium.
Most of the workers took the buyouts without question, and what's weird is that Ev's decision to slash the Editorial Department came only months after news that a Medium Workers Union was being created.
Medium Audience
According to an article at The Verge, Medium's readers are 71 percent white, 55 percent male, and 53 percent make more than $100,000 a year. Despite this tidbit of knowledge, figuring out what the Medium user demographics really look like is difficult.
That data could've been taken from a form that a small percentage of folks filled out. Even still, that's our best guess at figuring out the Medium user demographics.
Medium Valuation
We've recently found out that Medium has over 700,000 paying subscribers, meaning Medium's valuation is somewhere near $42,000,000 per year.
Over the years Medium's raised some $132,000,000 in funding. Series A came in January 2014, Series B came in September 2015, and Series C came in April of 2016.
Is Medium.com Safe?
So, is Medium.com legit? Yes, it's safe for readers and writers alike. They've made payouts to tens of thousands of writers and served up fresh articles to hundreds of thousands of subscribers. Backed by the guy who literally founded Twitter, I'd say Medium.com is pretty safe.
Is Medium Good For Blogging?
Finally we get to the good part. Is Medium good for blogging? It's not just good, it's the best place to publish words on the internet right now. I've personally made some $40,000 with the Medium Partner Program, and my work has been read millions of times since I started in 2016. As of April 2021, I have 53,000 followers on the platform, and the reach there blows this blog you're reading right now out of the water.
Below is my most recent earnings statement for Medium:
To start a blog on your own, you have to worry about hosting and buying domain names and WordPress themes. Setting all of those things up takes days for the average internet user. On Medium, you can start a profile and begin blogging within ten minutes.
So, is Medium good for blogging? From an organic reach perspective, you can't beat it. And from an ease of use standpoint, you can get started writing there in 30 minutes. It's unbeatable.
Related Reading
How To Write On Medium
Okay, now that we have a bunch of information about Medium as a platform, how do you actually get started writing on Medium? Let's take a look.
How To Become A Medium Writer
The first step in how to become a Medium writer is to go make a profile.
Do that by clicking on the "Get Started" button up at the top right of the Medium homepage.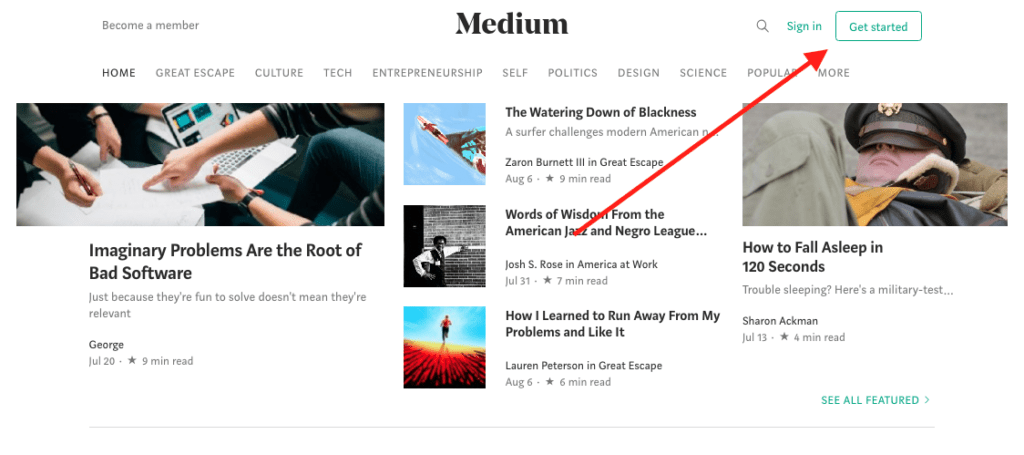 The next page asks you to create a Medium profile with either your Facebook or Google account. You can actually create a Medium account with email if you wanted to. "Sign up with Google" is the option to select if you want to use your gmail account to register on Medium.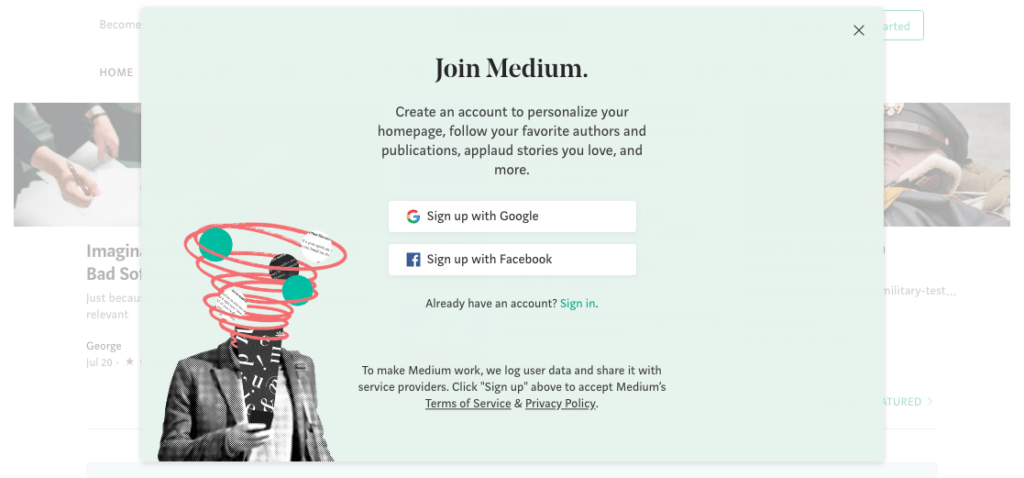 You'll see a bunch of screens over the next few seconds, and then you'll finally decide which topics and writers to "follow."
Once you get through that process, you'll land on the Medium homepage. From there, click on your profile picture in the top right. A dropdown menu will appear–from here just click "Design your profile."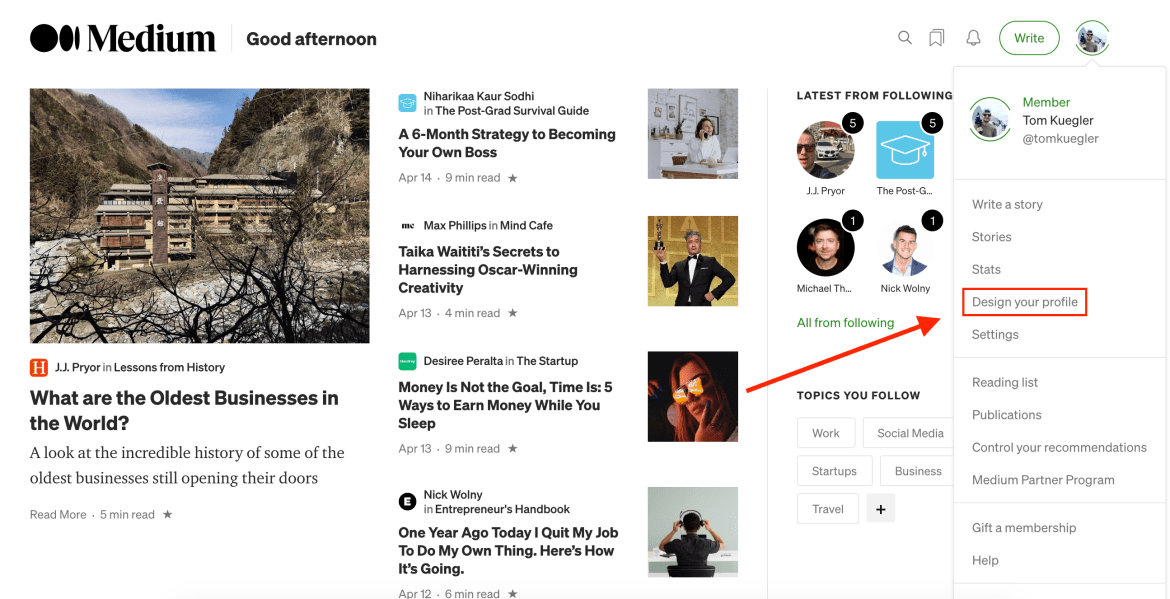 On the following screen, you can edit your profile page. On the left you'll see "Colors," "Fonts," and "Header."
Hit "Colors" with me. Here you'll see "Accent" and "Background." "Accent" just refers to the color of the "read more" button. It doesn't matter that much. Background refers to the actual background of your blog posts. I like to keep mine white to resemble the page of a book.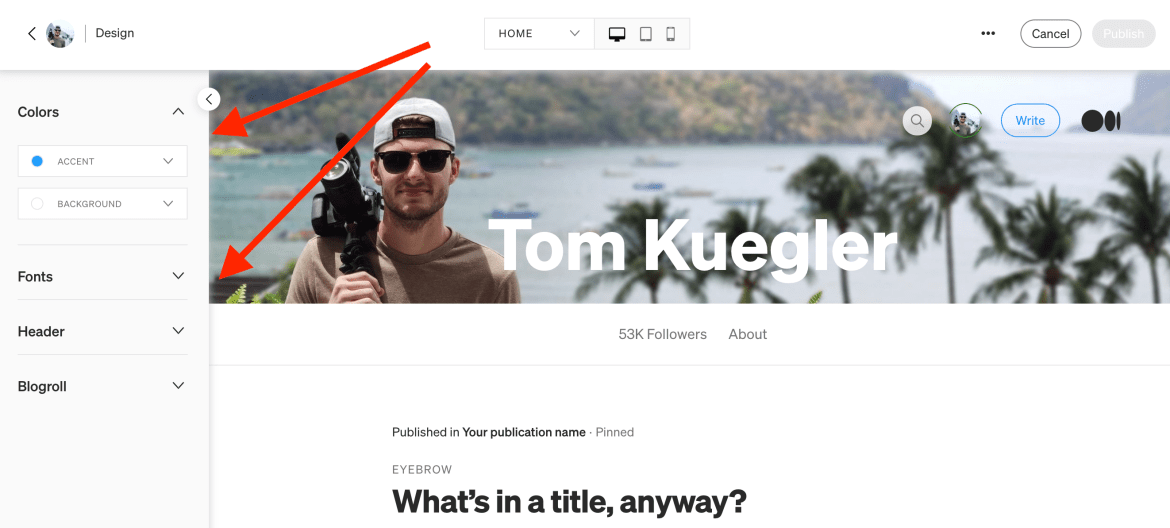 Next you have "Fonts" which control the font styles of your header, details, and body text. I like to keep everything AS IS but you can play around with what you like here.
Finally, we have "Header." This is the most important part for me. The "Layout" tab controls how big your name is and where it's placed at the top of the screen. Background refers to the color or image behind your name. For me, I uploaded an image of my own. I made sure it was an extremely wide image and tried to keep my face to the left of my name. You can go to the right of the name, too, like my friend Michael Thompson did. Use any popular photo editing tool to crop your image EXTREMELY wide to make your heading picture look best.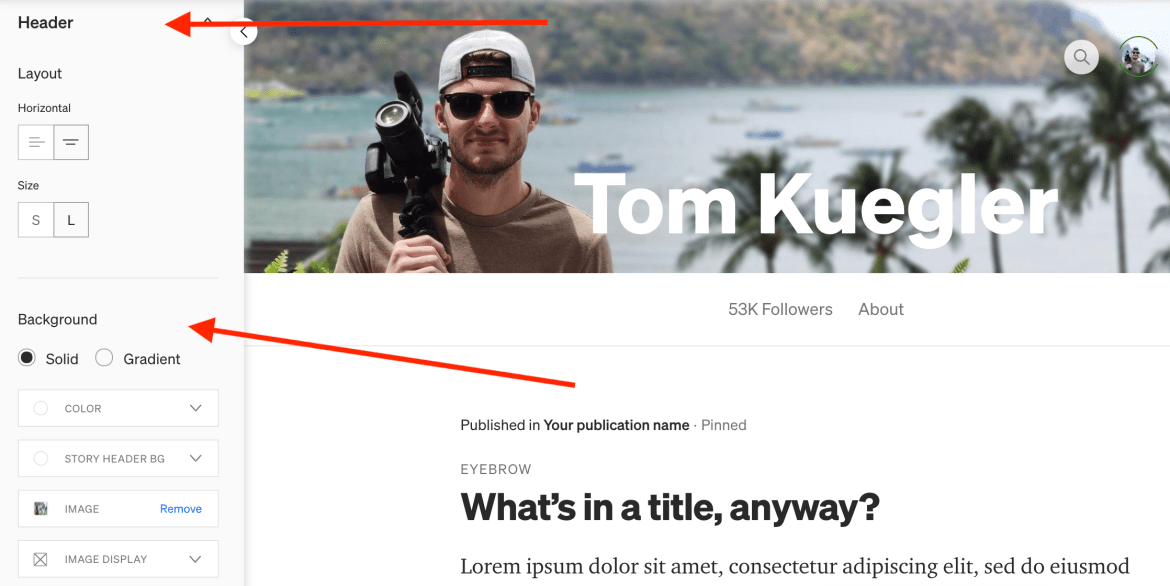 You could also use a color. Use the 'Color' tab to control that. If you use an image, upload the image under the Image tab. You can change the image composition with the "Image display" tab, making it a tile, fit, or fill. You can also change the position by hitting the "Image position." Choose whatever option centers your head the best. 
Next is the "Name" tag underneath the "Background" section we just talked about. You can choose the color of your name at the top of the screen right here. You could also upload your logo, although I'll caution you against it.
Finally, you can choose where to place your biography, whether that's the sidebar or the header underneath your name. For me, I chose sidebar (pictured below). Check to see what looks best for you. This is meant to be an opportunity for you to create your own style. Do what you like!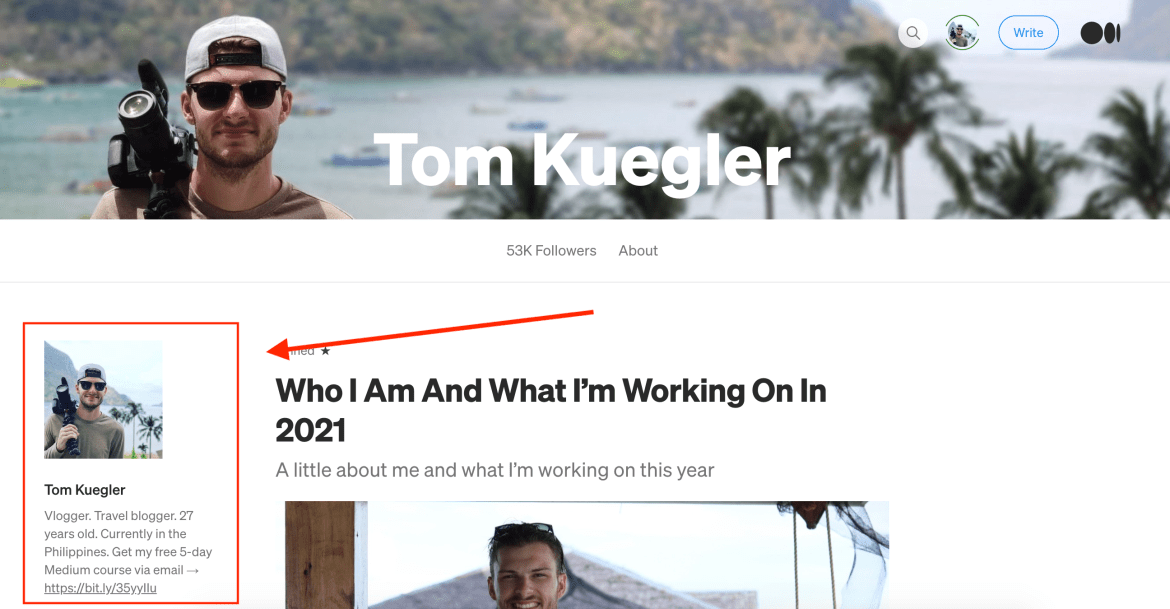 If you want to edit the content of your bio, go to "Settings" in the drop-down menu in the top right. Navigate to the "Profile" section and here you'll be able to change your Bio, as well as your profile picture.
How To Start A Blog In Medium
Okay, so this is a common question among those starting out on Medium. Once you create your profile and register on Medium, you've technically created your blog. All you have to do now is post some articles, which I cover in the next section.
If you want to create a company blog on Medium, just know you can do this in two different ways. For one, you could create a company blog on Medium by creating a regular old Medium profile (we just did that together). Or two, you could create a Medium Publication, which we're about to cover in a few sections.
Here's a picture of the "Trending on Medium" section of my homepage. "Theta Network" is actually a Medium publication doubling as a company blog on Medium, just to give you an example. "Theta Labs" is the profile of said company that's posting underneath this publication. If this makes your head spin, don't worry, I will explain how Medium publications work shortly.

How To Write An Article On Medium
Let's talk about how to write a Medium blog post.
Remember that drop down menu we just saw? Click on your profile in the top right, and the menu will suddenly appear. From there, click "New story."
Now we're going to get taken to the wonderful Medium CMS (Content Management System). This is simply the window in which you write your story. It's a blank white page with endless possibilities. I always write my title first, then I press "Enter" and start writing my story.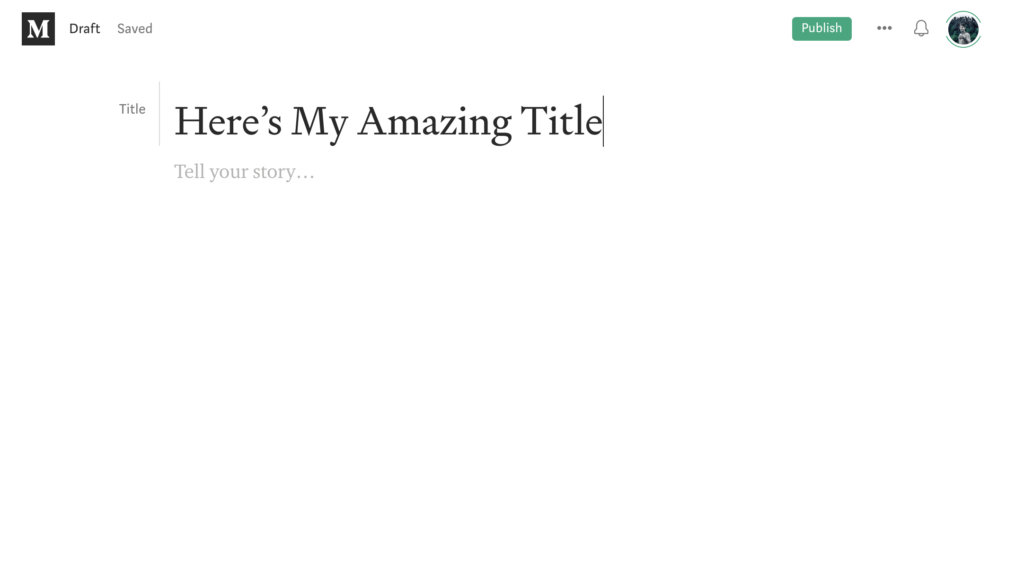 How To Add A Cover Photo On Your Medium Story
To add a cover photo on Medium, simple press the "+" button on the left hand side, hit the magnifying glass, and type in whatever keyword makes sense (demonstrated in a .gif below). Medium has this cool deal with Unsplash where you can search for stock images through Medium directly.
Press enter, select your favorite image, and you're done.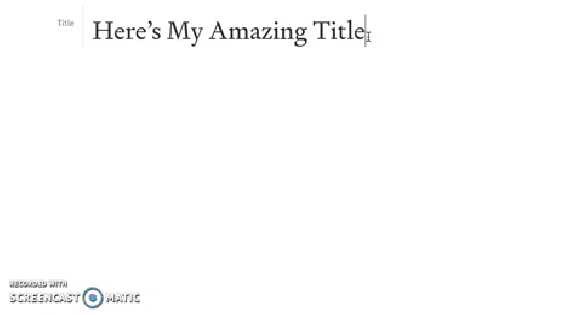 From there, you begin to write your story.
That's really all you need to know.
How To Add Tags To Your Medium Story
When you've written your post out and are ready to publish, hit the "Publish" button in the top right. A pop-up will appear prompting you to add "tags" to your story. Right now you can only add five, and you definitely want to aim for tags that have more than 10,000 followers. If you get more popular tags, your story is more likely to show up on the homepage of folks who follow those tags. We want that, because that means more views for you. Test out different words here. If you're writing about relationships, try "relationships" and "love." Enjoy the process of finding cool tags for your story.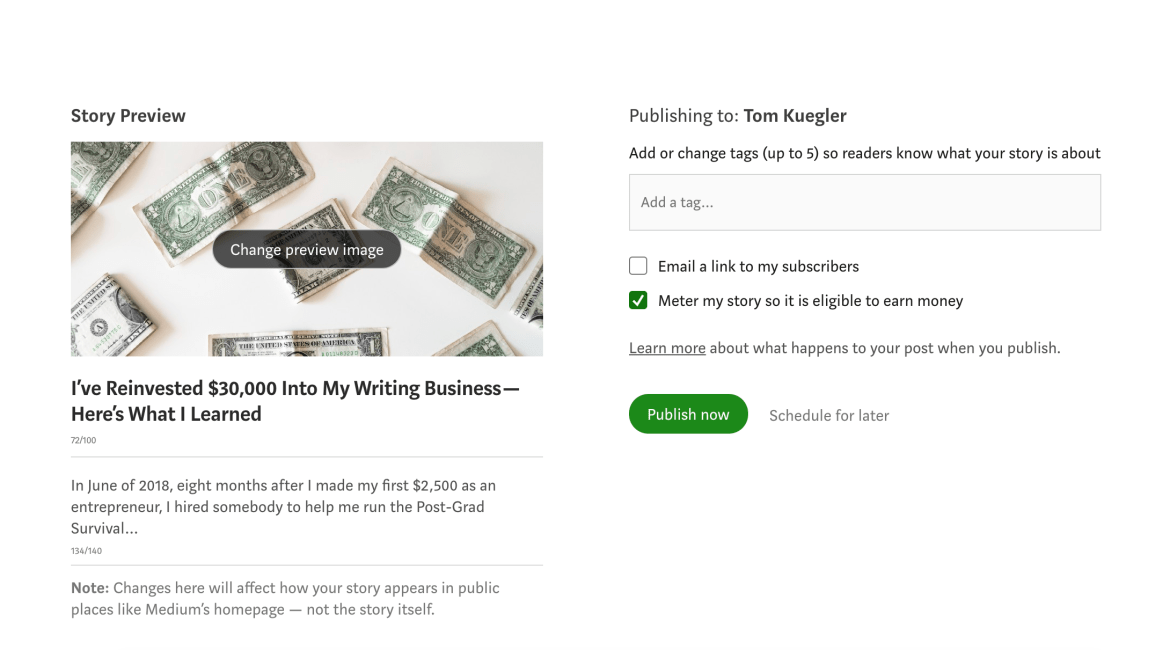 Make sure the "meter my story so it is eligible to earn money" is checked. Then you can either press publish for immediate publication or you can hit "schedule for later" to schedule a story in advance.
How To Customize Medium Blog
Medium's CMS is pretty robust. You can format your Medium post in all kinds of ways. You can add subheaders, quotes, italics, bold text, links, and even drop caps. Let's go over how to add each one in detail.
Subheaders
To add a subheader to your Medium post, simply highlight the text you want to turn into a subheader and select the big "T" in the black box that appears above the text.

You can also create a smaller version of a subheader by selecting the smaller "t" located to the right of the big "T."
Linking
To link to a website inside your post, highlight any text and select the chain link icon in the black box that appears.

Then a small text box will appear allowing you to paste your link inside. Once pasted, simply press the ENTER button on your keyboard, and you'll have successfully placed a link to an outside website in your Medium post.
Drop Caps
Placing Drop Caps in your Medium post is like some fairy-tale book shit. It's fun, and surprisingly easy to do. Once again, highlight the text you want to play around with (sensing a pattern here?).

Select this little icon to the right of the Quotations icon. Then, WA-LA, you'll have a magical drop cap appear in your Medium story. Cinderella who?

Tagging Authors
It's possible to "tag" authors in a story sort of like how you can tag someone on Instagram, Twitter, or Facebook. To do so, simply type "@" and then type in the username of the person you want to tag. You could also just begin typing their name to see if they show up.

After that, simply select the name of whichever person you want to tag with your cursor. That's it. Normally typing their name as is will do the trick.
Embedding Tweets
You can "embed" tweets and other content from sites like Youtube and Instagram inside your Medium posts. Most of the time, I just copy the URL link for a particular video or picture and paste it inside my draft.

Then it simply auto-populates for you.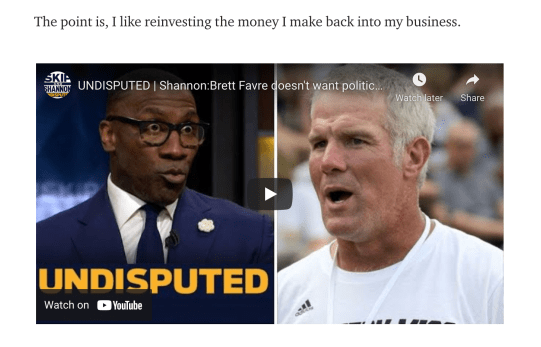 Quotations
If you want to throw some pull quotes into your Medium story, highlight the text and click on the quotes logo in the black box that appears.

There's two kinds of pull quotes. One style italicizes your quote and places a black bar on the left hand side, and the other style literally pulls it up from the page. To toggle between the two styles, simply click the quote logo a few times.

Placing Pictures In Your Story
If you want to place a photo inside your story, simply press ENTER to start a new line, and highlight the + button to the left of that line.
Press the + button, and from there you can select the camera logo to add a picture from your computer, or you can select the magnifying glass logo to find a nice stock photo.

Dividers
Sometimes you'll have multiple parts to your Medium article and want to place dividers between them. To do so, click the + button again, and select the last logo resembling a "–"
After doing so, you'll have a really nice three-dot divider that looks like this:

Related Reading
How To Get Into Medium Publications
Medium Publications are an incredibly important part of Medium writing. There's hundreds of publications that are hosted on Medium itself that specialize in many different topics. For instance, PS I Love You specializes in stories about relationships and love. My publication, the Post-Grad Survival Guide, specializes in career advice and inspiration for millennials and recent graduates going through a hard time.
You want to write for publications as much as possible. Why?
Because they have a lot of followers, typically. The Post-Grad Survival Guide has over 40,000 followers right now, so if you write for our publication, you can possibly get in front of our large audience of 40,000 people. It's a platform you can step on to get in front of a bigger audience. I typically tell my students to always publish in publications whenever they can.
Here's a short guide for you on how to write for Medium publications and how to submit an article to a Medium publication.
How To Write For Medium Publications
The first order of business is to become a writer for the Medium publication you want to contribute to. If you are not added as a writer by the Editor of the publication (or pub, for short), there is no way you can ever submit an article to them.
So, how do you begin that process and become added as a writer by the Editor?
Every publication has a "write for us" page. Knowing this, a simple google search can take us to these coveted pages that act as the gateway to Medium writing success.
Once you find a publication that looks appetizing for you, go to google and type in the name of that publication along with "write for us."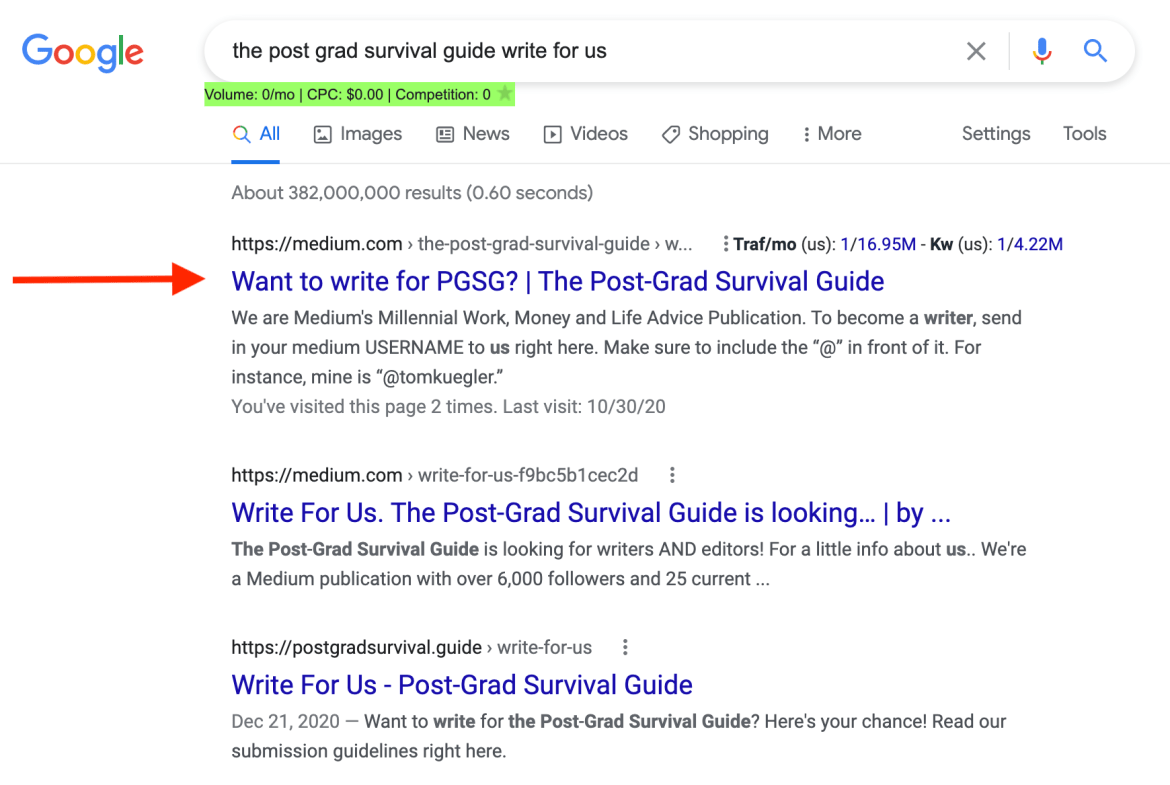 The results should show a page where you can click in and learn about the submission guidelines of that publication. If you want to find cool publications to contribute to, simply search for a relevant keyword in the search bar at the top of Medium. Try "Work" On the results page, hit "publications" and from here you can see all the relevant publications that publish stories related to work. It's brilliant.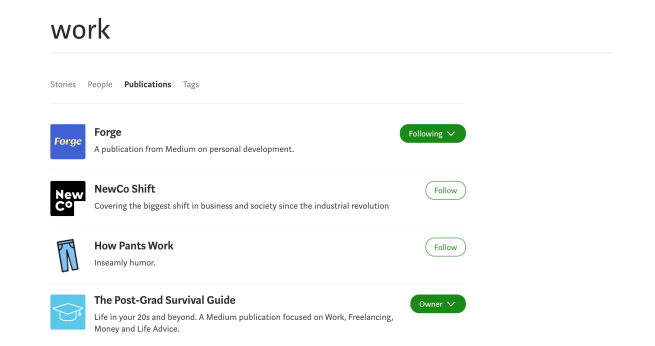 How To Submit An Article To A Medium Publication
We also need to learn how to actually submit a story to a Medium publication. Once a publication approves your draft and makes you a writer for them, you need to submit your draft to them on Medium.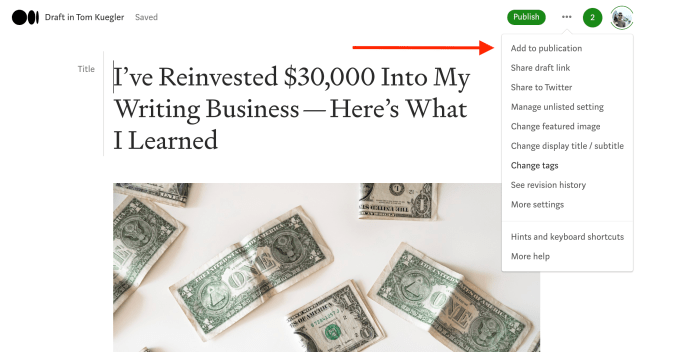 Simply open up your draft on Medium, hit the three dots in the top right, and select "add to publication." From here a drop down menu should appear with all the publications you've been accepted to. You should see your publication there, so select it from the menu when it appears.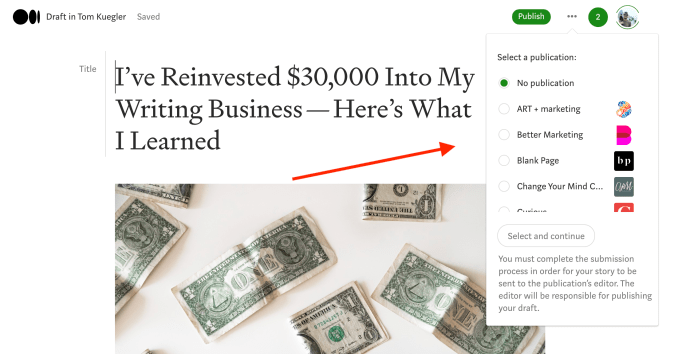 Then you press "submit" and do all the necessary steps I taught you in this guide so far.
That's how to submit an article to a Medium publication.
Related Reading
For a list of the best publications to submit to, check out the list of required reading down below.
How To Earn Money Writing On Medium
Do you get paid for writing on Medium? The short answer is YES. The Medium Partner Program is designed so that writers can get paid on Medium. How exactly do writers get paid on Medium? Let's think of it this way…
How Can I Make Money On Medium.com ?
I'm a reader. I pay Medium $5 to read unlimited locked stories on their platform. What's a locked story? It's a story that only Medium Members can read–or, more simply, stories that only those who pay the $5 subscription can read. It's sort of like a Netflix subscription. Only subscribers can watch Netflix, right?
Most stories on Medium are locked stories. Remember the "meter my story so it is eligible to earn money" checkbox whenever you post an article on Medium?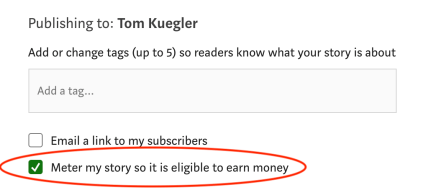 If I as a paying subscriber read your story, you earn money. It's all based on read time. Let's imagine I read your 5 minute story and someone else's 5 minute story in the whole month of May. Medium will pay you $2.50 from my subscription fee and the other writer $2.50 from my subscription fee. Since I read your story for half of that time, you get half of my subscription money. It's really dope.
Most readers read a LOT on Medium, so there's a lot of money going everywhere, but just know that's a simplified version of how writers get paid on Medium. The more views and read time you get, the more you get paid.
If you want to see how much money you've made so far this month, just select your Medium profile picture in the top right, then hit "Medium Partner Program" from the drop down menu. Then you'll find a screen where you can see how much money you've made so far this month on Medium.

What's The Medium Pay Rate?
I went over this recently in another post, but you can expect Medium to pay out about $2.50 per hour of read time. And what's the Medium claps pay? Well, just expect $.05 per clap.
Realistically, I think if you published a few times per week for an entire month in publications you could expect to make about $20-$30 in your first month as a beginner.
If you publish in publications, and if you decide to write daily (that's 30 blog posts per month), then you can probably make $100-$200 pretty quickly in your first or second month.
After your first 30-90 days, income amongst my students tends to go up exponentially. $75, then $150, then $300, then up to $1,000 after 9 or so months of steady posting on Medium.
What would you do with an extra $12,000 per year? That's how much you can make on Medium if you really get good.
But what about the Medium all-stars? The best of the best? Some of them make anywhere from $20,000-$50,000 per month. It's ridiculous.
In 2020, Medium actually paid out $11,000,000 to writers. Here's a quote from their December newsletter:
So far in 2020, the number of writers in the Partner Program grew 106%, and 65,187 of them published their first story on Medium. Writers in the Partner Program have earned over $11 million this year.  
For those wondering "What's the Medium pay rate?" a few minutes ago, you might be surprised right now after seeing $11,000,000 in payouts from them this year alone.
Can You Make A Lot Of Money On Medium Very Quickly?
Sometimes you can. To be honest, though, it's difficult to make more than $100 in your first 30 days. You'd have to get into all the top publications and publish twice per day at the very least. It's tough. Medium is more of a "slow-burn" and rewards those who stick with it over time.
 Is Medium Viable For 2021 And Beyond?
Medium is only getting bigger and bigger. It's becoming a juggernaut in the online publishing world, and I read somewhere that 60-70% of writers who publish something on Medium end up earning money.
I'll take those odds any day.
Yes, you can make money on Medium in 2021, and I think it's one of the best places to publish on the internet today.
How To Join The Medium Partner Program
If you want to join the Medium Partner Program and begin making money, simply visit this page and click the button "Join The Medium Partner Program."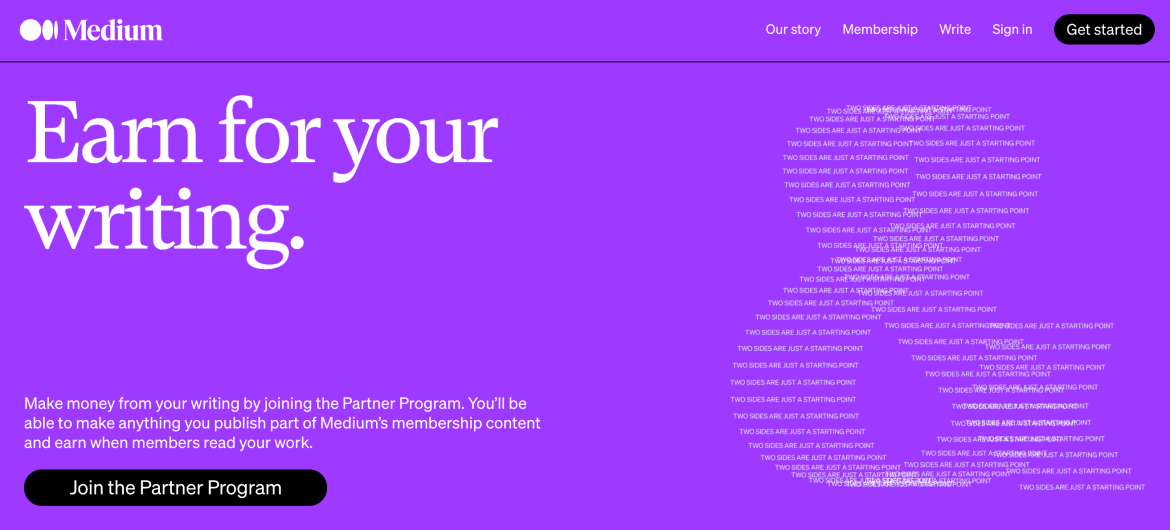 Note that only users from the following countries can enroll in the Medium Partner Program, since Stripe is only available in a few countries:
Australia, Austria, Belgium, Canada, Czech Republic, Denmark, Estonia, Finland, France, Germany, Greece, Hong Kong, Ireland, Italy, Japan, Latvia, Lithuania, Luxembourg, Mexico, Netherlands, New Zealand, Norway, Poland, Portugal, Romania, Singapore, Slovakia, Slovenia, Spain, Sweden, Switzerland, United Kingdom, United States
So if you want to be in the Medium Partner Program, Stripe needs to be available in your country.
Recommended Reading
How To Grow On Medium
So we know the basics. We know what Medium is, how to write a post, how to get into publications, and how to begin earning money.
But how do we actually grow on Medium?
How do we get followers on Medium, increase traffic, increase Medium earnings, and dominate this platform? Let's dive into all of this right now.
How To Grow Followers On Medium
I always tell people who take my free Medium course that there's two ways to grow your follower counts on Medium.
The first idea is to do a follow-for-follow scheme, meaning you follow somebody and hope that they follow you back. Simply put, this works. I don't care what you think about the follow-for-follow schemes–they work at the end of the day.
To implement this, find a popular story on Medium, scroll down the page until you can see the "claps" logo on the left, then click on the number next to the claps to bring up a pop-up listing off all the people who clapped for this story. There should be a "follow" button next to their name. Click on it, and follow as many people as you can.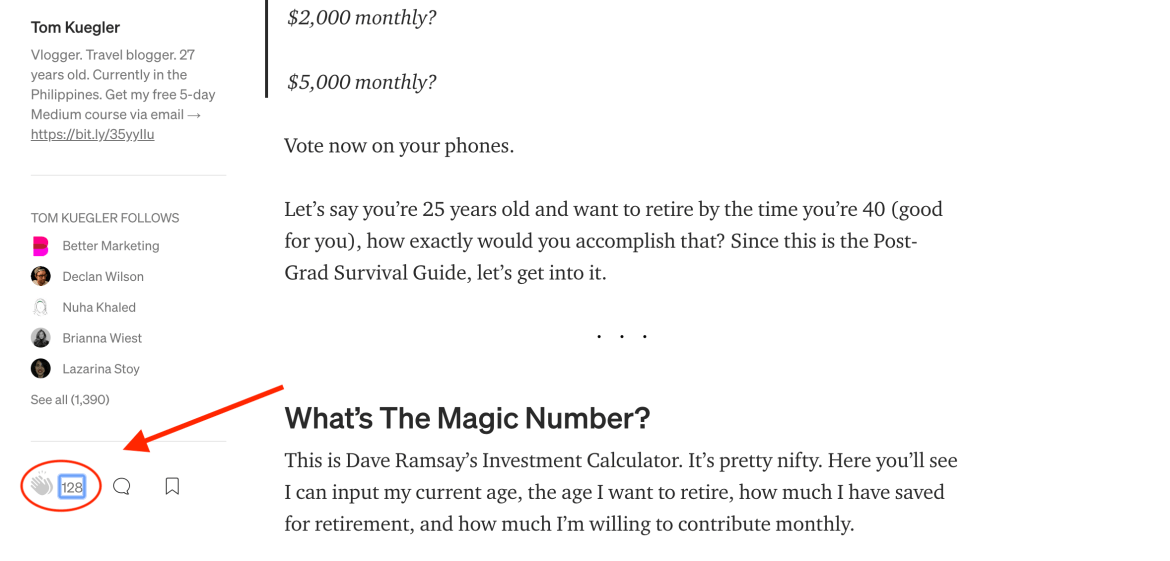 The beauty of this method is that you can target blog posts about topics you intend to write about. So you're targeting Medium users who already "like" content you're about to write about. It's a neat trick.
The second method to get more followers on Medium is to just write better articles. Write better articles in big publications so you can get seen by more people and thus, win more followers. There's a list of stories at the end of this section that'll teach you how to write better Medium stories, so just scroll down and take a look at the articles there. That's how to get followers on Medium.
how to increase medium followers
What Is Medium Curation? And Why Does It Matter
If you want to know how to promote medium posts, look no further than Medium curation for a start. What is Medium curation? If your story is "curated" on Medium, it simply means it got distributed and put on the homepages, Daily Digests, and category pages of Medium's users.
Basically, you're going to get more views, or at least that's how it should work.
Every single person who writes on Medium should aim to get their stories curated because, other than your own followers and the followers of any publication you write for, this is the only way to get more views on Medium.
If your story is curated, you'll see a message titled "chosen for further distribution" on your stats page:
To see the stats page for individual posts on Medium, simply go to your overall stats page (located in the drop down menu when you click your profile picture in the top right), and select "details" underneath a particular story.

There you'll be able to see if a story was curated or not. If you want to learn about how to get curated on Medium, I wrote a big guide on that (I just linked it).
You should also know a little bit about Medium curation jail while you're here.
Get Into Big Publications
If you want to learn how to grow followers on Medium, you need to understand that Medium Publications are the name of the game. That's why I put an entire 1,000+ word section about them inside this very page. If you missed this section, scroll up and make sure to read about how to get into big Medium publications.
Let's talk about why they're important. When you get started as a blogger on Medium, you have zero followers. When you press the publish button, the only chances you have of getting in front of readers is curation.
UNLESS.. You get into a Medium publication. Medium publications typically have tens of thousands of followers that you can reach simply by being accepted as a writer.
When someone follows a publication, they naturally get stories published by that publication on their homepage and in their Daily Digest emails.
Your goal as a writer, to get more followers on Medium, is to get into publications and get published with them.
Write About Topics That Tend To Do Well On Medium
Another helpful hint is to write about topics that tend to do well on Medium. If you write about ten ways to get better at underwater basket weaving, you'll be lucky to get a single reader.
If you write about the latest political scandal, though, you might just attract a big audience. At the Post-Grad Survival Guide, we publish a lot of articles about personal finance, investing, finding work, and freelancing. These topics tend to find a big audience on Medium.
PS I Love You publishes relationship advice and tips. Those articles tend to do well on Medium.
Mind Cafe publishes a lot of personal development articles. Personal Development has literally been the cornerstone of Medium content since I got started writing there in 2016. Nothing has changed in five years. People still want to read about how cold showers can change their life.
My advice to you is to write about topics that you see are doing well on Medium. I just listed off a bunch of them for you above.
Watch Your Headlines
"Sunday Musings" is a horrible headline. Nobody is going to click in to that article. It's a shame, though, because you probably wrote a real gem of an article.
What's better is "20 Things I Learned In My 20's That Are Sad But True." Boom, we know what we're going to get immediately. We're going to get 20 pieces of advice that might be helpful specifically for 20-somethings.
If you want me to give you some good headline writing advice, it's this:
Make sure the audience knows who this article is for
Make sure readers know the benefit they're going to get.
"Sunday Musings" is an article that has no target audience. Who the fuck is this for?
"7 Conversation Starters To Try At Your Next Networking Event" is a great headline. For one, we know the audience is for business men and women. Second, we know the benefit, which is that we'll hopefully get better at starting conversations.
If you cover those two bases in your Medium headline game, you'll win.
The Secret
The secret to writing better on Medium and growing there is to write viral articles. Getting into publications, writing great headlines, sticking with good topics, and aiming for Medium curation are all great places to start if you want to know how to grow on Medium.
Related Reading
In Conclusion
What a page, eh? This is a complete guide to Medium writing and earning your first $500 per month on Medium. Make sure to take all of these tips and IMPLEMENT THEM. Tag me in your next post on Medium, I'd love to see it. Here's my username.