Published on

Posted under
How I Made $4,000 With 1 Post On The Medium Partner Program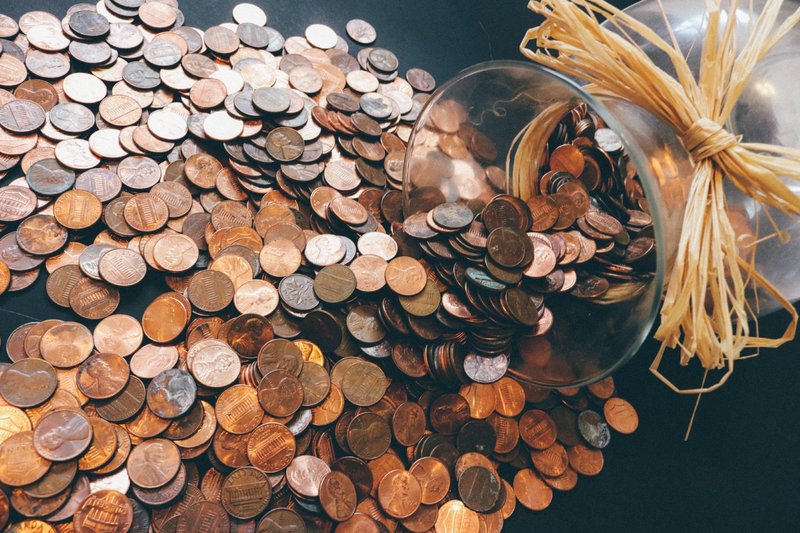 Updated April 12, 2021
A couple days ago I got a beautiful email from the Medium Partner Program. It looked liked this: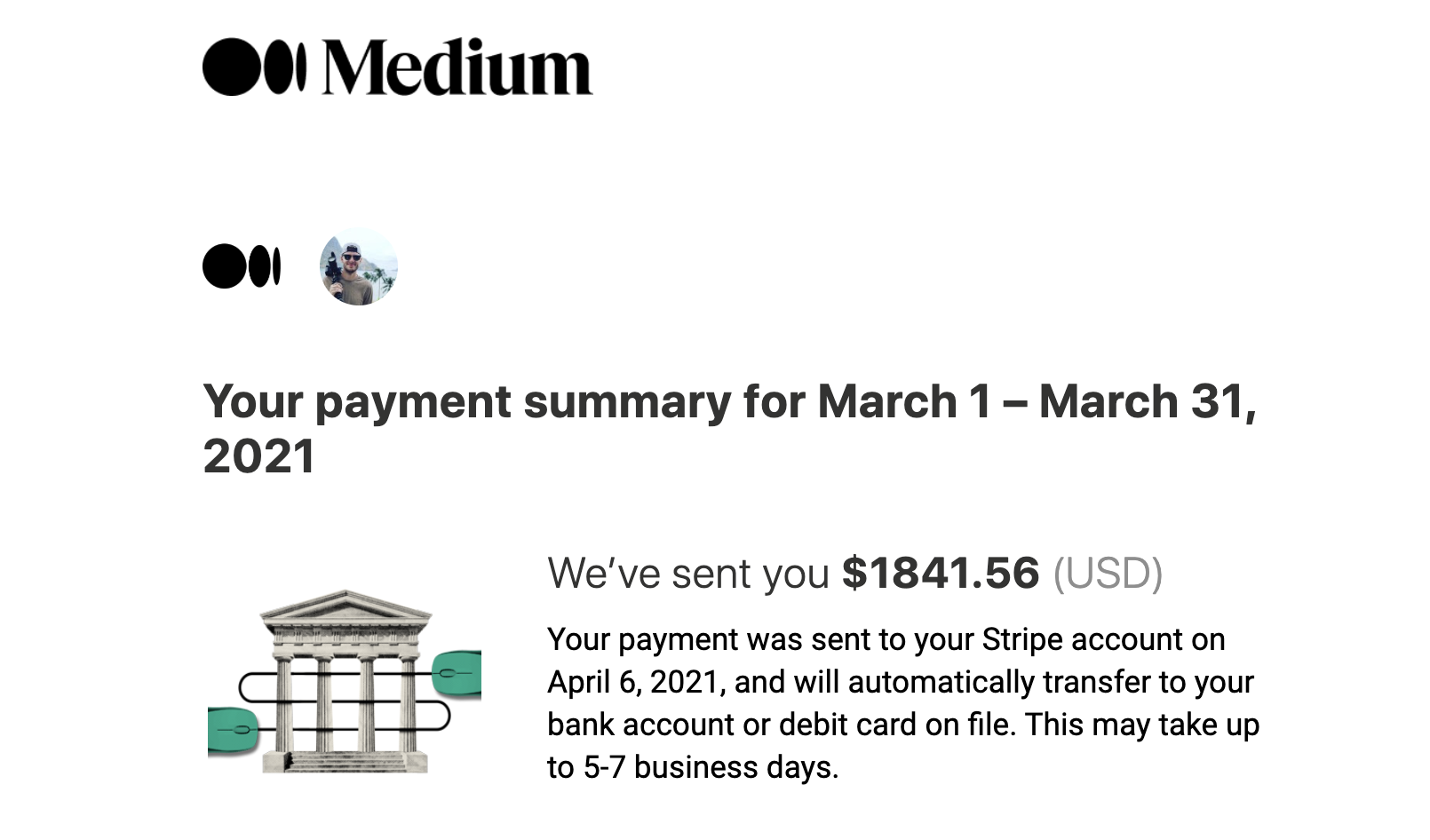 Gosh, it's like looking at an oasis in the middle of the desert. It's nice to have some income trickling in while from  Medium as I work full-time.
This article isn't about how I made $1,800+ in one month, though. This is about just one article, but first, let's talk about the Medium Partner Program.
What Is The Medium Partner Program?
If you're a blogger and don't know about Medium yet, you really need to take a cold hard look at it.
In short, Medium is like Twitter for bloggers. Instead of posting tweets, you post full articles–you can even follow your favorite authors and get followed as well.
The Medium partner program allows you to post "locked" stories, which only those who pay $5 per month to be a Medium Member can read.
If these Medium Members read your story, you get a portion of their membership fee based on how much "read time" you generate.
It's pretty awesome, and since I spent the last 4 years building my audience to 50,000+ on Medium, I'm in insanely good position to make money from the Medium Partner Program.
Before I talk about how I made $327 with one story, let's cover what you can expect to make with the Medium Partner Program.
How Much Is 1 Hour Of Read Time Worth In The Medium Partner Program?
Luckily, to bring you the latest Medium ratios in April of 2021, I did a little comparison between 7 articles I recently wrote.

Take a look at cell B11 for me. As you can see, if you get 1 hour of read time on Medium, you'll make about $2.50. So if you get 100 hours of read time, then congratulations, you just made $250, most likely.
How Much Is A Fan Worth On Medium?
Ahh, this is the million dollar question. Here's what my calculations told me:
On average, one fan = $.58
See cell E11 for this statistic. It's crazy, because a few years ago when I originally wrote this post, one fan used to equal $1.26.
How Much Is A Clap Worth On Medium?
Take a look at cell F11 for me from above. I have one clap equaling about $.05 on the Medium Partner Program. Oddly enough, views also accounted for about $.05 (Cell D11).
How To See The Medium Partner Program Dashboard
If you want to see how much you're making on the Partner Program, just hit your profile picture in the top right of any page on Medium, the select "Medium Partner Program" from the drop-down menu.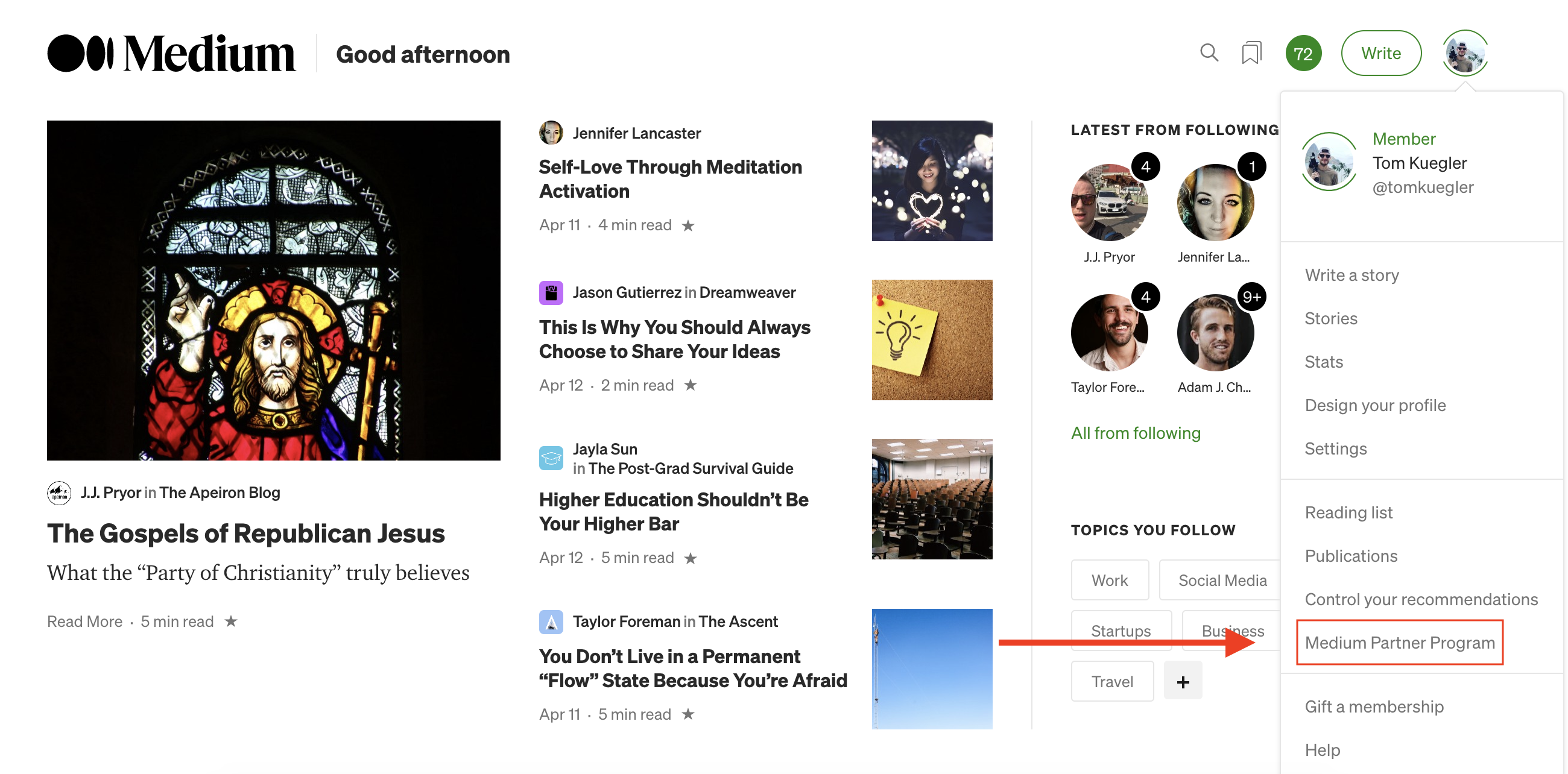 From there, you'll get a full report of the month's best articles. This is the Medium Partner Program dashboard, and to see individual statistics for each post, just click on the "view stats" button underneath any specific story.

On the following page, you'll get to see lifetime earnings for specific stories locked behind the Medium Paywall.
How I Made $4,000 With One Article On Medium
Okay, finally! This is what you're here for, right?
I had to set the stage for what's happening with the Partner Program first, I'm sorry.
My article, How I Made $10,000 In One Month From 5 Different Places is my highest earning story of all time.
Here's the statistics on that article: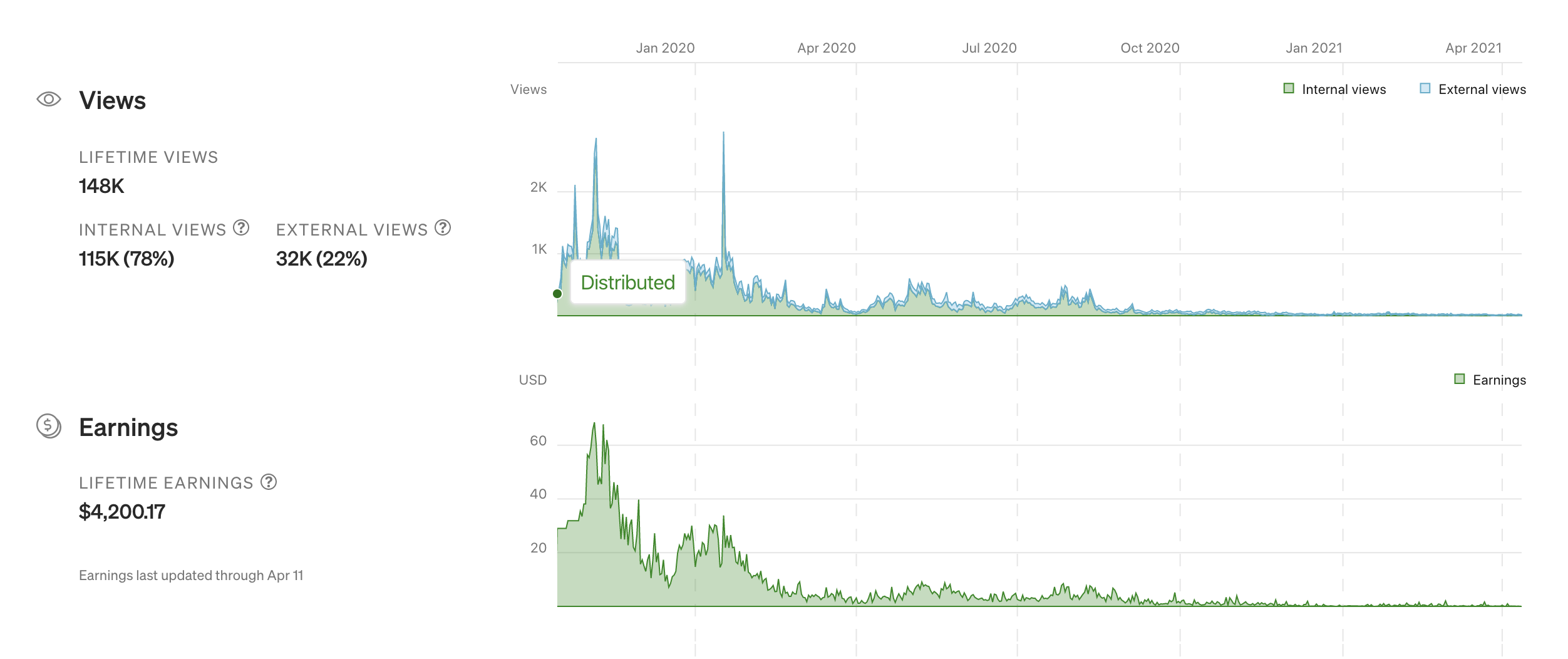 How did I do this? Let's get into it..
Understand What Types Of Articles Do Well On Medium
Medium users love content about how to make money online, as a side-hustle, with writing, and on social media. If you login to Medium right now and scroll through your homepage, I guarantee you'll see two or three articles with a headline like "How I Made $XXXX Doing X Online"
In my case, I leaned into the kinds of articles that do well on Medium. 
It just so happens that I've actually built a solid online business for myself, so I could cite crazy numbers like $10,000 in my headline.
Topics rule on Medium. Nobody wants to read articles about how you love your dogs. Tell them how to make money and you're already halfway there.
Promote It To Your Email List
"The money's in the list" has never been more true. Every week I send a letter to my publication and an email to my list shouting out my latest locked article. I normally get at least another 300-400 eyes on it, which most times amounts to an extra 20-30 hours in read time.
Don't be afraid to shout out your locked posts. It's $5 to be a member on Medium. That's less than a large Frappuccino at Starbucks.
If people are really pissed they can't read your article, all they have to do is pay $5 and get unlimited access. Or you could share a "friend link" with them.
Mention Your Post In Other Locked Stories
I feel like I'm teaching Medium 101. Don't throw apples at me.
Another cool way to get eyes on your locked posts is to mention it in your other stories. Keep a list of all your locked posts in some sort of a Google doc somewhere so you can keep shouting them out in all your future articles.
Treat them like products. They're kind of like products if you think about it.
Feature The Article At The Top Of Your Profile
One more thing to do is feature your locked article at the top of your profile. You'll get a couple more clicks this way and, more importantly, fans!
To pin your story to the top of your profile, just scroll to the bottom of your post, select the three dots at the bottom right, and hit "pin story" from the dropdown menu (pictured below).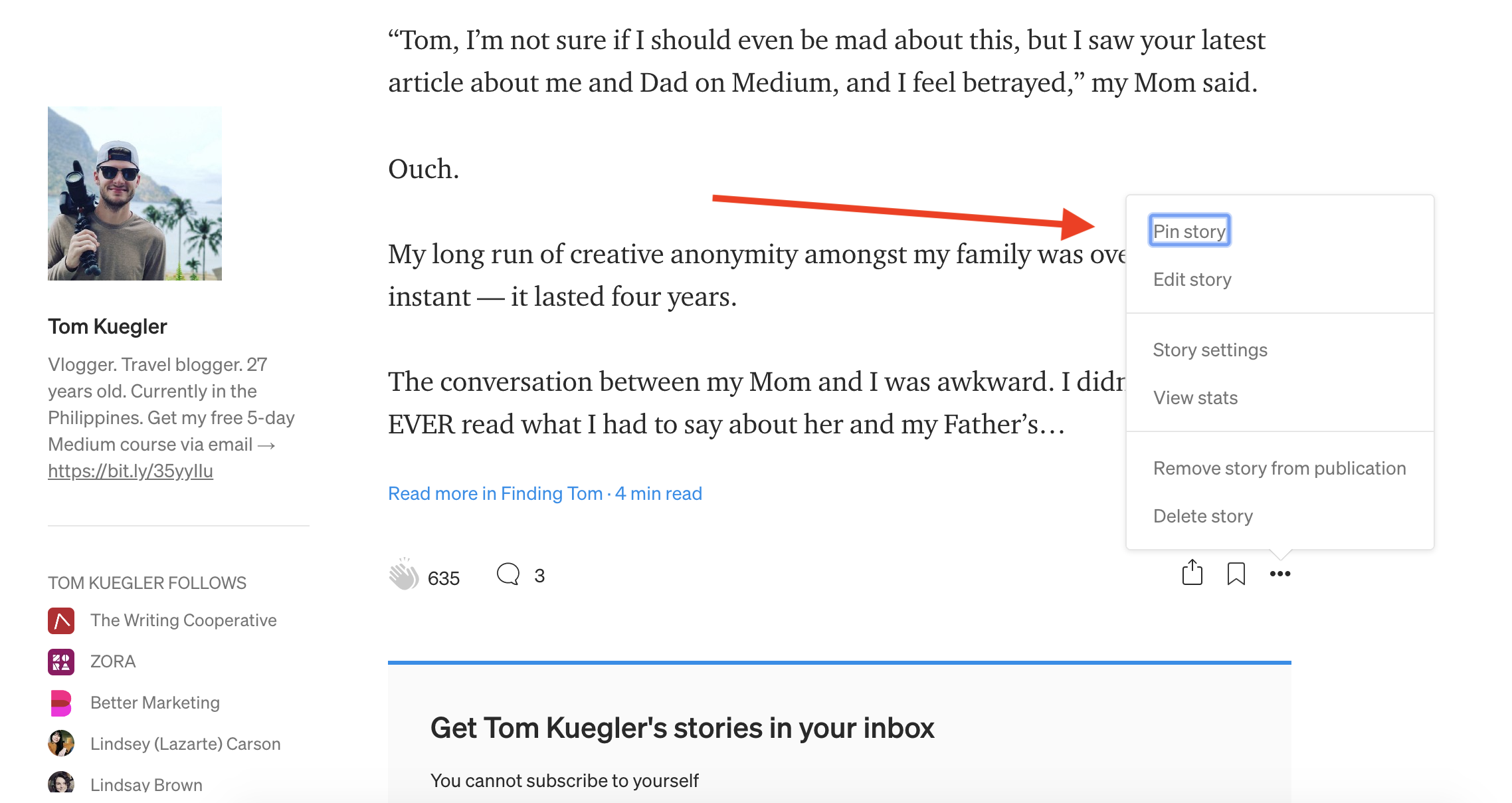 How To Join Medium Partner Program
If you want to join the Partner Program, go to Medium.com/earn and select "join medium partner program" at the bottom of the page. To fully complete the process, you MUST be in one of these countries:
Australia, Austria, Belgium, Canada, Czech Republic, Denmark, Estonia, Finland, France, Germany, Greece, Hong Kong, Ireland, Italy, Japan, Latvia, Lithuania, Luxembourg, Mexico, Netherlands, New Zealand, Norway, Poland, Portugal, Romania, Singapore, Slovakia, Slovenia, Spain, Sweden, Switzerland, United Kingdom, United States
No, the Medium Partner Program India bureau doesn't exist. There is no Medium Partner Program in India, unfortunately.
If you're in one of those countries, you need to setup the Medium Partner Program Stripe connection. Stripe is required to accept payments, and because Stripe isn't in a lot of countries, like India, there is no way to make money with the Partner Program right now if you live there.
Just Get Posting 5 Times Per Week
If you're able to join the Partner Program on Medium, then good. The most important thing is to get posting. I post five times per week every single week, and if there's one thing that's a constant among the top performers on Medium, it's that they post on the Medium Partner Program OFTEN.
That's my advice.