Published on

Posted under
Using Medium For Business Blogging: Can It Work?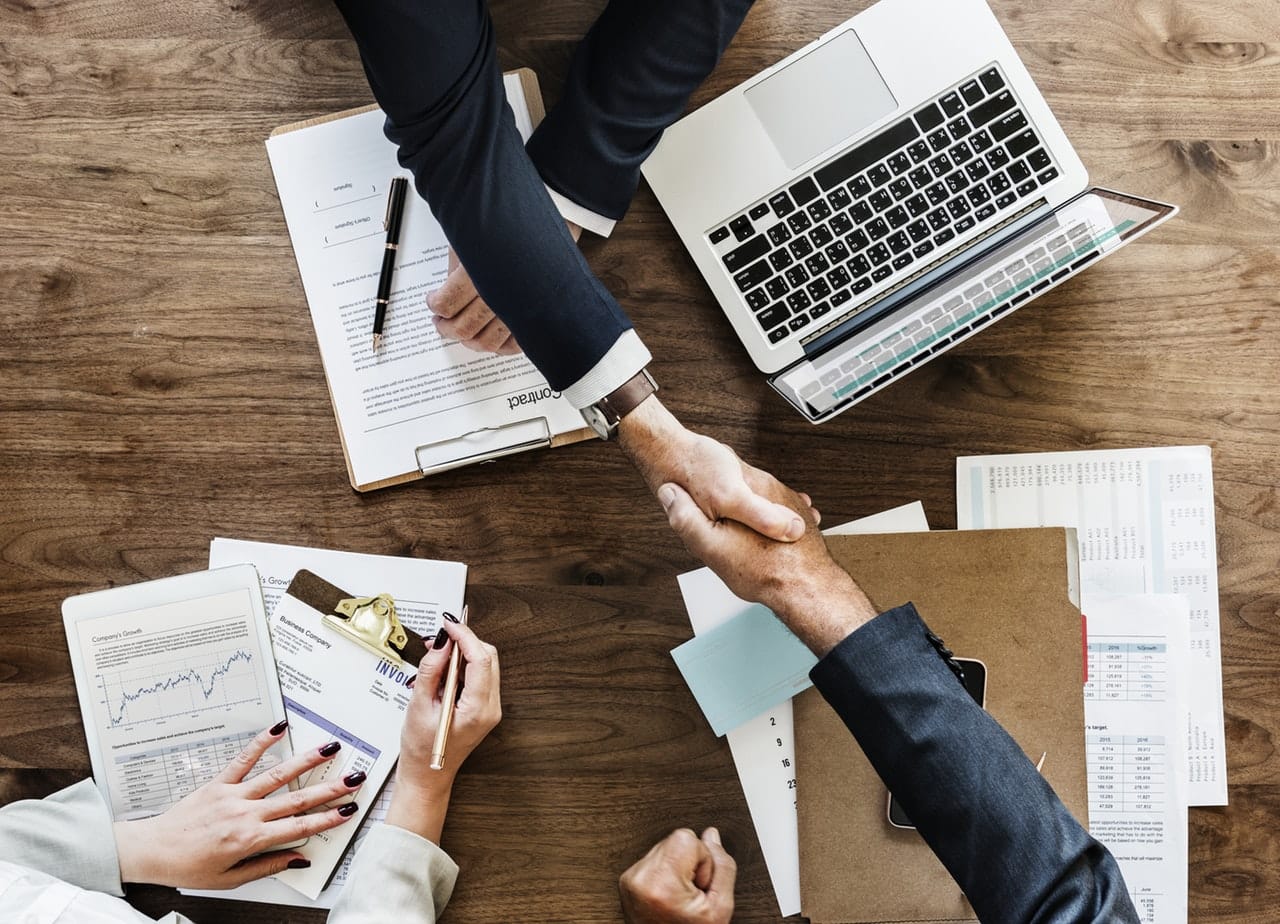 If you want to use Medium for business blogging, let me tell you a secret..
It's not going to work.
KEEP READING, THOUGH–because it CAN work if businesses stop thinking about content writing in such a backwards, regimented, and utilitarian way.
Why Medium Is A Big Opportunity For Your Business
Most businesses hear about Medium, see absolute dollar signs when finding out they have 60 million monthly page views, then sprint to create a publication and talk about their business.
The problem is this..
Medium doesn't want to hear about your business.
Medium wants to read about writing, technology, life lessons, politics, and extremely personal stories.
When we read a story about some service or feature your business specializes in, our eyes glaze over.
It's sort of like going to a major tech event and setting up a stall advertising the dog food your company makes. Sure, it might be RAW, VEGAN, GLUTEN-FREE, PALEO dog food, but nobody's really there to buy dog food, yeah?
Sure, you might get a few people to come over and buy because, yeah, everyone has dogs, but for the most part it's going to be seen as distasteful.
BUT.
Let's say you go to that same tech event and set up a stall advertising some amazing technological contraption that squeezes every ounce of gluten out of your ingredients to create your RAW, VEGAN, GLUTEN-FREE, PALEO dog food?
Now you're going to get people interested.
You see how the dog food comes secondary, though?
The same thing has to happen on Medium. You need to write about life lessons, personal stories, entrepreneurship, business lessons THEN mention your business off the cuff as a personal story in the article itself.
Talk about "10 Things Entrepreneurship Has Taught Me," then tell a lesson you learned while operating your business and then while you're at it mention what the business is and then while you're at it link out to it.
Then get back to the other 9 points. Then finish it up with a CTA that links back to your company page.
If you can do this successfully, you'll find that Medium is a major opportunity for your business.
Using Medium For Business Blogging: 2 Strategies
So there's really just two strategies you need to think about when using Medium for business blogging..
One is to create an entire publication on Medium, invite writers to write for it, and basically just build that from 0 followers up to however many you can build it to.
The pros to this strategy are you can link out to your company blog/page from the "Nav" bar–which shows up in EVERY story that's published on your publication.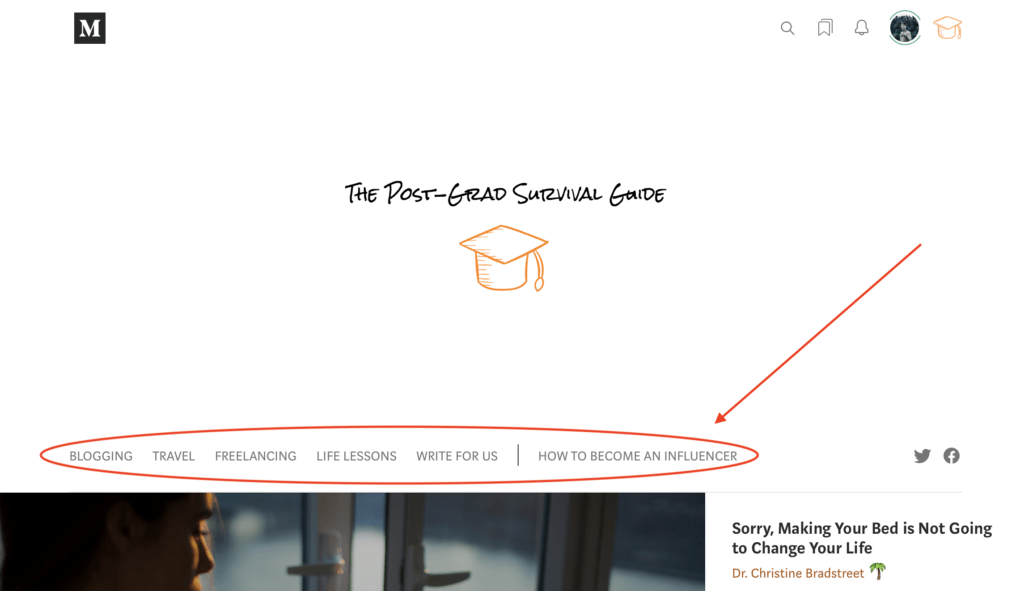 You can also send "letters" to everyone that follows your publication.
A letter is Medium's version of an email.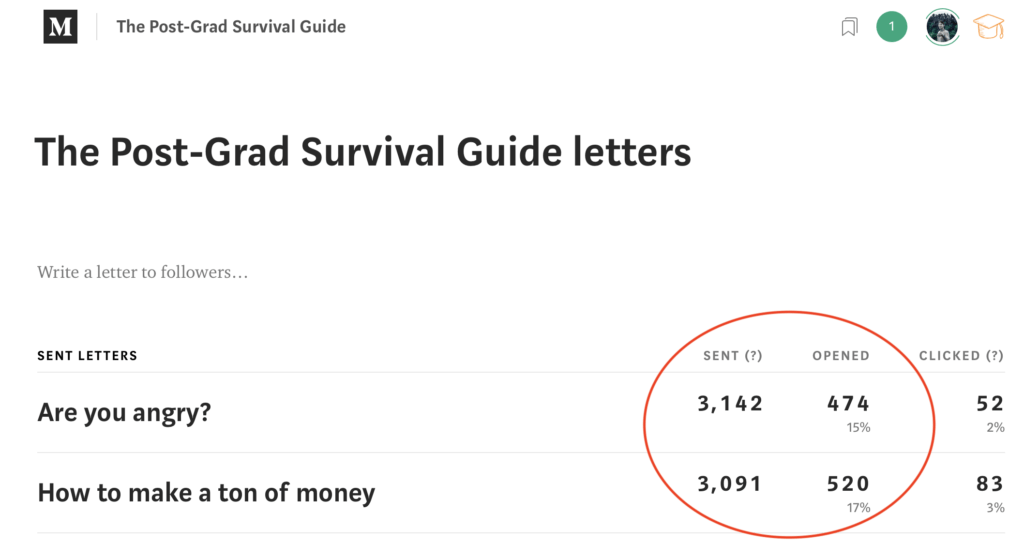 There's a complicated process behind that, but just know that starting your own publication can lend itself to lots of straight-up advertising of your business. You also have more control as an owner of a publication.
The cons are, it takes FOREVER to build a publication. You might be better off when using Medium for business blogging to just contribute to publications that are already huge.
It's Best To Contribute To Already-Running Publications
If you contribute to The Ascent, The Startup, Personal Growth, or the Mission, you'll be leveraging the audience of all their followers FROM THE GET-GO.
The Startup has over 350,000 followers. I promise you that within a year you'll be lucky to have 2,000 followers to your own publication.
You'll get more views to your articles if you contribute to already-running publications. You'll get way more reach.
When you own a publication, you have more creative control and can advertise more, but when you contribute to outside publications, you can write articles that may or may not go viral.
It's up to you what you want to do, but I think contributing to already-running publications is your best bet.
Medium For Business Blogging: How To Start
Well, first off you should create a profile, start publishing a few articles, and try to get into Medium publications.
Or you could create your own.
Remember, keep the articles about life lessons you've learned. This should actually be pretty fun for you. As you get going writing about your life, stories of how you started your business will naturally flow from your fingers and THAT'S the time to link out to your website or whatever page you want.
Heck, you might just grow a pretty good following and make good money via the Medium Partner Program.
That's always a possibility as well.
To me, it's a no brainer that using Medium for business blogging is a pretty awesome idea.