Published on

Posted under
How To Get Paid On Medium As A Blogger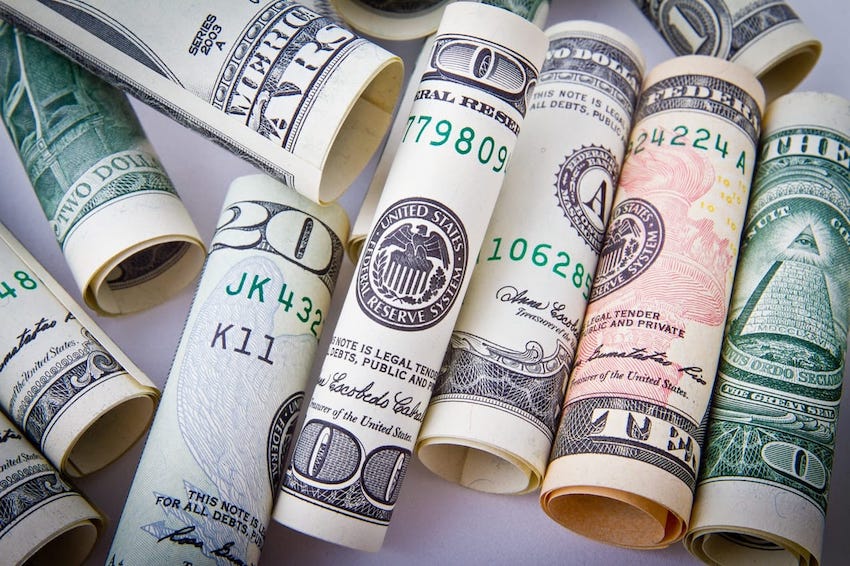 Many bloggers know about Medium's (relatively) new Partner Program, but not many know how to actually get paid on Medium WITH it.
Like many things Medium does, it is a little confusing at times to wade through the technicalities, so to make it easy for you, I've written a blog post.
Here's how to get paid on Medium as a blogger.
Understand Your Earnings Are Coming From Other Medium Members
The first thing you have to understand is that your earnings come directly from the pockets of other Medium users.
Medium recently rolled out their 'Medium Membership' feature which allows regular Medium users to become "Members" and get access to UNLIMITED locked stories from their favorite authors.
They pay $5 for this exclusive access.
Furthermore, any writer on Medium can lock a story and earn money from it. All you have to do is click on the arrow at the top and select "Yes" when asked whether to make that story eligible to earn money with the Partner Program.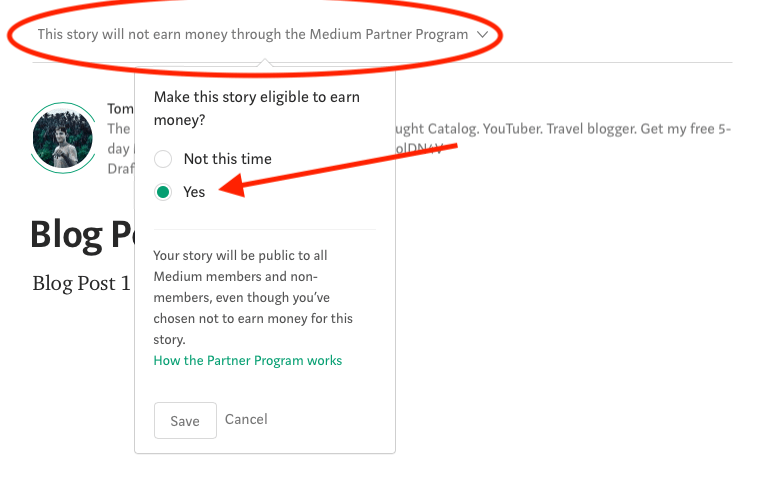 Then just publish that post how you normally do.
It isn't free to read locked stories, though.
Sure, all the other free stories you see on Medium are in bounds, but if you aren't a member, you only get to read 3 locked stories PER MONTH.
By the way, if you want to get my free 5-day email course on how to get 1,000 followers on Medium, sign up below!
[thrive_leads id='10010']
When Medium Members Clap For Your Story, You Make Money
As soon as a Medium member claps for your story you get a PORTION of their $5 per month Medium fee that they pay to read unlimited locked stories.
Pretty cool, right?
The only downside is, you share the earnings with all the other locked stores that person clapped for that month.
So let's say an individual clapped for your locked story AND 4 other locked stories in a given month.
Well, considering he gave the same amount of claps to each one, each story would be awarded $1.
Clapping for 5 locked stories / $5 = $1 per locked story earned for the authors of those stories.
If this same metaphorical person clapped for TWO of your locked stories, you'd get $2. It all depends on WHICH stories from WHICH authors they clap for. Some members only pay $5 to read their favorite authors, so these authors that get the lion's share of attention end up getting a big portion (if not all) of certain people's Medium Membership fee.
The Number Of Claps Also Determines Your Earnings
Another slight wrinkle to this is claps. On Medium, anyone can clap for an unlimited amount of articles, but the platform cuts people off at 50 per story.
Medium claps are like the equivalent to a Facebook like.
In laymen's, you can only give articles a maximum of 50 claps.

But let's say clapped for 2 locked stories but gave one 10 claps and another 50?

Wouldn't that sort of demonstrate that you liked the 50-clap article better since you clapped for it more?
YES, IT WOULD—and Medium wants to make sure that's represented in author's earnings.
Let's say that you clapped for 6 different locked stories from 6 different authors one month, but decided to give one post 50 claps and all the other ones 10?
That means you gave a grand total of 100 claps the entire month. Since Medium weighs earnings by the amount of claps as well, here's how the earnings would shake out..
50⁄100 claps x $5.00 = $2.50

10⁄100 claps x $5.00 = $.50
The 50 clap article would receive $2.50, and all the other ones would receive $.50.
Pretty cool, right?
It's semi-complex to understand, but that's how it works.
Make Sure To Setup Stripe And Get Paid
The first thing you need to do as a writer to get paid on Medium is start your own Stripe account and connect it with Medium.
I also believe you have to apply to become part of the Partner Program, but don't worry—they accept everybody.
Once you get accepted and connect your Stripe account, you can start earning money basically immediately—all you have to do is click the link at the top of your drafts and switch it to "locked."
Now we're rolling.
Medium recently made an announcement that you can submit locked stores to ANY publication on Medium. Which is cool. Before you weren't allowed to do that, and this should massively boost earnings for Medium writers everywhere.
In a nutshell, that's how you get paid on Medium as a blogger!