Published on

Posted under
When Is The Best Day To Post On Medium?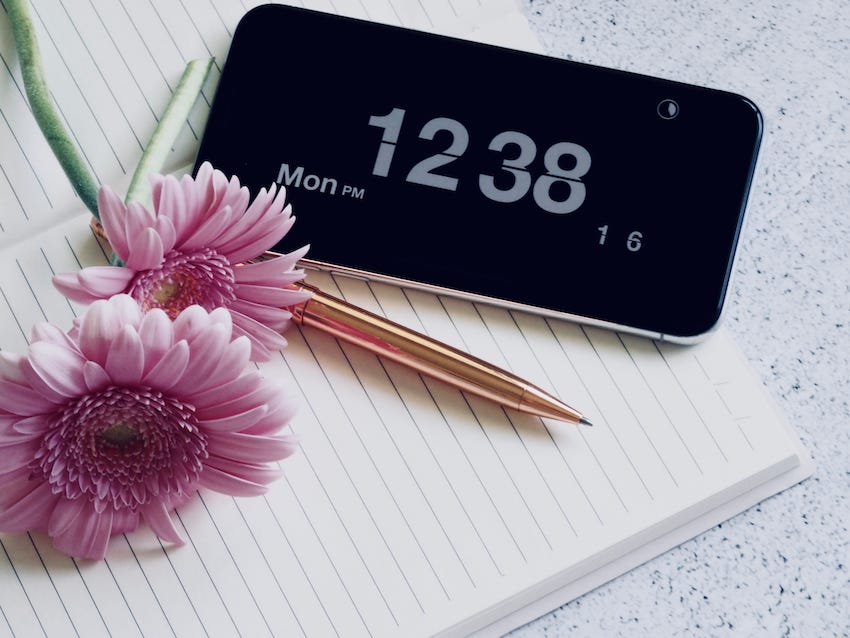 So, when is the best day to post on Medium?
For me, the best day to post on Medium is literally any day of the week that isn't Saturday or Sunday.
Want to see how I know that? Take a look at my stats here..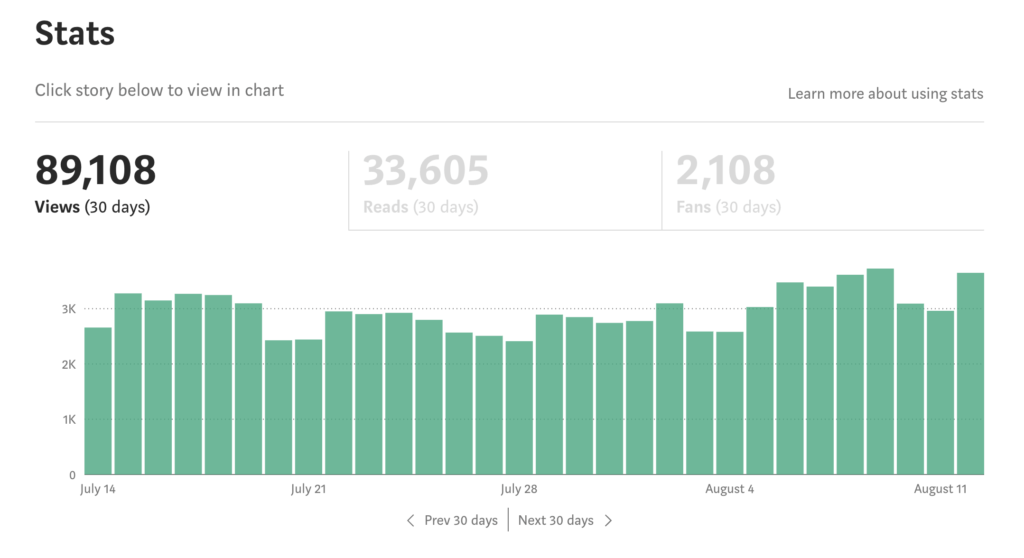 Does anything about the above look a little weird to you?
Probably not. If you unfocus your eyes it'll probably look like a big green rectangle. However, the devil is in the bloody details here.
I'm going to show you the same picture again, except I'm going to highlight when the Saturdays and Sundays are with big red arrows.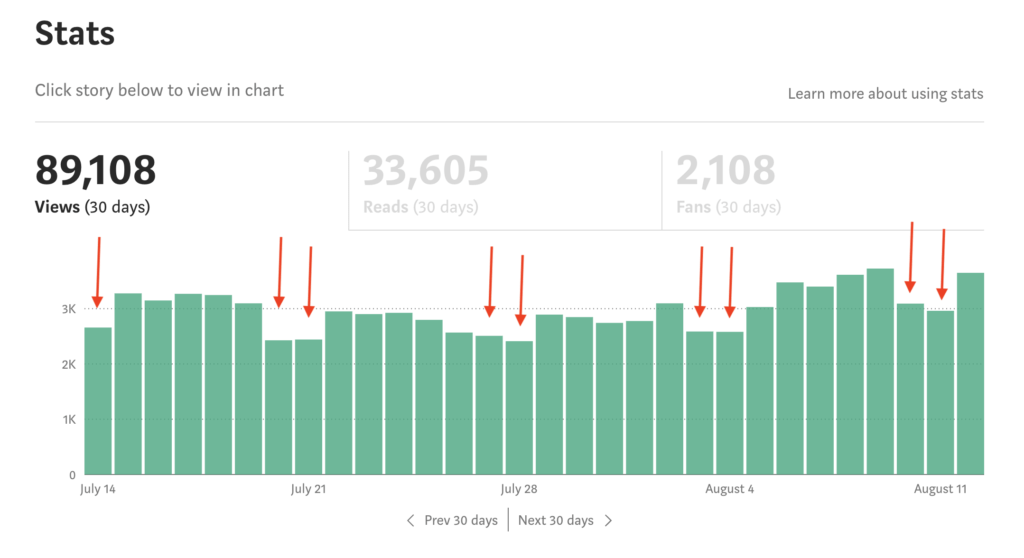 Okay, so if you look closely, you'll see there's a bit of a dip that happens on Saturdays and Sundays. There is literally no other days of the week that are as low as Saturdays and Sundays are.
Sometimes I'll see as much as a 500 view difference from the Friday before (roughly a 20% drop). That's nuts.
And this same data repeats itself over and over again on my stats page every single month. It is CONSTANTLY Saturdays and Sundays.
By the way, if you want to get my free 5-day email course on how to get 1,000 followers on Medium, sign up below!
---
Now, I lied to you about one thing.
Before I said that any day that isn't Saturday or Sunday is the best day to post on Medium. While it's true that weekdays are mostly pretty darn good for posting, I'd say that a few specific days are clear winners..
For me, the best day to post on MEDIUM is Monday. You almost always see a big boost in views on Monday when people come back to work or get back from vacation.
It doesn't ALWAYS work out like this, however. Sometimes Tuesday wins, and sometimes Friday wins. But more often than not, Mondays bring me the most views.
So if I were you trying to figure out the best day to post on Medium, I'd choose Mondays at 8 AM EST for sure.
---
The Best Day To Post On Medium Can Also Be..
One thing I've also seen is that views tend to drop off a cliff the closer you get to Friday. Fridays are not necessarily bad days to post, but think about it.. if you know that Saturday and Sunday are going to suck in terms of getting views, then why post on Friday and then have you article nosedive on Saturday and Sunday?
It's sort of like choosing to go the grocery store at rush hour. There's a better time for this.
I'd say Monday-Thursday are the best days to post, while Friday is a neutral date, and Saturday/Sunday are no-go's.
What do you think of that?
I'd love to hear your opinions on the best day to post on Medium. What have you seen? What's your stats look like? Let me know in the comments below. :)