Published on

Posted under
How To Use Medium For Blogging In 2021
In 2021, learning how to use Medium for blogging is a vital skill for all online writers. Twitter co-founder Ev Williams created Medium in 2012. Since 2017, it's operated on a $4.99 a month subscription-based model. For that, you get unlimited access to over 30,000 writer's work, and if you opt into the Partner Program, you can earn money for your articles.
That's all well and good, but how does it all work, I hear you ask. Well, allow me to show you how you can use Medium for blogging in 2021.
Create your profile
First things first, you need to create a profile. Add a short bio, which should explain a bit about yourself and what you have to offer. In my experience, I am more likely to follow someone if they've put a little effort into explaining themselves. Upload a clear, approachable photo, so other people know there is a face behind the words.
Recently, Medium has allowed writers to get a lot more personal with their profiles. You can now change the color scheme, fonts, header images, or even have a logo. Here's what the design page looks like: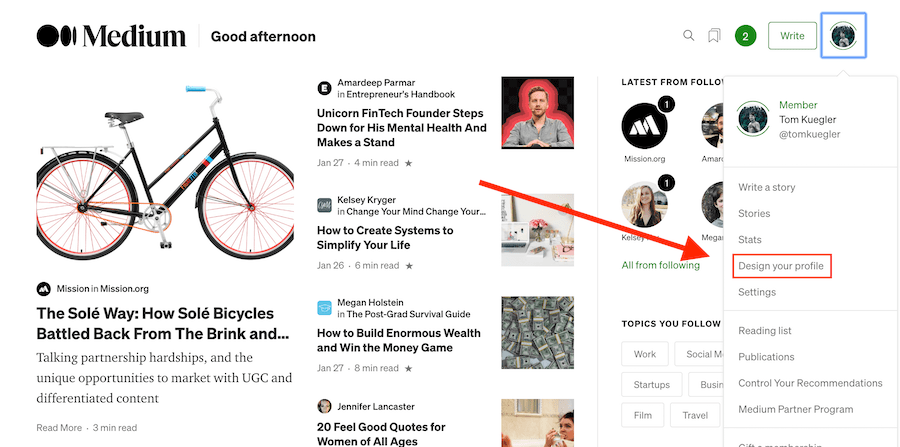 You can find it by clicking on your picture and selecting "design your profile."
How to write your first post
I firmly believe Medium is the place to be for online writers in 2021, as it's so easy to use. Let's see how you can use it for blogging.
First, select "Write" in the top right corner. That will take you to a new draft. Immediately, the page will prompt you to write a headline. Once you've done that, write a subtitle - which you should then highlight and select the small "T." With me so far?
Next, add a picture. Unsplash is integrated into Medium's system, so by merely selecting the "+" and then the search buttons (as you can see below), you can find a picture that matches your article.

Alternatively, you can choose an image from other free services, such as Pixabay and Pexels (to upload those, select the camera icon). The finished product should look like this:

Once you've done all of that, you can move on to the part you have been waiting for. Write your piece. Separate it with subheadings (as I've done in this article) and dividers - which come in the form of three dots. You can find those by again pressing the "+" and then the "–" buttons.
How to publish your first post
Now you've written and edited your first article. How do you publish it?
Firstly, you will need to add some tags. Select the three dots in the top right corner. Then, press "change tags." Medium has around 100 million followers, many of whom will follow certain tags, such as "writing" or "productivity." You can choose five tags per article.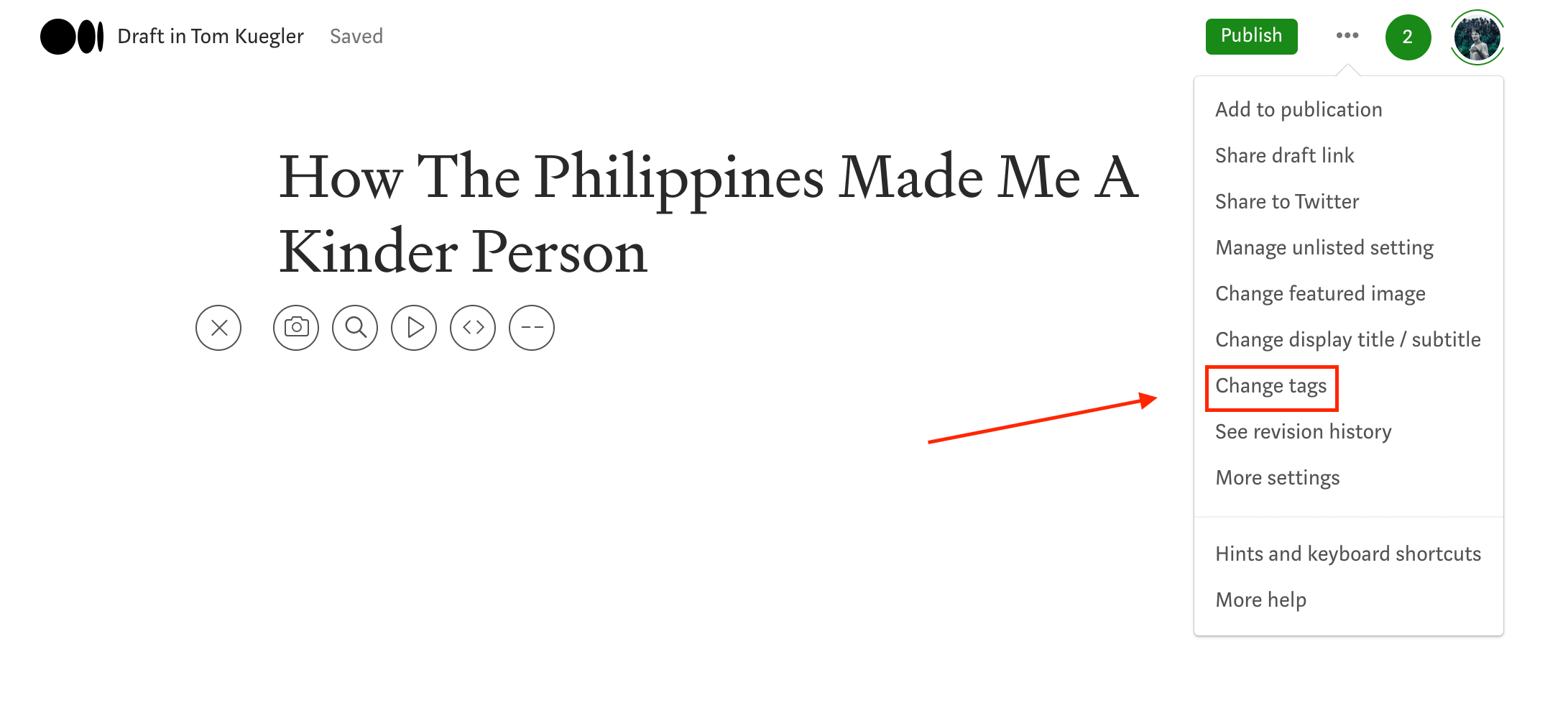 It's important to choose wisely. I'd advise you to select a mixture of big and small tags. That way, your work might not get lost under the thousands of other writer's work.
Once you've done that, you can go ahead and hit publish in the top right corner.
The importance of Medium publications
I didn't know how to use Medium for blogging when I first started. I would write a piece and hit publish in the hope it would get thousands of views immediately. When you have zero followers, that's highly unlikely. Publications are vital if you want to use Medium for blogging - and for a good reason. The biggest ones, such as The Ascent and Mind Cafe, have hundreds of thousands of followers, so publishing with one is a much faster way to get your work read. To be added as a writer, visit the publication and follow their submission guidelines.
Once the editors add you as a writer, you can select the three dots and click "add to publication."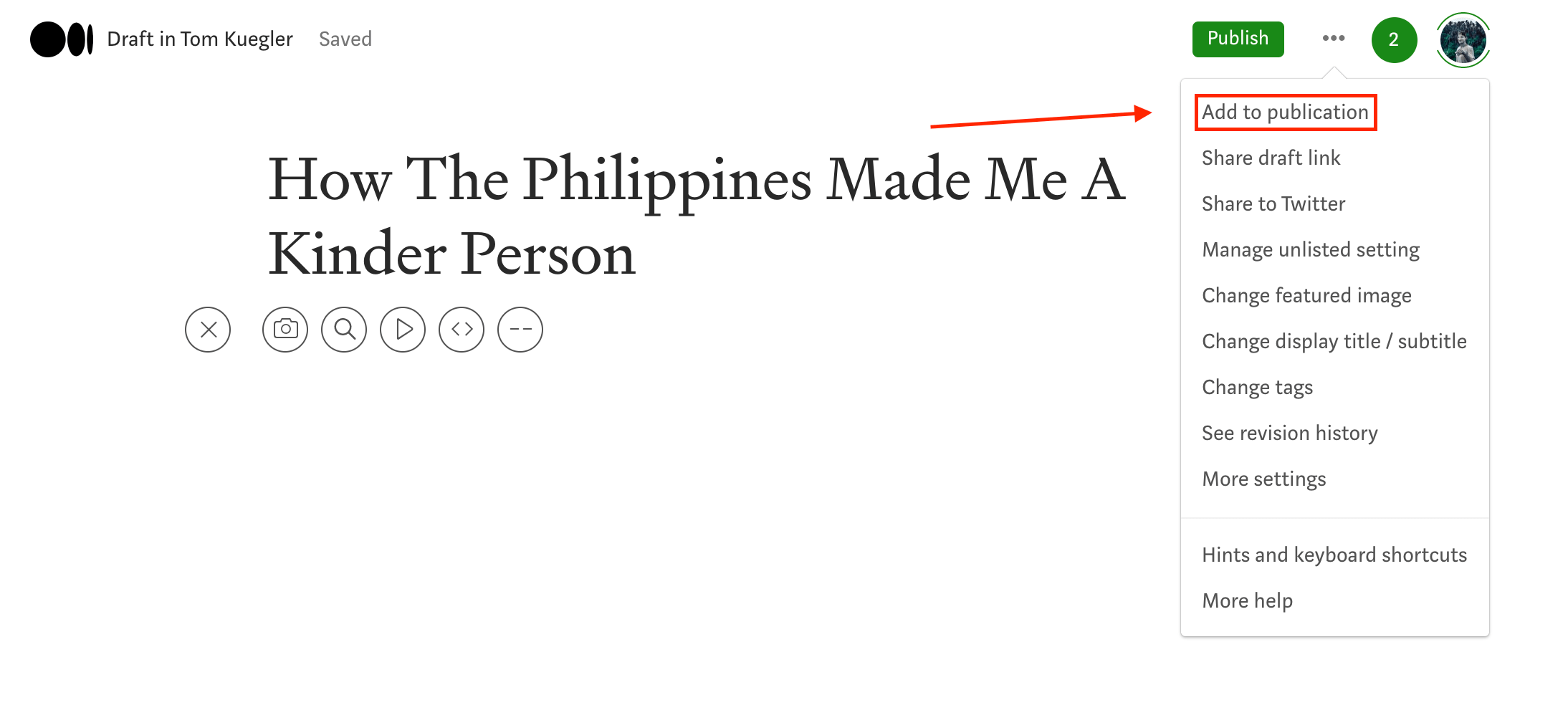 Once you've chosen one, press continue and hit publish.
Following other writers
It's okay to admit you are a bit out of your depth at first. With over 30,000 writers, you're a little fish in a big pond. However, unlike conventional blogging, Medium makes it easy to follow other writers. To start, go through the homepage, publications, and tags that interest you. Select the articles you like the look of and check out the writer's work. If you like what you see, give them a follow. Now, you'll get a notification (if you have the app) every time they post.
Following other writers is a great way to get a feel for how to use Medium for blogging. You can see how they structure their pieces, get ideas of your own, and develop a writing voice. Think of Medium as the home for bloggers. You can comment on and applaud other people's work - potentially forming a connection with writers from all around the world.
Where your post actually shows up
When a publication posts your article, you will find it on their homepage. For those that follow the publication, your piece might come up on their homepage.
Medium also sends out a "Daily Digest" email. The algorithm fills it with articles from people you follow or based on previous work you've read. If you've written about productivity, and that is all someone reads about, your article may go directly into their inbox.
Medium goes a few steps further than that. On your homepage, you will find some articles recommended to you - typically from writers and publications you frequent.
Furthermore, suppose Medium editors select your article for further distribution (formally known as curation). In that case, it will be featured in the tag's latest stories (or on the homepage of people who follow it).
If you write a truly excellent article, Medium's editors might feature it. They only feature a handful of stories, but it gives your post better outreach and longer shelf life. Plus, it feels great.
Final thoughts
Blogging can be daunting. Before I first started, all I thought it would involve was writing whatever came to mind and hitting publish. Sure, there's an element of that, but Medium brings all the complicated parts of the process and makes them accessible. When people think about starting a blog, meticulously building a website and worrying about domain names typically isn't at the top of the agenda. It certainly wasn't for me.
They just want to write. If you're here, you do too. Medium's user interface makes it easy to write a blog, and the publications provide thousands of potential readers. In 2021, learning how to use Medium for blogging is a vital skill for online writers.