Published on
A 15-Minute Guide To LinkedIn Marketing In 2021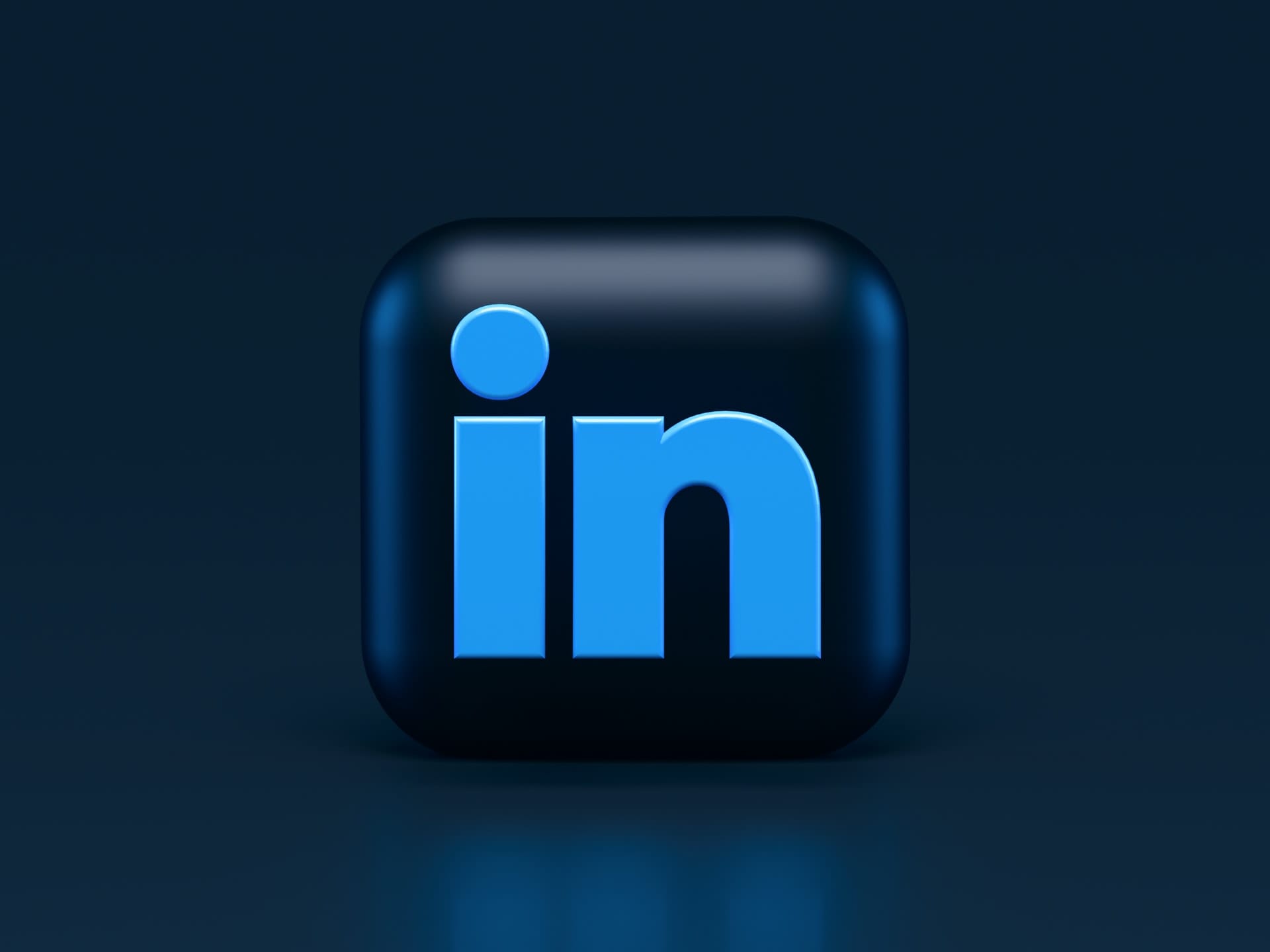 Introduction To This LinkedIn Marketing Guide
This is a comprehensive LinkedIn Marketing guide written by me, someone with over 14,000 followers on LinkedIn. Over the last four years I've posted countless blog posts, videos, pictures, and status updates to generate millions of impressions on my travel content.
This LinkedIn marketing guide will walk you through the entire process from start to finish. From creating LinkedIn content, to generating new connections, to beating the LinkedIn algorithm. If at any point you become lost in this massive 3,000 word guide, simply scroll up and take a look at the table of contents.
Without further ado, let's get started.
Creating LinkedIn Content
LinkedIn, for the last five years, has been a secret place on the internet to grow a following. Creators like Quentin Allums, Finn Thormeier, and more have grown followings of 40,000+ followers, and created videos that have received hundreds of thousands of views.
I've also seen similar success. I've managed to grow my audience on LinkedIn to some 14,000 followers, and made a few videos that have received over 200,000 views. The fact is, creating LinkedIn content can be highly lucrative for writers and video creators alike, and the content doesn't always need to center around business or work. It can center around travel, relationship advice, or even big life events.
If you want to also find success creating content on LinkedIn, here's a quick "How To" running down the basics.
How Do I Add A Post On LinkedIn
Once you sign up on LinkedIn and create your profile, you'll arrive at your homepage, which looks like this: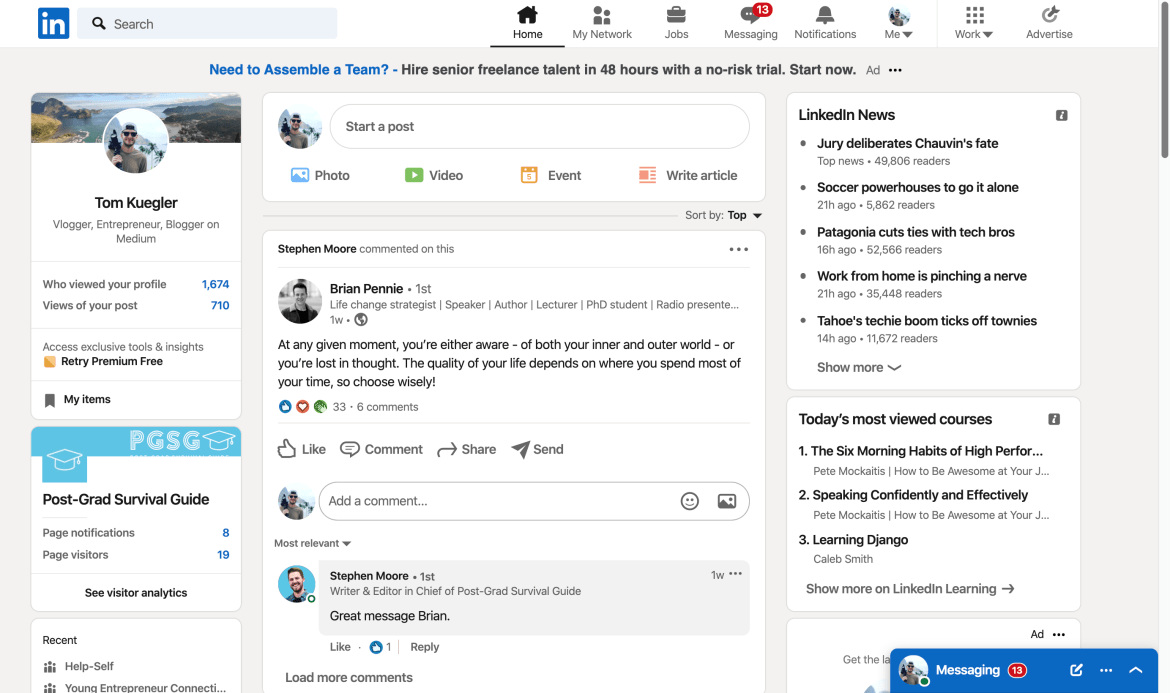 See the "Start a Post" box at the top of the page? Here's a closer look at it:

From here you can start typing in the box to create a proper "status update" post. I call them status updates because they're basically the same thing as a Facebook status update. There's a limit of 1,200 characters, so be careful not to make your post too long.
We'll get into how to share videos and pictures down below, but just know this box is the starting point for making posts on LinkedIn, and the answer to the "How Do I Add A Post On LinkedIn" question.
How Do You Tag Someone On A LinkedIn Post
If you're writing up a status update and want to "tag" a LinkedIn connection inside it, simply type the "@" character inside your post and type the name of the connection you want to tag.
For instance, I typed @michael and my friend, Michael Thompson's profile popped up in the box beneath the @ character. Then I simply selected his profile with my cursor. You'll be able to quickly search and tag connections in this way on LinkedIn.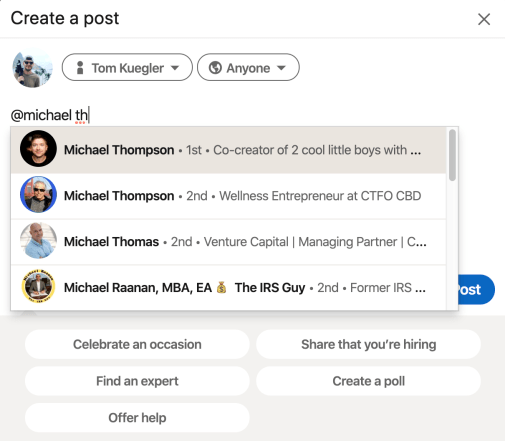 That's how to tag someone in a LinkedIn post.
How To Add An Image To A LinkedIn Post
You can add an image to a LinkedIn post in a few different ways. Select the "Photo" button from the "Start A Post" box on LinkedIn and you'll be able to choose a picture on your computer to upload and share to LinkedIn.
Once the picture is uploaded, you can add alt text to it by selecting the "Add Alt Text" button at the top right of the upload window. I normally don't care about this and just hit the "Done" button at the bottom right.
Then you can add a short message or story to it via the editor.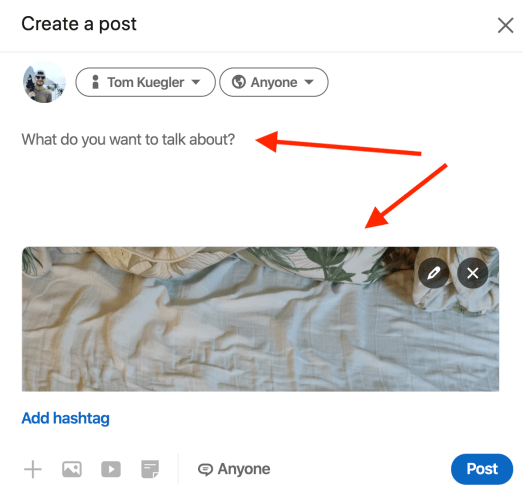 See how the image is located beneath the text box? You can add your text at the top, press post, and wa-la, that's how to add an image to a LinkedIn post.
By the way, adding images to LinkedIn posts are a great idea because the LinkedIn algorithm highly favors them nowadays. Just food for thought.
How To Post A Link To A Website On LinkedIn
Posting a link from a website to LinkedIn is really easy. Just copy the URL of whatever webpage you want to share, and paste it into the content box we discussed earlier.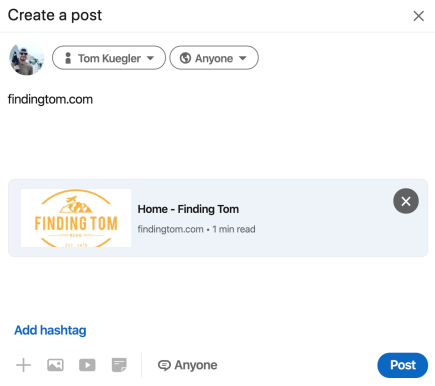 Then you'll a see a link to that website auto-populate beneath the text box in your post window. You can now delete the URL, since the website preview has already been inputted and saved.
That's how to post a link to a website on LinkedIn.
Who Can See My LinkedIn Posts?
The cool thing about LinkedIn marketing is the organic reach. When you're wondering "Who can see my LinkedIn posts?" the answer to that is everybody. People you're connected to as well as people you're NOT connected to can see your posts.
BUT, there's a catch. In order for people you're not connected to to see your posts, you need people you're currently connected to to "like" your post. Once a connection "likes" your post, the LinkedIn algorithm actually puts your post on the homepage of people they're connected to. In this case, that would be what's known as 2nd tier connections.
1st tier connections on LinkedIn are people you're connected to.
2nd tier connections on LinkedIn are people you're not currently connected to, but are connected to a connection of yours. So basically a friend of a friend.
3rd tier connections on LinkedIn are people you're not currently connected to, but are connected to a connection of a connection of yours. So, to keep with the example, a friend of a friend of a friend.
I know it can make your head spin, but that's how it works.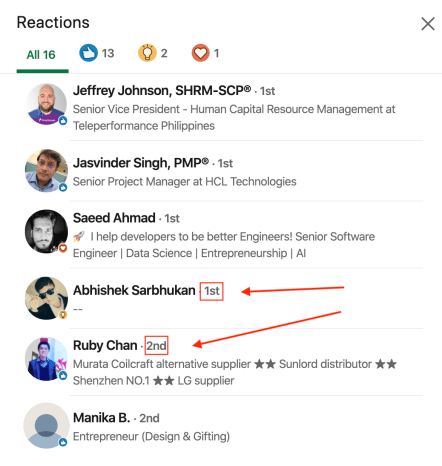 Take a look at the picture above. This is a box showing the people who liked a recent status of mine. As you can see, I can determine what connection level these people are. Using this information, I can then send these folks a connection request and grow my following. More on that in the "LinkedIn Connections" part of this page.
Related Reading
How To Blog On LinkedIn
Many people don't know you can also post full-blown blog posts on LinkedIn. They're called LinkedIn "articles" and can drive pretty significant traffic when executed properly, adding gasoline to your LinkedIn marketing efforts.
LinkedIn articles can also help you rank higher in search engines given the fact that LinkedIn has a high domain authority. If you optimize for a given keyword, you'll likely be able to rank in search results, sort of like you can on Medium. Let's get into how to blog on LinkedIn.
How Do You Post Articles On LinkedIn
Posting articles on LinkedIn is fairly straightforward. Go to the content box on your homepage (discussed earlier) and select the "Write an Article" button.

From there you'll enter a proper blog post writing system where you can write a headline, upload a cover photo, and write the body paragraphs.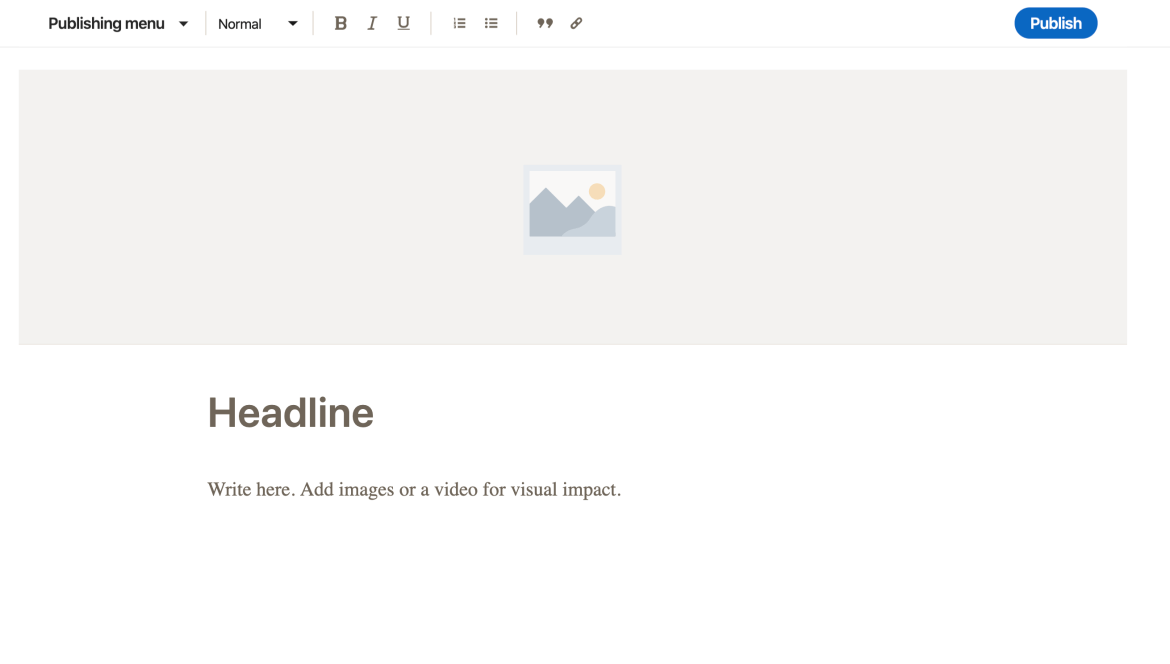 When you're done writing up your article, simply press "Publish" in the top right and your first LinkedIn blog post will be live.
What To Write When Sharing An Article On LinkedIn
You might wonder what to write when sharing an article on LinkedIn if you're literally just copy and pasting an article from the internet.
The good news is, what you write doesn't need to be that fancy. Keep in mind you only have 1,200 characters to make a statement, meaning you could squeeze in 8-9 paragraphs at the most. I typically just share a total of 3-4 sentences using this formula..
Detail what the article is about.
Talk about why it's important.
Communicate your biggest takeaway from the article.
Urge your followers to click in and see what it's about.
That's all it needs to be, friend. That's what to write when sharing an article on LinkedIn.
The Best Time To Post An Article On LinkedIn
LinkedIn is a global audience of professionals who are likely waking up early in the morning to attack their day. I typically ALWAYS publish my content on LinkedIn from 6-10 AM EST to make sure I catch these businesswomen and men at the beginning of their day.
With that said, you have to keep in mind that LinkedIn has a truly global audience. According to an article on Hootsuite, nearly 70% of LinkedIn users live outside of the United States.
You have to think about who your target audience is. For a while I published content about the Philippines since I lived there for two years. Given that my audience was Filipinos, I typically posted at 6-10 AM Philippines time. Take the location of your audience into consideration, and publish in the mornings when considering your LinkedIn marketing strategy.
The Difference Between An Article And A Post On LinkedIn
The biggest difference between an article and a post on LinkedIn is the length. A common post is typically just 1,200 characters in length, while an article can be up to 1,200 – 2,000 words on average.
Remember, a LinkedIn post is essentially just a Facebook status update that looks like this: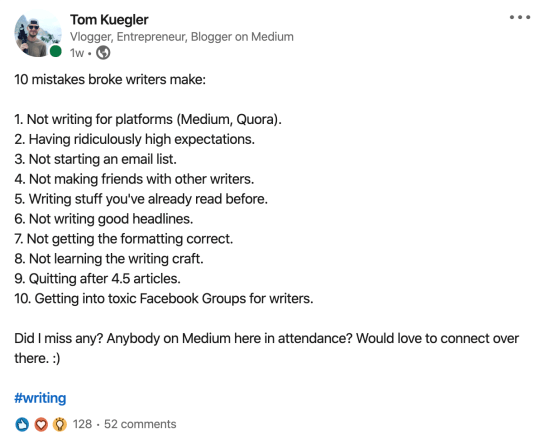 See how short it is? LinkedIn posts are really good for short listicles and even quotes, but articles are good for when you want to flesh out an idea in-depth.
Recommended Reading
How To Make Connections On LinkedIn
All of this posting on LinkedIn and blogging on LinkedIn won't matter if you can't win connections. LinkedIn connections are sort of like email subscribers. You need to capture them so they can continue to see your great content in their feed every day. That's LinkedIn marketing 101.
If you don't swoop down to win crucial connections, you'll lose that person (likely) forever and they'll never see you again.
What Does It Mean To Connect On LinkedIn?
Think of "connecting" on LinkedIn like a friend request on LinkedIn. "Connection" on Linkedin is just a fancy way of saying "friend." They say connection because they want to sound more professional, I guess.
The major benefit of being connected to someone as a content creator is the fact that connections can see your posts on their feed much more easily. It's more likely that they'll find your crap, in other words.
How To Grow Connections On LinkedIn
If you want to learn how to grow connections on LinkedIn, look at your existing content. If you click the button showing how many people "liked" your status update, article, or video, a box will pop up showing all the folks who liked it.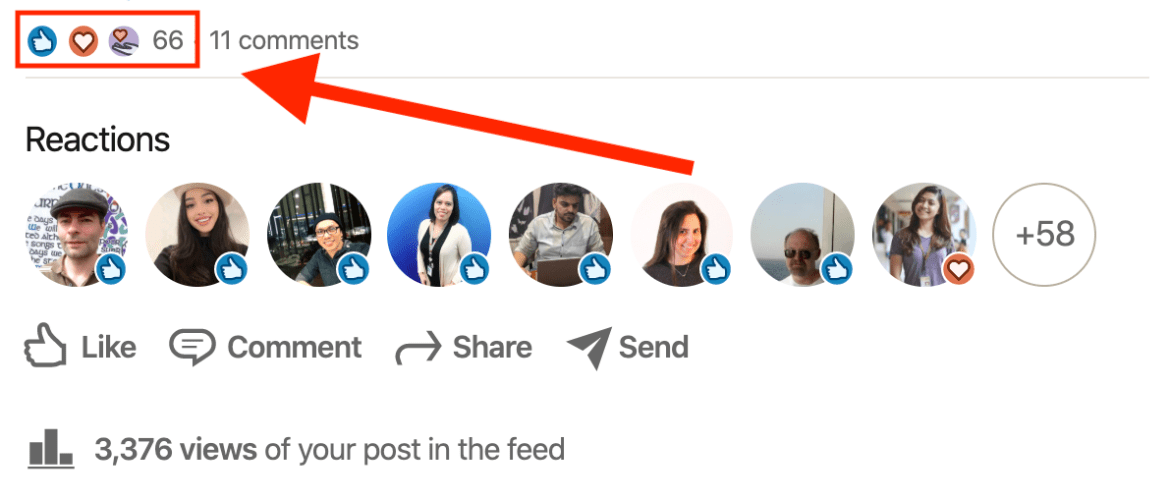 You then want to scroll all the way to the bottom of that box because down here are all the folks who you're not currently connected to. You'll see they're all 2nd and 3rd connections.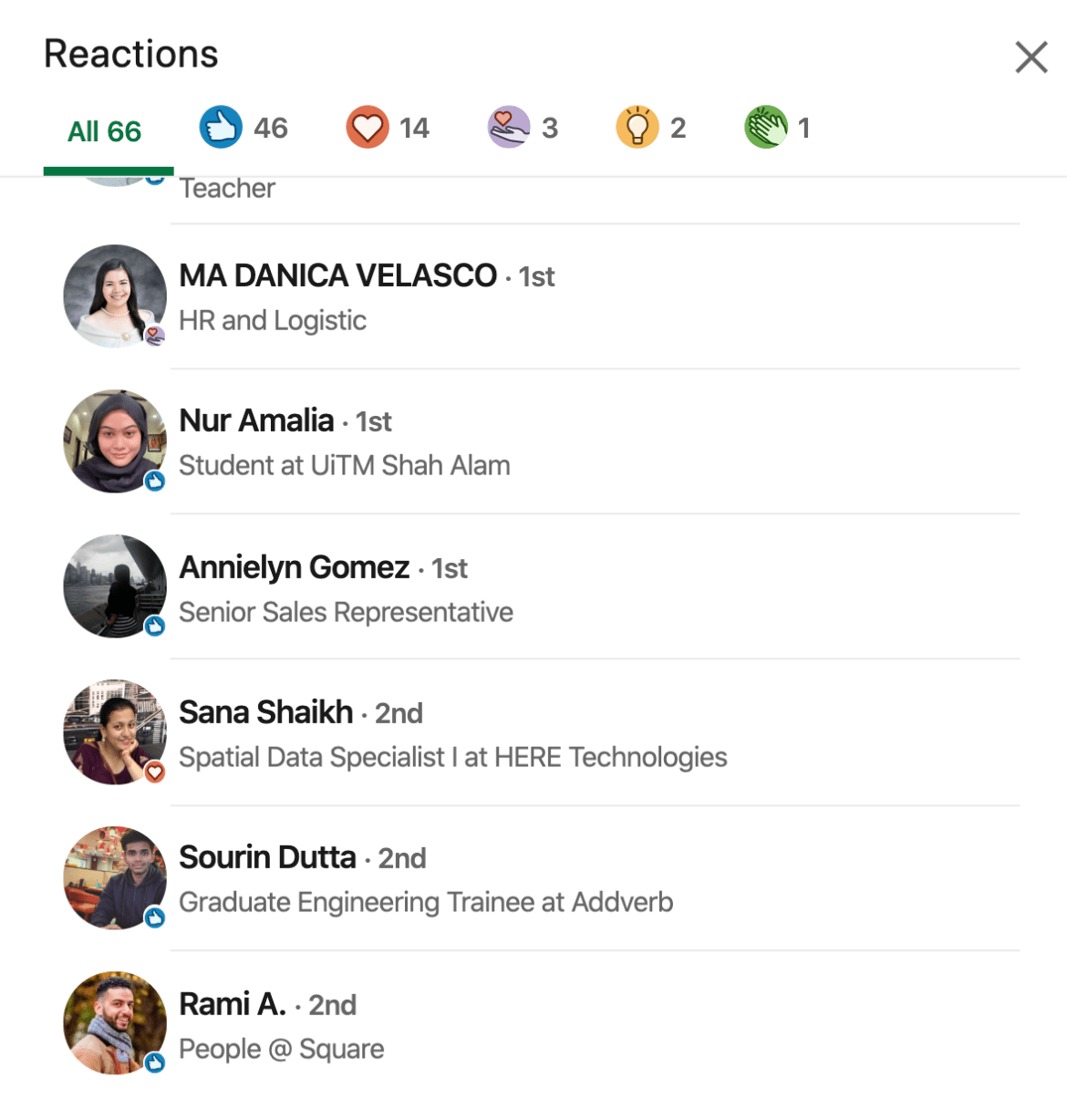 See all the 2nd's down there? You're gunning for 2nd and 3rd connections because these aren't people you're directly connected with yet–they're connections OF connections, or friends of friends.
You would then right click on their name on your mouse or touchpad, select "Open in new tab" which will take you to their profile page. Then you'd hit the "Connect" button on their profile screen and write up a connection request. You might be wondering how to write a LinkedIn connection request without sounding weird. Let's get into it in the next section.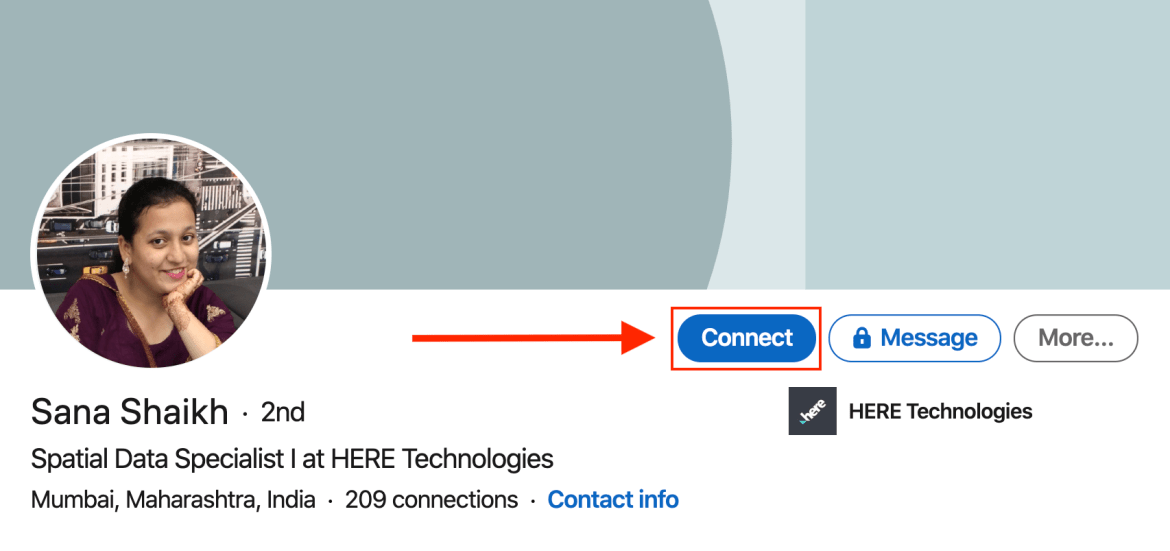 How To Write A LinkedIn Connection Request
Okay let's talk about what to write in a LinkedIn connection request. You can't really act like best buds because all they did was like your LinkedIn content. That's it. You need to make it personal, but not weird.
This is how I normally write mine up..
"Hey (first name here), thanks for liking my recent post about (insert post topic here), I'd love to connect with you here on LinkedIn. :)"
That's it. Short, sweet, and to the point.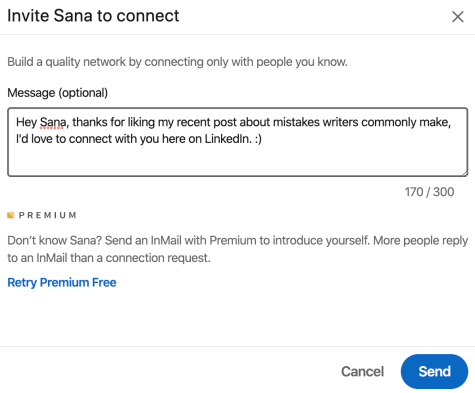 You'll have to click into a lot of profiles and copy/paste that message in your connection requests. Then you need to make sure you put that person's name in there for personalization purposes. I normally go through all my recent posts in the morning, click in to all the folks who are 2nd and 3rd connections, then send them connection requests like this at scale. I normally send out 10-15 requests per morning, and I'd say 70% respond with a yes. Over time they certainly add up, let me tell you.
Where To Buy LinkedIn Connections
I really don't recommend trying to buy LinkedIn connections OR likes, but if that's really what you want to do, I wrote a post on it right here.
Recommended Reading
How To Beat The LinkedIn Algorithm
The LinkedIn algorithm is the reason LinkedIn marketing is valuable in the first place. The organic reach is phenomenal. Like we talked about above, LinkedIn puts your content not just in front of your own connections, but in front of your connection's connections. When the likes start to snowball, you can go viral very easily. Here's a snapshot of the reach a post with 100 likes got on LinkedIn: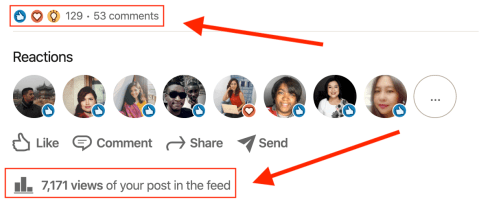 This post got 7,000 views in the feed. I'd challenge you to try to get 7,000 views on Medium. It's just not going to happen for you this easily.
So we've established that the LinkedIn algorithm is amazing. Let's talk about how you can use this algorithm to your advantage to get thousands of views and impressions onto your content.
How To Trend On LinkedIn
Let's talk about how to trend on LinkedIn. All you need to know is that comments are way more valuable than likes. When your post receives a lot of comments on LinkedIn in the first hour, the platform will "throttle" your post and start suggesting it to a LOT more people. It's sort of like a LinkedIn marketing hack.
Your best bet, for one, is to try to bait people into commenting on your posts. You can do that by asking them to jump into the conversation.
For instance, many times I write little listicle status updates that take me all of 10 minutes to produce. I then ask my audience if I missed anything. This works like a charm. In the comments I normally get all kinds of suggestions and then the post starts taking on a life of its own.
The other day I got this message in my notifications:

Okay, so you can see that LinkedIn doesn't only care about "likes," it cares equally as much about engagement, or comments. I've received this message twice in the last few weeks. It's a good sign.
Another way to start trending on LinkedIn is to share the right TYPES of content. Right now, LinkedIn seems to favor these types of content ranked in order of most average organic reach to last:
Picture posts
Status updates
Video posts
Articles
The four major types of content on LinkedIn are pictures, status updates, videos, and articles. Out of these four, pictures and status updates reign supreme.
It used to be that LinkedIn heavily favored video in the feed, but not that much anymore. I once uploaded a video of myself in the Singapore airport recorded on my phone and it got a quarter of a million views. That wouldn't happen today.
So, my second piece of advice if you want to start trending on LinkedIn is to focus on picture posts and status updates.
Make the text on these posts short and sweet. Do a listicle, put some emojis in there, and have fun with it. Follow my profile on LinkedIn if you need some examples of how to post properly.
How To Find Trending Topics On LinkedIn
For me, the best way to find trending topics on LinkedIn is to watch what the big creators are doing. If you have anywhere near 200-300 connections on LinkedIn, take a scroll through the feed on your homepage. Eventually you'll come across a post that's doing monster numbers.
Another way to find trending topics on LinkedIn is by taking a look at popular hashtags. I wrote up a post about all the most popular LinkedIn hashtags to put into your posts, but what you might not know is that you can search these hashtags and see the hottest, most relevant recent posts on the platform.
To do this, simply type this into your browser's search bar: https://www.linkedin.com/feed/hashtag/?keywords=
After the = sign, put your desired keyword and press enter. For instance, I put "business," which took me to the page that housed all the most popular posts in business over the last 2-3 days.
If you stick to the hashtags, and keep your ear on the ground, you shouldbe able to see what kinds of posts do well pretty much immediately.
Recommended Reading
Conclusion
If you want a beginners guide to LinkedIn Marketing in 2021, this is certainly it. If you pay attention to everything I told you about the LinkedIn algorithm, LinkedIn posts, finding LinkedIn connections, and blogging on LinkedIn, you'll carve out a niche for yourself here soon enough and start racking up the followers.
Make sure to subscribe to my blog and follow for more LinkedIn marketing content in the future.