Published on

Posted under
"How Can I Earn Money By Writing Online?" – Here's 11 Ways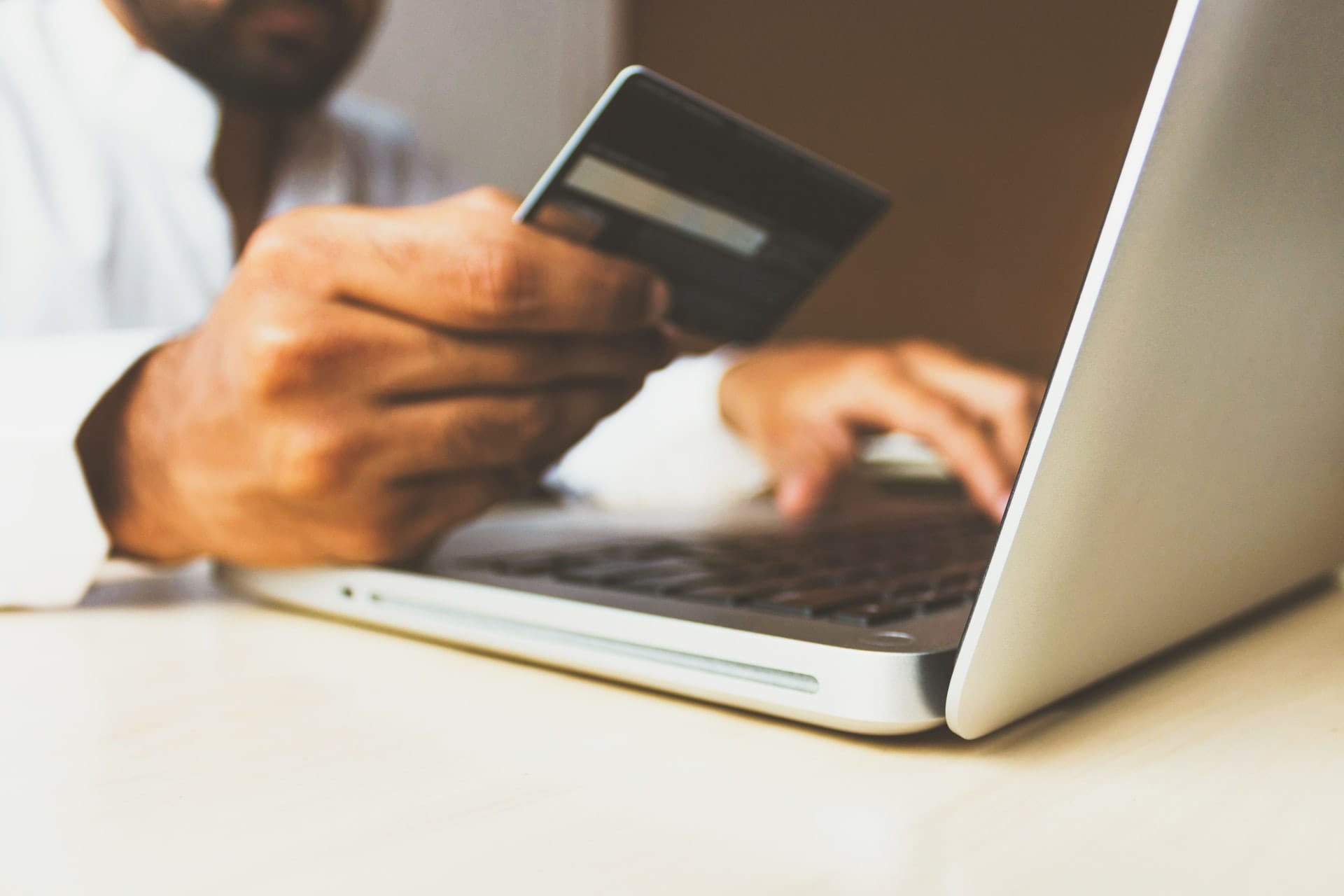 People often ask me: "How can I earn money by writing online?" Well, the deeper you look, the more opportunities you will find.
Not so long ago, you needed to build a blog from the ground up, slowly building your SEO rating on Google and earning money through adverts. You can still do that, but there are so many other ways it seems futile to rely on your blog.
You can do down a few routes. You could either write about things that interest you (such as your life) or write for other people.
The question "How can I earn money by writing online?" is the gateway to a world of opportunities. Explore one, and you'll find yourself hopping into another. And another.
Of course, you don't want to stretch yourself too thin. There are too many options for that. Instead, pick a few and give them a go.
See what happens.
1. Medium
Of everything on this list, Medium is the money-making machine I know most about. I've been writing on the platform for over five years and have gained over 50,000 followers. I've also grown my publication -  the Post-Grad Survival Guide - to over 43,000. We average hundreds of thousands of views a month.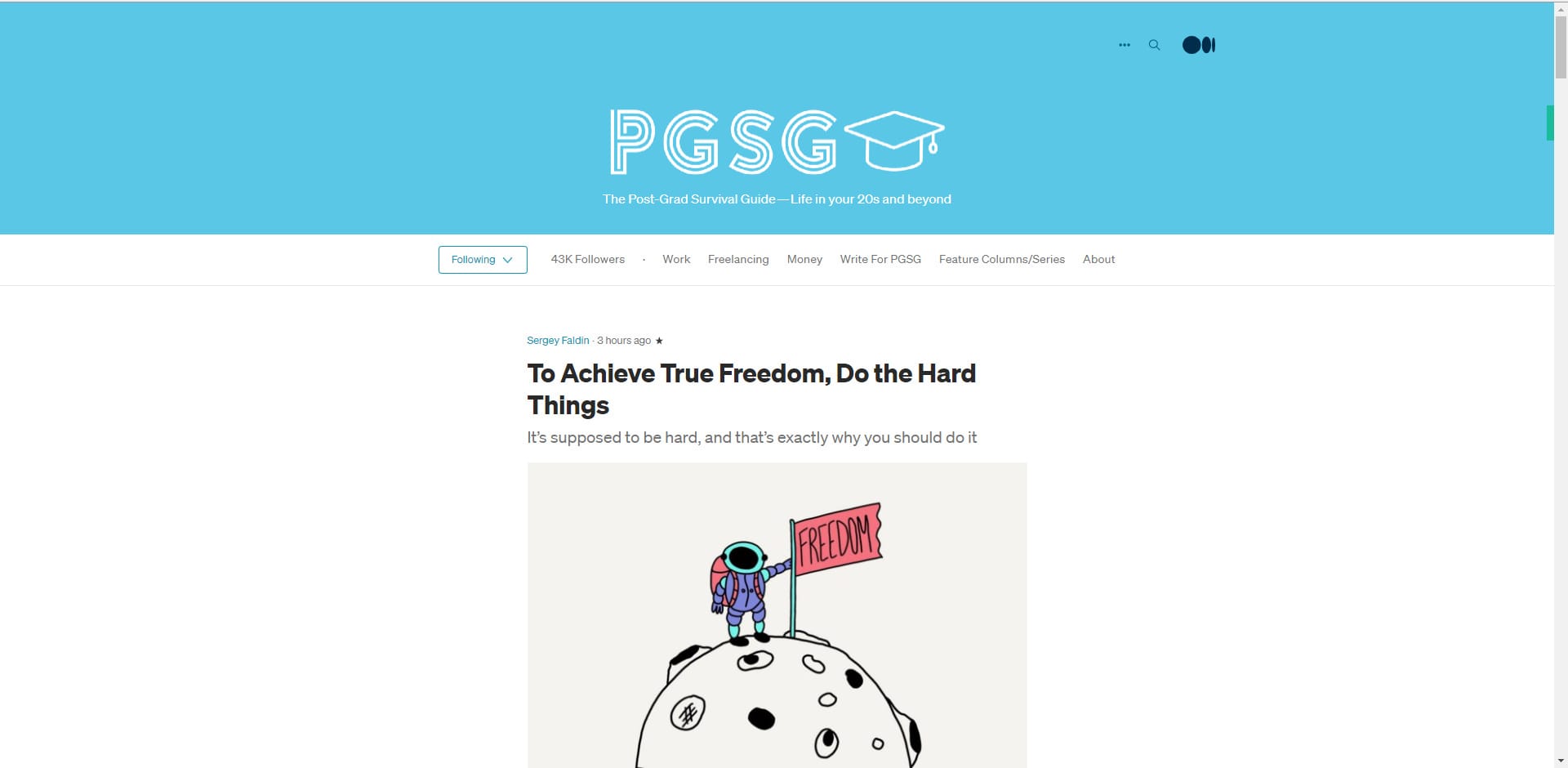 Although Medium seems to change a lot, it's a safe bet if you find yourself asking, "How can I earn money by writing online?" Here's how it works.
On Medium, you have two publishing options. You can either self-publish under your name or with a publication. For instance, if you published with the Post-Grad Survival Guide, there is a higher chance it will get more views as you'll have access to the 43,000 followers we have.
Medium has a team of curators who scour the website for good-quality articles. If yours matches their curation guidelines, they'll push it for further distribution across their Daily Digest emails and user's homepages. Your article will be automatically curated if you publish with some publications, such as Better Marketing and The Ascent.
If you want to earn money, you will need to put your articles behind the Partner Program. It operates on a member read time basis - the more members who read your article, the more money you will earn.
The best part about all of this? You can write about whatever you want and have access to a vast database of writers and readers. If you stick with it, you could earn good money from Medium.
2. Newsbreak
At the back end of 2020, Newsbreak, an American news platform, reached out to many Medium writers. Newsbreak invited them to the creator scheme, with a generous $1000 a month payment for the first three months if you posted three articles a week. Sadly, that's since changed. Here's how it works now:
If you get a CV (content value) score of 1-4, you earn $25 per article. A CV score of 5-10 makes you $60.
Once your first three months are over, the system changes. A CV score of 1-4 earns you $4 per 1000 page views, and 5-10 makes you $10 per 1000 page views.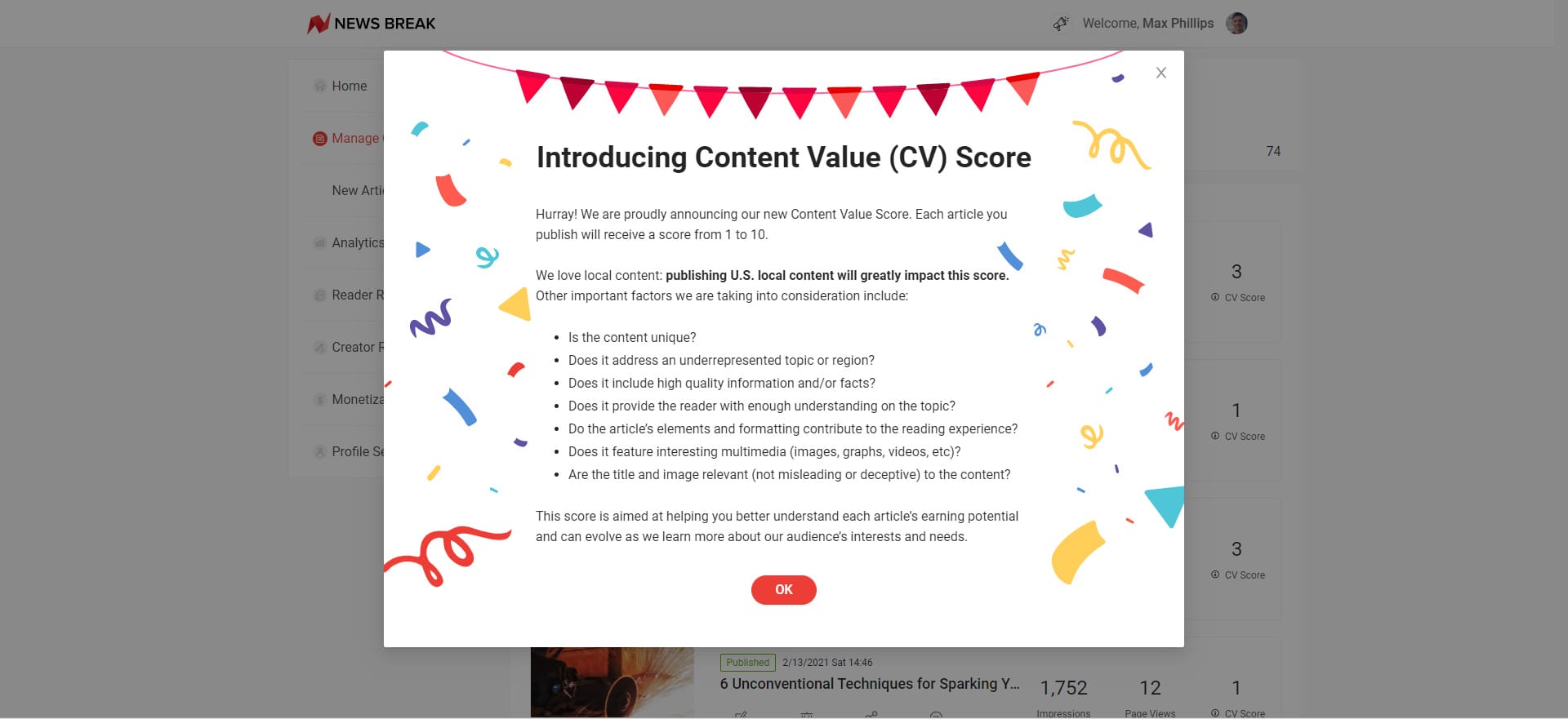 Still with me?
Newsbreak allows you to write about anything and everything, but if you have something related explicitly to America, then chances are you'll earn more.
3. Quora
Quora is a Q&A site. People ask all sorts of questions, and other people answer them. As it turns out, you can get paid.
However, it's not as easy as Medium, for example.
To join the Quora Partner Program, you need to be invited. To be invited, you need to have answered and asked a good amount of questions (no one knows specifically).
4. Vocal Media
Vocal Media is similar to Newsbreak and Medium. You can write about whatever you please and earn money. However, their payment structure varies.
There are two categories of pay, as follows.
Vocal free users will earn $3.80 per 1000 page views.
Vocal+ users get $6 per 1000 page views.
You can also earn money through tips donated by generous readers.
5. Guest posting
With guest posting, you can still write about what you want, but you have to choose where to post it. Let me give you an example. If you love traveling, you could send an article to Great Escape Publishing. They will pay $150 for 300-600 word articles about making a living by traveling.
There are countless places to guest post. Name an interest, and there is a high chance someone out there is willing to pay you for an article. It could be about finance, parenting, growing a business, cars, or student life. Whatever it is, you can get paid for it.
For a comprehensive list of places to guest post, check here and here.
6. Writing competitions
While challenging to win, writing competitions can be incredibly lucrative.
They range from short stories, extended fiction, poetry, and non-fiction. If you win, you can use that tag forever and grow your credibility.
There are far too many to name, but I guarantee there is a competition out there for you. Check out some here.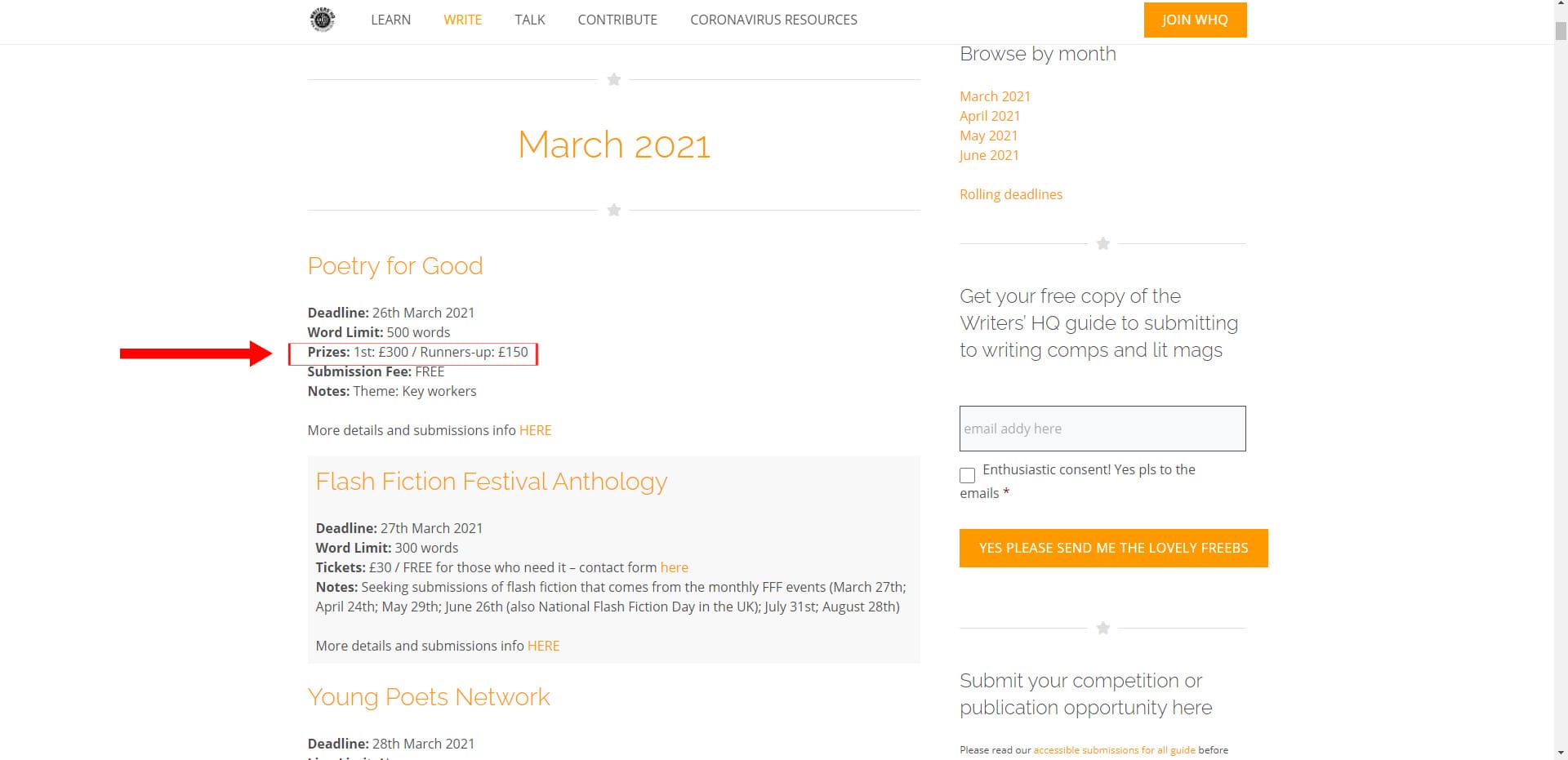 7. Self-publish a book
If you were to ask a non-writer, "How can I earn money by writing online?" their answer would likely be "publish a book." I know that's every budding writer's dream, but the chances of securing a book deal when you don't have many connections, credibility, or experience are almost non-existent.
An alternative route is self-publishing. You could write an e-book, host it on your website and sell it there. Or, you could publish it on the Amazon store. If it takes off, you could be on the receiving end of book deals and quite a bit of cash. You'll take home more of the profits, too, as you won't owe any to the publisher.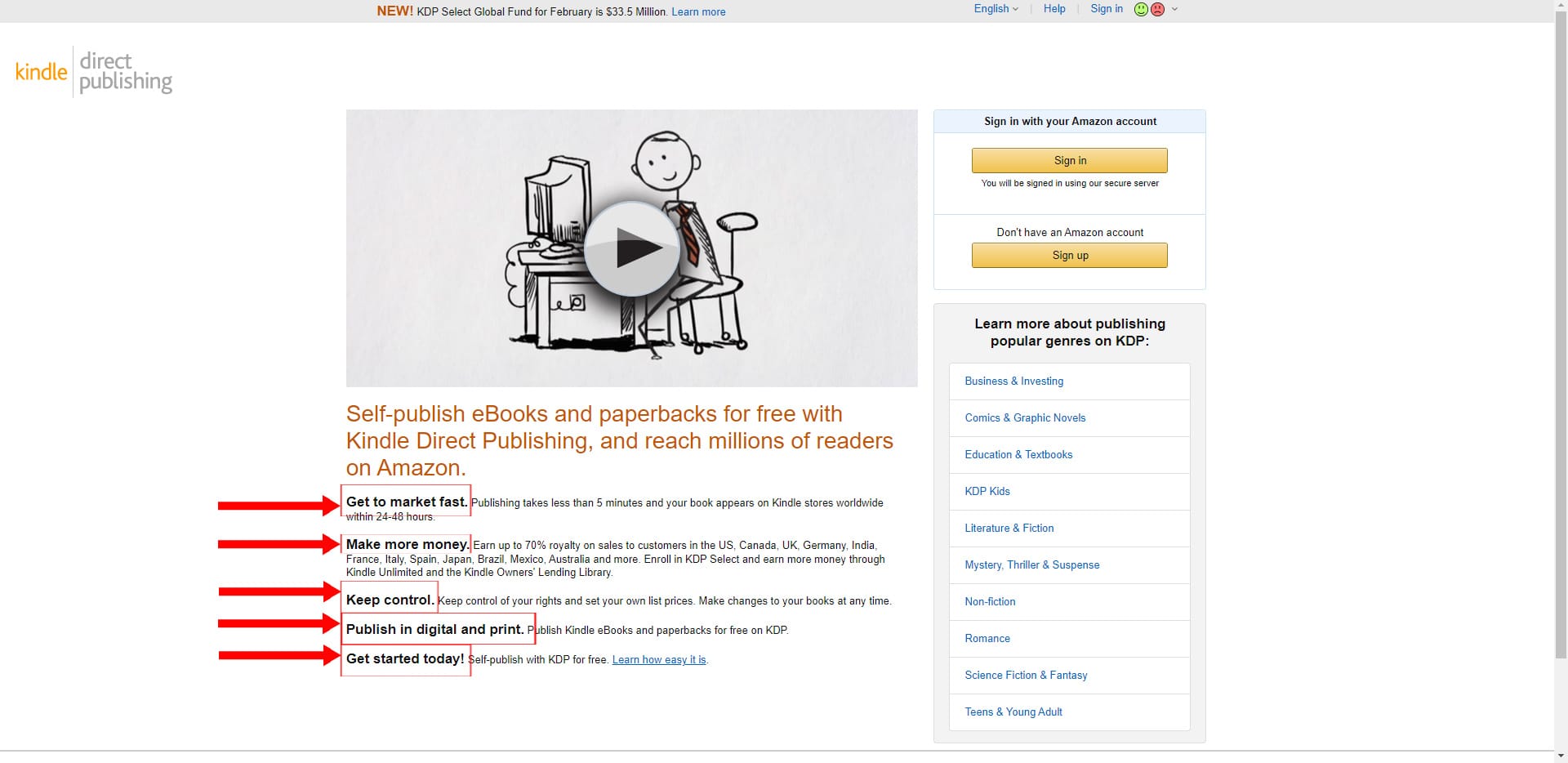 However, self-publishing a book is what every man and his dog is doing, so it can be a massive waste of time and resources. However, it takes courage to write and publish a book yourself. So if you think you can do it, by all means, go for it.
Shoot for the stars, and you might just reach the moon.
8. Freelance writing
You may have been scrolling through this list and wandering when freelance writing will show up. Well, here we are.
Besides becoming an author, freelance writing is the definitive answer to the"How can I earn money by writing online?" question.
Essentially, a client hires you to write something for them. It could be some copy for a board meeting or an article for their website. The projects will be diverse.
Typically, clients will pay you either by word or per project. While your prices may be low at the start of your journey, you can eventually charge more as you become more experienced.
There are tonnes of sites dedicated to finding freelance work. Some of the best are Upwork, Problogger, and Freelance.com.
9. Ghostwriting
Somewhat ironically, ghostwriting is perhaps the forgotten money-making machine of the writing world.
Clients hire you to write for them, but without taking credit for it. When the book or article you wrote gets published, your name won't be on it. However, this can be a highly lucrative way of earning money, as the people who want ghostwriters are typically prepared to pay good money for it. They simply don't have the time or skill to write it.
Ghostwriting is a tad trickier to get into, as it's more about the people you know than anything else. A good idea (for getting freelance work as well) is to build a portfolio of work on Medium and let that speak for itself.
10. Affiliate marketing
If you have a blog, then affiliate marketing could be an excellent way to earn money writing online. You write about a product and include a link to it. For every purchase through that link, you will earn a portion of the sale. Anyone can get started, as Amazon has an affiliate marketing program. Or you could get a deal with a client looking to promote their product.
With this method, it's better to be subtle. For example, if you're promoting Grammarly, talk about other ways your writing has improved. Incorporate it into a story.
11. Build relationships
Last and by no means not least, you must build relationships if you want to earn good money online. While it may feel like a lonely and, at times, competitive game, I can assure you it's not. Building relationships with other like-minded people can help you immensely. They can recommend you for work, improve your writing quality and help our world feel like more of a community.
Reach out to other writers on Medium and LinkedIn. Use their social networking features and open your eyes to countless opportunities.
Earning money by writing online has never been easier
Although the above statement is true, that doesn't mean it's all going to be plain sailing.
You will need to put in a lot of work before you can start earning good money. That's just a fact.
That being said, there are many great options out there for you to explore. Perhaps the best thing about it all? You don't need to be a certified expert on a topic to earn money from it. All you need is a 10% edge over the field. Know a little bit more than most, and you can earn some good money.