Published on

Posted under
20 Websites To Write And Get Paid Instantly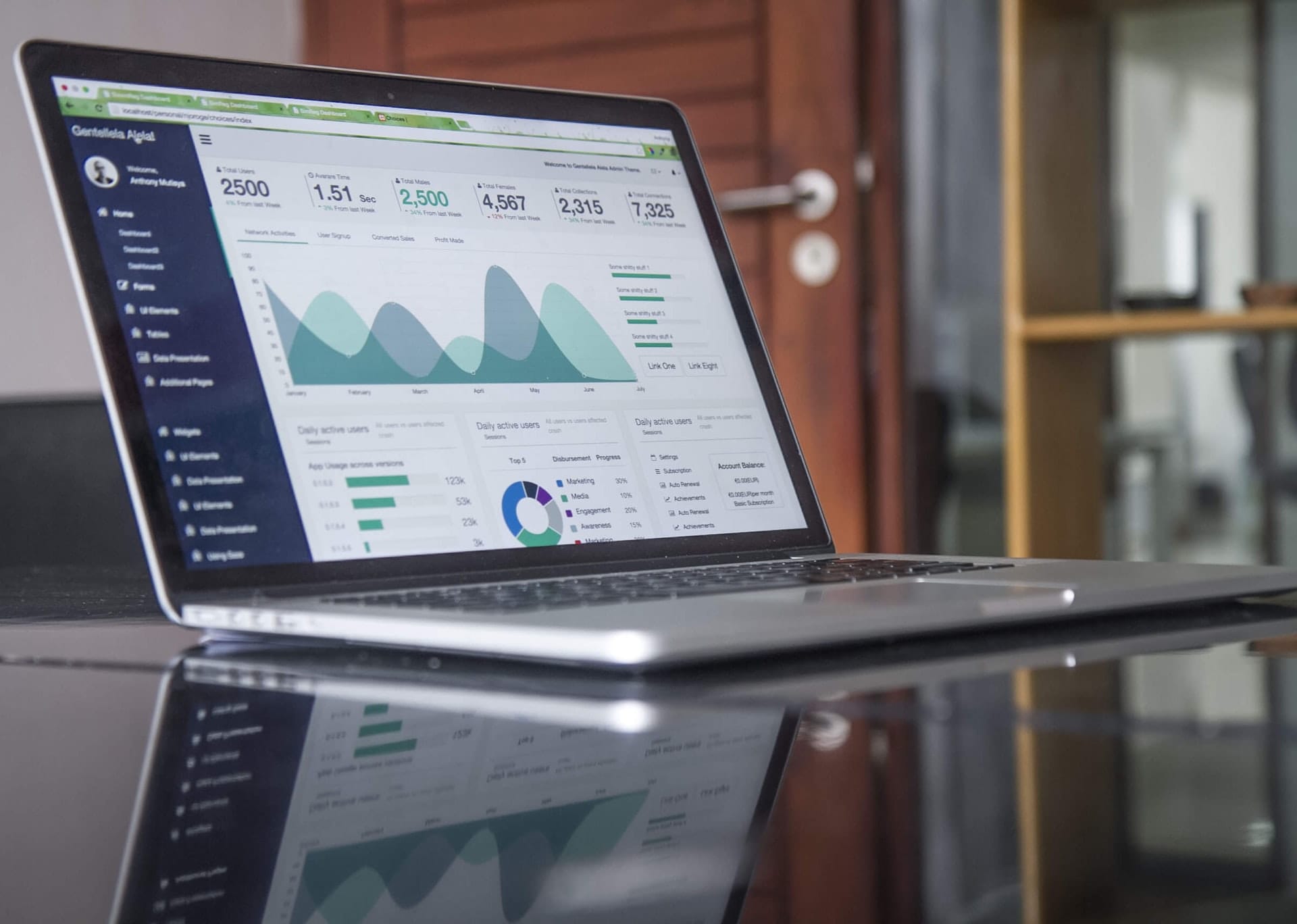 Even if you may only write for your love of the craft, writers need to write and get paid instantly to survive.
Happily, there are plenty of services out there you can use. Long gone are the days where you need to spend years toiling away at growing your website and relying on advertisement revenue. Instead, you can now get paid to write about what you love.
There's no better feeling. So here's a quick list of websites you can use to write and get paid instantly:
Medium
Medium Publications
Post-Grad Survival Guide
The Ascent
PS I Love You
Upwork
Fiverr
Vocal
Newsbreak
Quora Partner Program
Steemit
Now for some more information:
1. Medium
Looking around, I don't see many people suggesting Medium as a way writers can write and get paid instantly. I've no idea why.
Medium is one of, if not the best, places to write and get paid instantly. Once you sign up for the site's Partner Program and fill out the relevant tax form, you can then agree to put your stories behind a paywall. These stories will have a little star with them.
Pic
Medium then calculates your earnings based on member read time. So the more members who read your article, the better. For $4.99 a month, you can read and write an unlimited amount of stories. It's an excellent place for writers to be and paved the way for my career.
I love it.
2. Medium Publications
Now, when you're starting on Medium, you start with zero followers. Unless you're fortunate, your articles won't get many views in the early stages. That's where publications come in.
Publications big and small already have a following you can share your work with. Instead of spending years acquiring thousands of followers, the publications are essentially gifting you their readers.
To put it simply: if you want to make it on Medium, you need to publish in publications.
Here are a few that are a readily available way to write and get paid instantly because of their engaging and vast readership.
3. Post-Grad Survival Guide
This is my baby. Aimed at, you guessed it, post-graduates, my publication focuses on freelancing, money, and work. Despite the name, our stories resonate with all age-groups.
You can apply to be added as a writer here, but please read our submission guidelines first.
4. The Ascent
The Ascent is a self-improvement publication with over 100,000 followers. They're looking for articles that demonstrate an impact on your life. So while research helps add credibility, they want a personal touch too.
You can find the submission guidelines here.
5. PS I Love You
You guessed it - this publication focuses on relationships—specifically love, family, and friends. Like The Ascent, PS I Love You looks for personal pieces.
It may feel scary opening up about your love life, but with over 200,000 followers, the chances of you getting paid handsomely are higher than most.
You can read their submission guidelines here.
6. Upwork
Upwork has just about every writing category you can think of.
On Upwork, potential clients post the type of job it is, the amount you'll get paid, and roughly how long it should take. To apply, you send a pitch bragging about your credentials and hope for the best.
One of the best things about this site is price transparency. Many of these sites withhold how much you will get paid, which can be a waste of time, so this is refreshing. Take a look: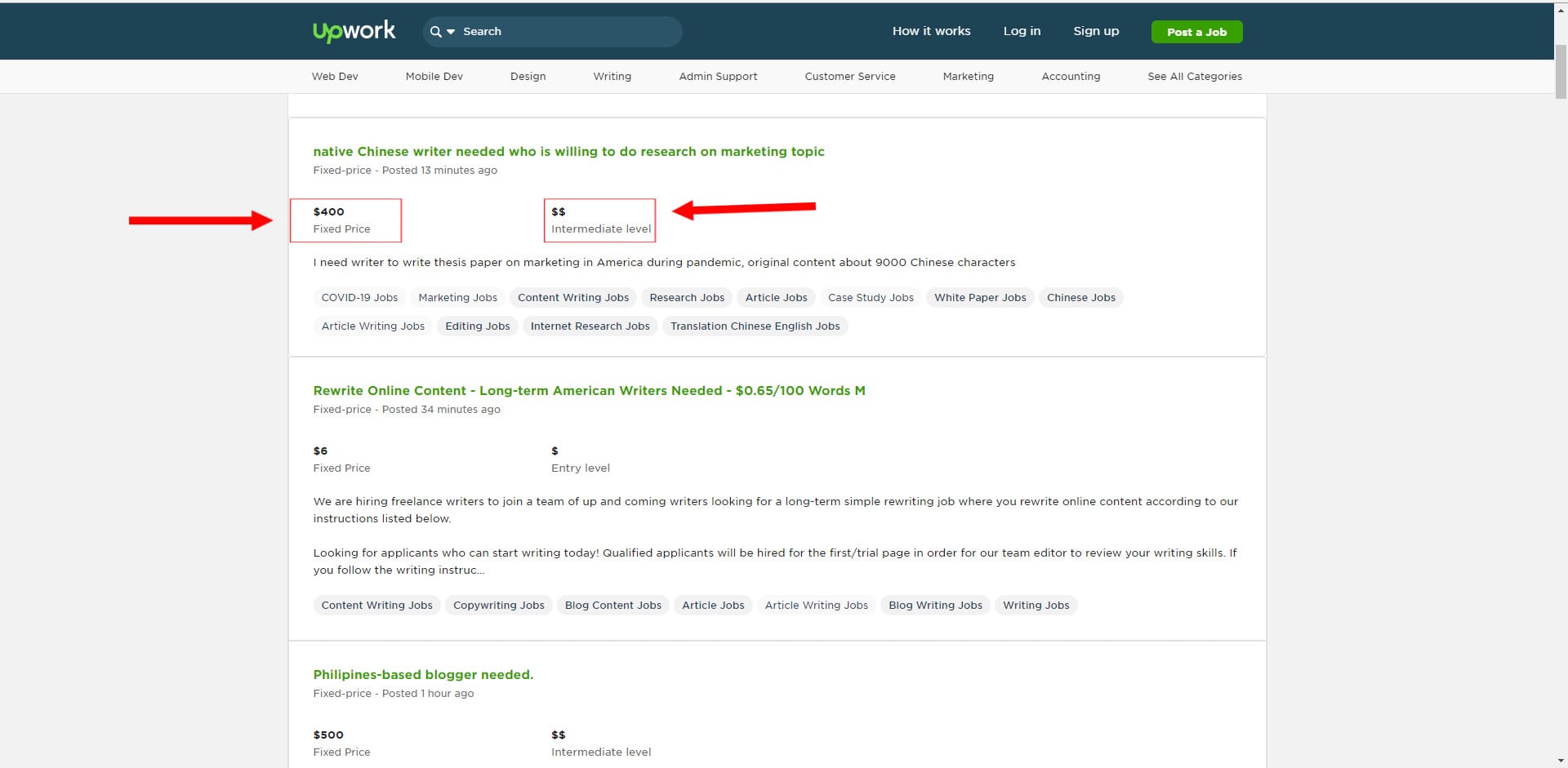 You can create an account here.
7. Fiverr
Fiverr is much like Upwork. The site advertises freelancing jobs from a range of industries, which you can then apply for. Again, transparency is one of its top features, as you get seller reviews and potential pay.
However, Fiverr does keep 20% of the fee you've earned. As a beginner, you won't be able to charge much, hence the company's name. Still, it's a certified way to write and get paid instantly.
You can create an account here.
8. Vocal
Vocal is a lesser-known Medium (although there's a little more to it). Like Medium, you can write what you want and get paid. However, Vocal has a less lenient payment system.
Free Vocal users will receive $3.80 per 1000 page views, and Vocal+ users get $6 per 1000 page views. Readers are also able to leave tips for stories they love. Once you cross the $35 mark, you're then able to withdraw your hard-earned cash.
For more explanation on how the process works, click here.
9. Newsbreak
Newsbreak stormed onto the online writing scene at the end of 2020. A lot of Medium writers, including myself, were directly invited to join. Contracts vary, but for those invited initially, it was $1000 a month for three articles a week.
Pretty good stuff.
That's since changed. They recently introduced a 'Content Value (CV)  score.' PIC. If your article scores 1-4. you will receive $25 per piece in the first three months. If you score 5-10, that rises to $60 per article. Now, they pay $4 per 1000 page views for articles with a 1 and above rating and $10 for a score of 5 and above. Here's how it works: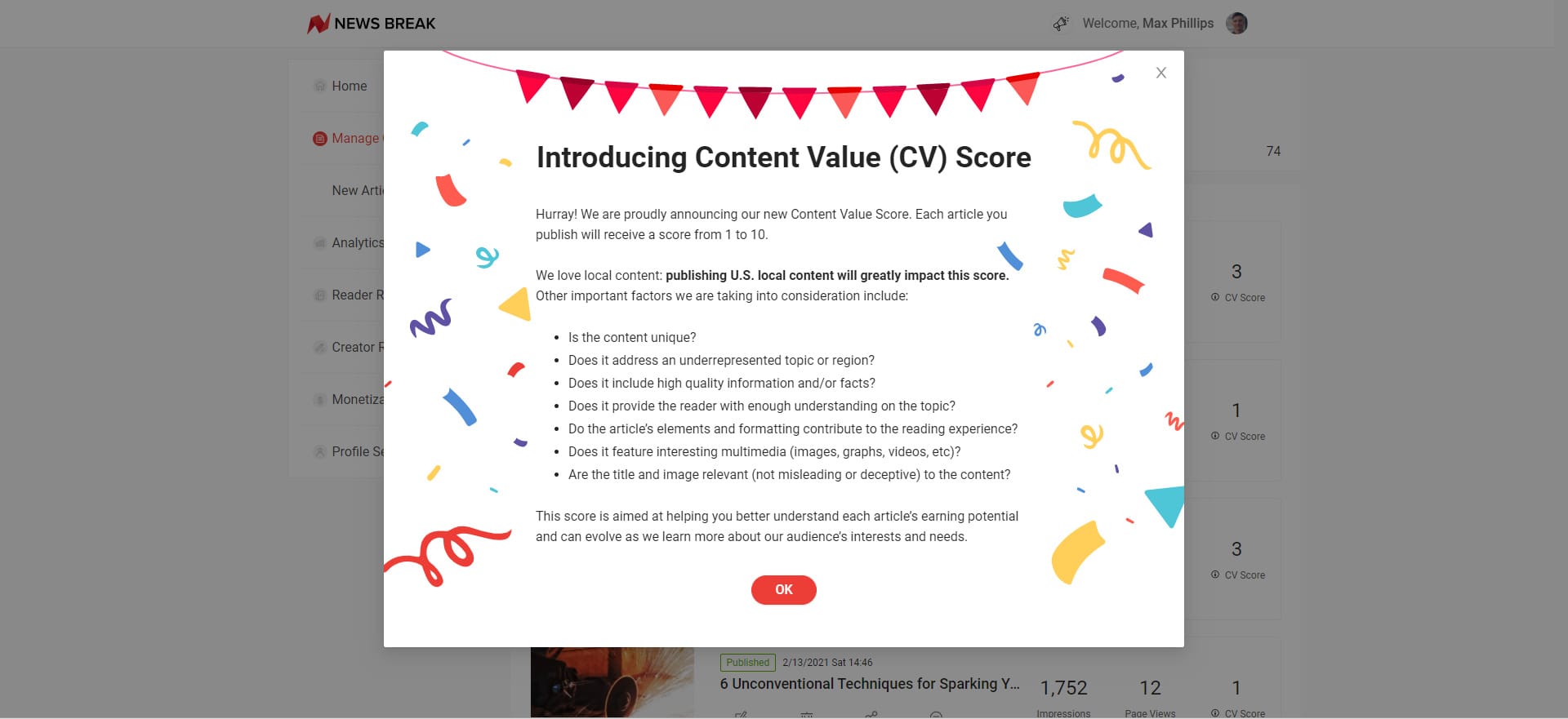 It's a bold choice but a perfect way to write and get paid instantly.
10. Quora Partner Program
Quora, the popular question and answering site, allows you to get paid for asking questions. Yes, just asking.
However, it is an invite-only based system, so you will need to be active for a while beforehand. But if you do, it's an easy way to write and get paid instantly.
11. Steemit
This is a confusing one. The first thing you can earn is called STEEM power. As you grow more influential on the site, so does your STEEM power. So by upvoting an article, the author and everyone who upvoted it before you will receive more money. It equates to your influence on the platform. It's not any form of cash.
Still with me?
That power is then turned into STEEM tokens. When you 'power down,' you will earn one thirteenth or your STEEM Tokens every week for thirteen weeks. So while your account may be worth $13,000, you'll only receive $1000 a week for 13 weeks.
But you can't spend those tokens directly. Instead, you can convert to a cryptocurrency, such as Bitcoin, which you can then convert into cash.
Lastly, you can earn STEEM Dollars. These can be converted into other cryptocurrencies and sit around the $8 value mark.
So yeah, it's a bit confusing.
12. Problogger
You may have heard of Problogger before, and for a good reason. It's one of the most prolific freelancing sites out there.
Similar to Upwork and Fiverr, Problogger allows you to pitch potential clients. Most importantly, there is price transparency. As the site has such a vast catalog of jobs, there will likely be one for you.
13. Freelancer
Freelancer is similar to Problogger. Load up the site, and you can find a writing job right away. Again, its price transparency is one of its best features.
14. Freelance Writing
Freelancewriting.com curates the latest writing jobs in a Morning Coffee Newsletter. It gathers a wide range of jobs from Indeed and Craigslist, meaning you can get write and get paid instantly with ease.
15. All Freelance Writing Job Board
This website stands out because it only shows writing jobs from the last 30 days. This means you won't need to waste your time going through arduous and unnecessary applications for out-of-date positions.
16. iWriter
With iWriter, you can go through posted articles and pick which ones you want to write. The more articles you write, the more positive reviews you get. Over time, this will boost your experience level and increase your pay.
17. Write Naked
Here, you can guest post, writing about the latest writing trends. Write Naked will pay $50 for up to 600 words.
18. LinkedIn Jobs
Just as LinkedIn is the internet's premier place to find a new job, it can also be a great help in your quest to write and get paid instantly. Just go hunting in the search bar. Here's what your job page will look like after some searching: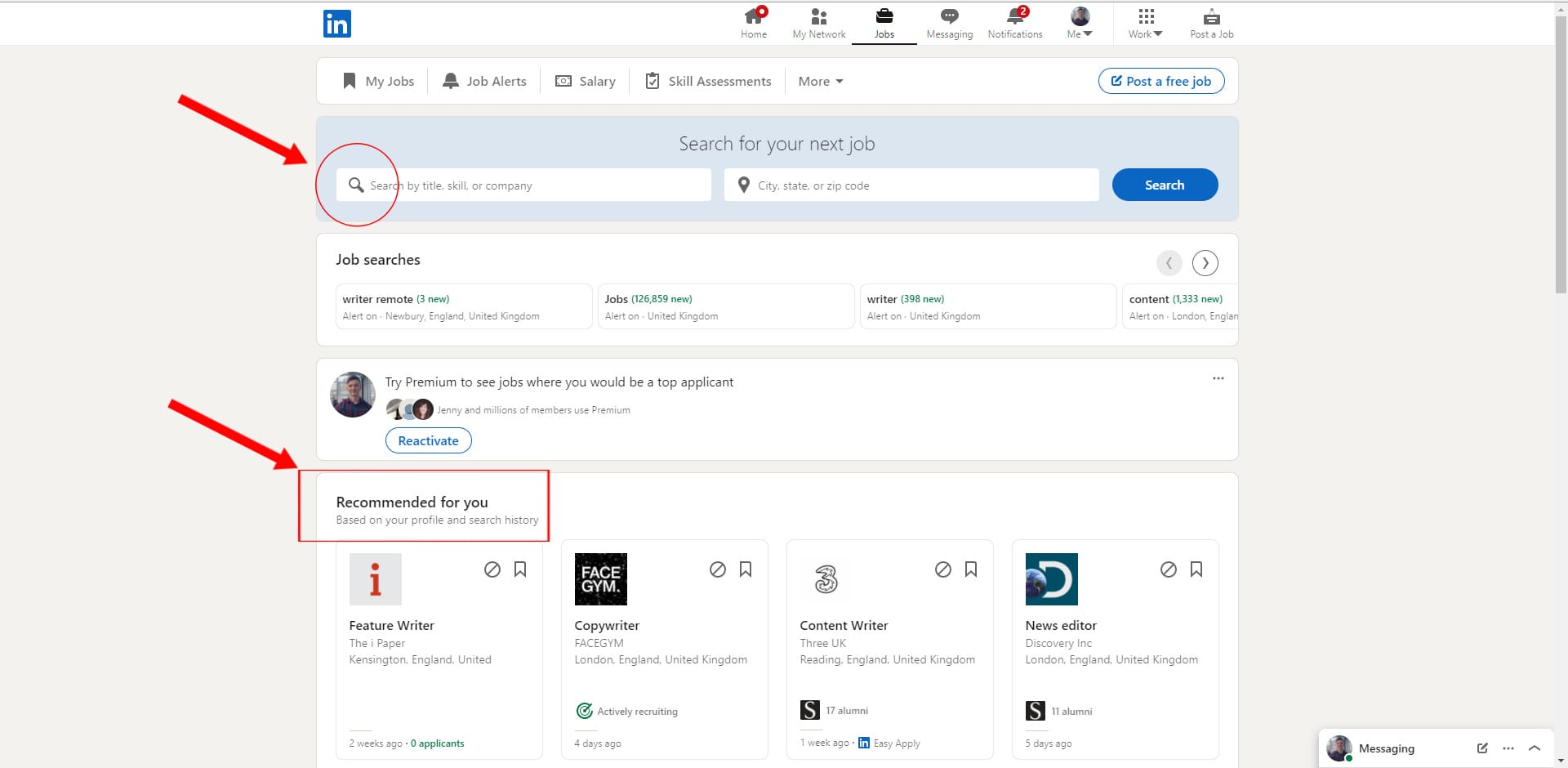 19. BloggingPro
It's rather like Problogger, which is hardly surprising. Like many of these sites, you can search for your niche, see the price, secure a gig, and get paid.
20. Indeed
Indeed has a vast catalog of jobs to choose from and a relatively easy way to find them. Just search for what you want, and like LinkedIn, I'm sure you'll find something.
Write and get paid instantly today
It's a great time to be a writer. Gone are the days when your only hope would be publishing a bestseller or painfully building your website. Instead, you're a few clicks away from getting paid.
The amount of money you can earn varies. But one thing is sure - the more writing jobs you take on, the more you'll make. Pretty soon, you'll find your ability to write and get paid instantly is second nature.