Published on

Posted under
65 Websites With Paid Online Writing Jobs In 2021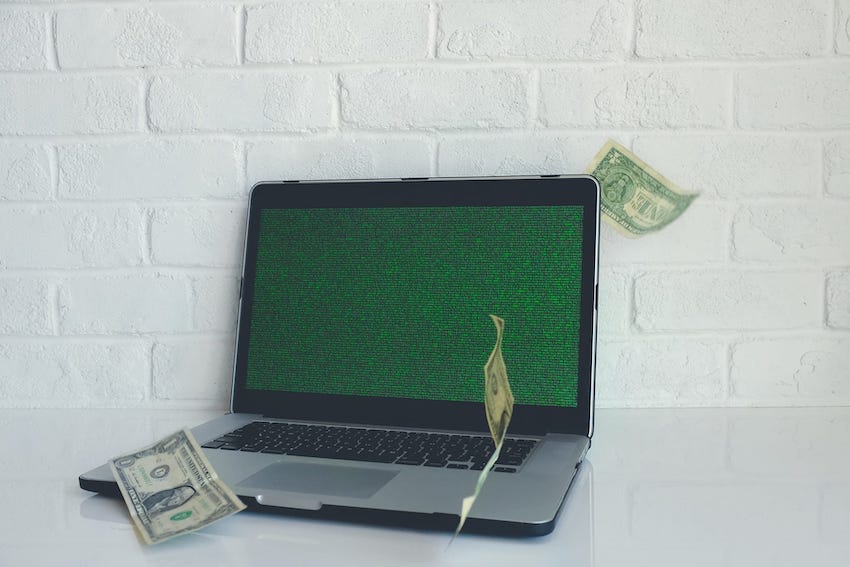 People often ask me: "*Is it actually possible to earn money writing online?"* To put it simply, yes, it is. There are tonnes of paid online writing jobs out there; most people need help finding them.
The internet is a vast place, so finding a reliable source of paid online writing jobs can be challenging. Thankfully, that's what I'm here for. Here are 65 sites you can get paid for your writing in 2021.
1. Medium
If you know anything about me, you knew I would start here. By signing up for the Medium Partner Program, you can get paid for your writing. The more paying members read your articles, the more you will get paid. If you stick with it for a while, it can be a very lucrative income stream for writers.

2. Forge
Forge is one of Medium's in-house publications. It's tough to get into as their standards are high, but so are the rewards. As of February 2021, they are not taking unsolicited drafts, so you'll need to self-publish your Medium article and send it to 'forge@medium.com.' They pay a reported $0.83 - $1 per word.
3. Better Humans
Better Humans was the first publication to partner with Medium, so it holds a special place on the website. They pay $500 for extensive, empathetic tutorials. This typically means writing over 2500 words about something you have experienced. It's a great way to test your writing skills.
4. Elemental
Another of Medium's in-house publications, Elemental features the latest on health and wellness, focusing on science. Like Forge, they pay a reported $0.83 - $1 per word. You can send your pitch to elemental@medium.com
5. Gen
Gen is one of the most prominent publications on Medium and another of its in-house publications. They focus on culture, politics, and race. Similar to Elemental and Forge, they pay a reported $0.83 - $1 per word.
6. Heated
This is Medium's in-house food-based publication. They publish anything related to the food industry, whether it be politics, culture, or history. If you have a unique voice or perspective, they'd love to hear from you. Heated pay a reported $1 per word.
7. Human Parts
Human Parts is one of Medium's more personal in-house publications. The editors focus on essays from unique perspectives. At the minute, they are closed for new submissions, but if your article is good enough, their editors claim they'll find it. They pay a reported $0.83 - $1 per word.
8. Level
Level's articles are targeted at black and brown men over 30. They're looking for smart, thought-provoking pieces about a wide range of topics. They pay a reported $0.83 - $1 per word.
9. Marker
Marker, another of Medium's in-house publications, focuses on businesses and entrepreneurs. Pay varies.
10. OneZero
OneZero is one of the most significant publications on Medium. It focuses on the latest in technology and science. They pay a reported $0.83 - $1 per word.
11. Zora
The last of Medium's in-house publications that pay per word. Zora is run by and for women of color, discussing personal and current events. They pay a reported $0.83 - $1 per word.
12. Problogger
Now on to the freelancing sites. Problogger is one of the best for finding a multitude of paid online writing jobs. You can select a job according to your niche, making it easier to find assignments suited to you.
13. Upwork
Upwork is a transparent website that clearly shows how much money you can earn per paid online writing job. Although some of the fees might be small for a beginner, there are some lucrative options.
14. Fiverr
Fiverr have online jobs for a wide range of skills. Pay is typically low, but similar to Upwork, it can be lucrative. Fiverr also keeps 20% of whatever you earn.
15. LinkedIn Jobs
Just as LinkedIn is the home for jobs on the internet, you can also find some good paid online writing jobs. Just search "freelance writer" on the jobs search. Pay varies.
16. Indeed
Like LinkedIn Jobs, Indeed can be a great way to find permanent, temporary, and freelance gigs.
17. Craigslist
Search for 'Writing/Editing', and you can see plenty of jobs come up. However, they aren't authorized, so be careful.
18. FlexJobs
This costs $14,95 a month, but you can create a custom job search to match your needs. You can select your specific writing category, preferred work schedule, and more to find a job that suits you best.
19. Freelance Writers Den
For $25 a month, you get access to several boot camps and hundreds of forums that teach you how to make money writing online.
20. Freelance Writing Jobs
Think of this as the home of tips and blog posts for all writers learning how to get paid online writing jobs. You can also find regular jobs there.
21. Freelance Writing
Freelancewriting.com sends out a 'Morning Coffee Newsletter' which compiles all the latest writing and editing jobs with reasonable pay rates. It also pulls from some of the sites I've mentioned here, such as Indeed and Craigslist.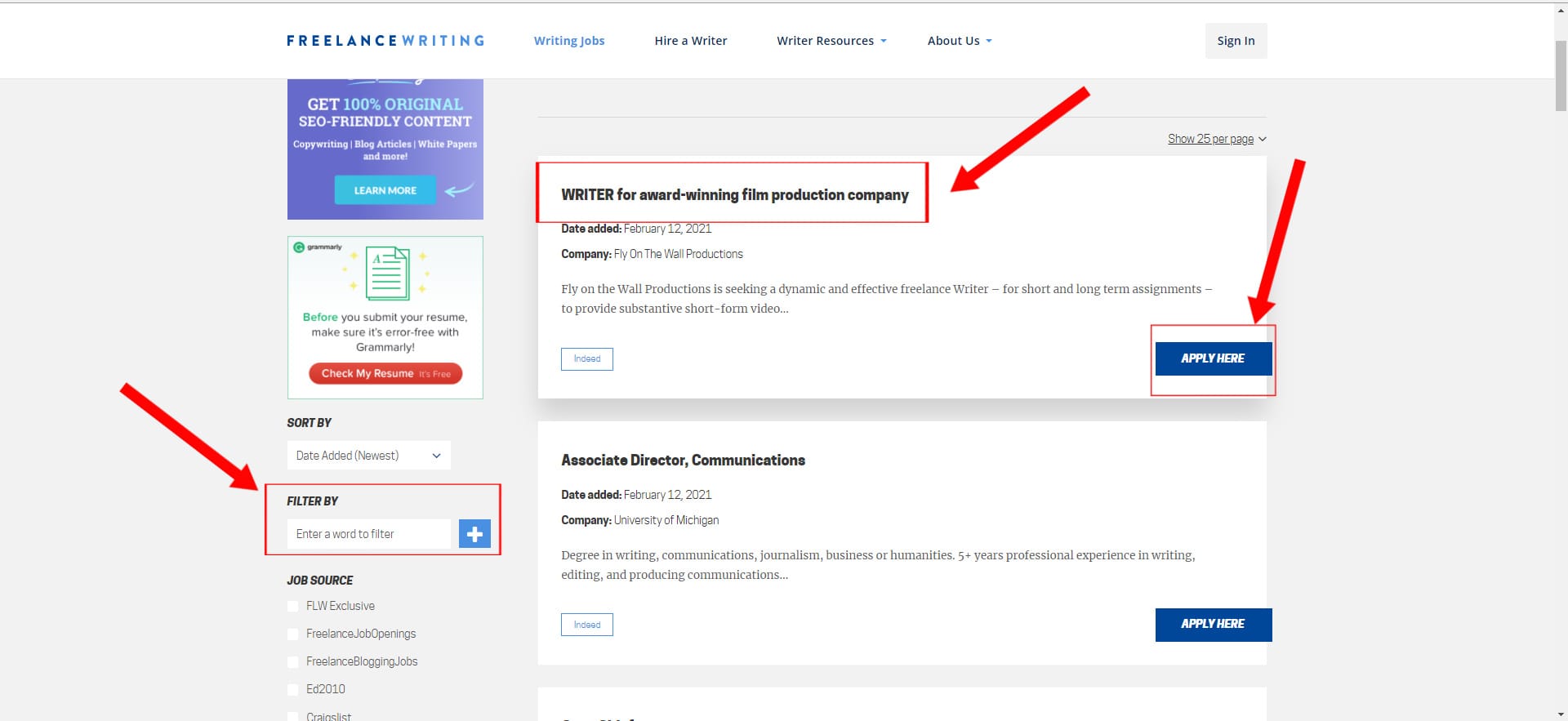 22. MediaBistro
MediaBistro is another place that offers online courses and general aid in your online career. They also provide paid online writing jobs, as well as many from other industries.
23. SolidGigs
Like Freelance Writing, SolidGigs collects paid online writing jobs from around the internet and compiles them into a weekly email. A trial is $2, with standard membership at $19 a month.
24. Opportunities of the Week
Created by Sonia Weiser, this weekly email gathers calls for pitches from Twitter. She offers this through Patreon, asking for $3 a month.
25. Behance Creative Jobs
Here, you can showcase your portfolio in a visually-pleasing way. As Adobe powers it, that's no surprise. It also features a job board so you can find all sorts of paid online writing jobs.
26. Human Jobs
Aimed at helping English and history graduates, this site helps them find full-time and freelance jobs.
27. Who Pays Writers?
Here, you will find various paying-publications. While this is more of a research opportunity for writers, some are available to apply for. It's updated every month.
28. BloggingPro
It's in the name. This site is valuable for newbies and experienced freelancers alike. You can search for your niche and pick what suits you.
29. Journalism Jobs
Prominent brands such as Time Magazine and New York Times have used this site, so its pedigree speaks for itself. Refine your job search for paid online writing jobs in your niche.
30. All Freelance Writing Job Board
One of the most irritating things about job boards? They show outdated gigs without any pay. However, this one does both, only posting jobs within the last 30 days.
31. Whisper Jobs
Although you need an account, this board showcases full-time jobs, internships, and paid online writing jobs. Check it out now and then.
32. Krop Jobs
This job board is aimed at freelance writers looking for copywriting jobs. If you're looking to get started as a copywriter, look no further.
33. iWriter
To start, you have to take a short writing test. Once you've passed, you can pick articles, start writing, and improve your writer level through positive reviews. Pay rates vary according to your experience, but writers receive 65% of each article's price.
34. Freelancer
This is one of the largest freelancing sites on the internet. It offers a vast amount of writing jobs and is a great place for freelancers to find paid online writing jobs.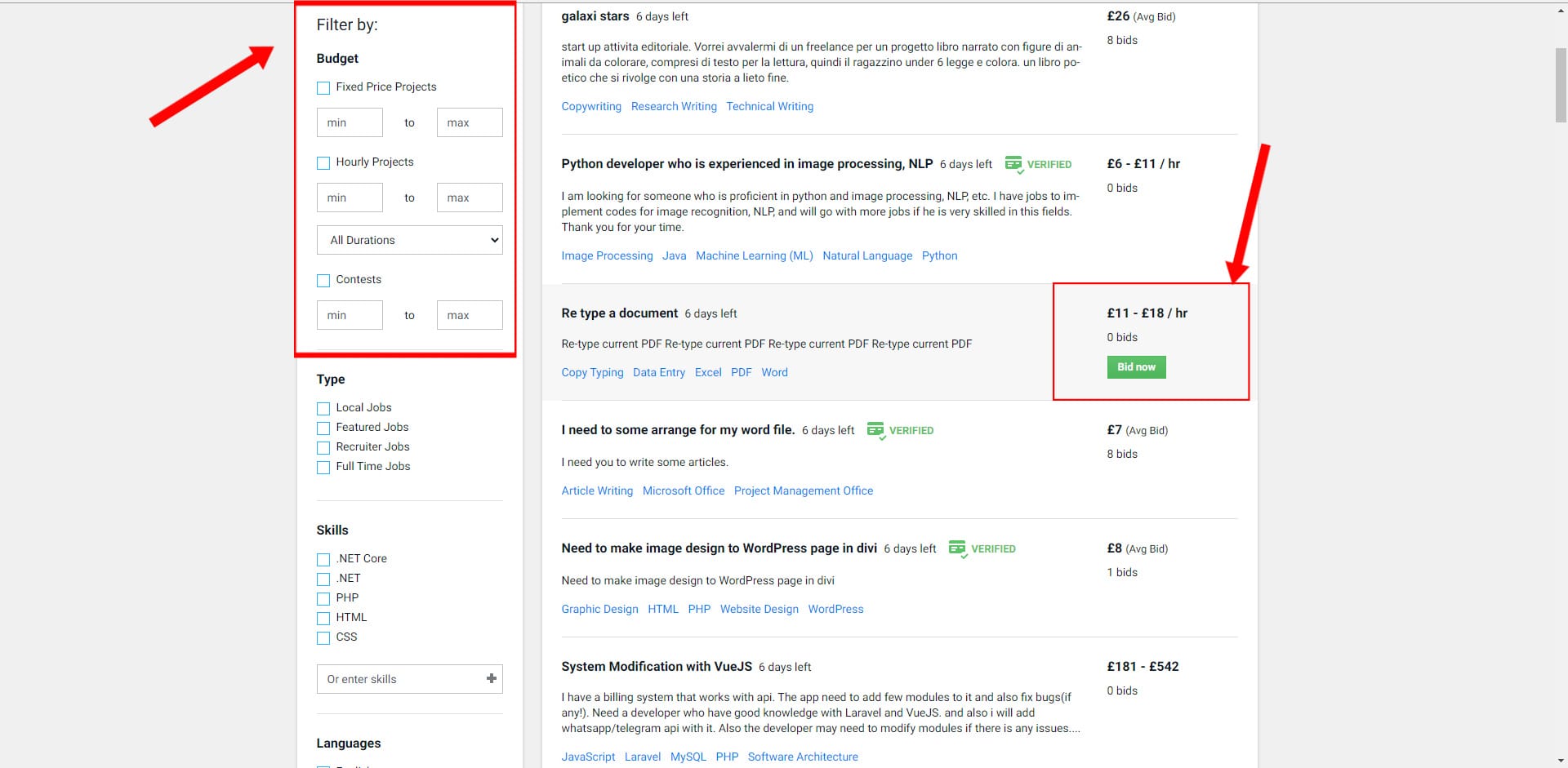 35. Constant Content
Constant Content connects you with top companies such as Uber and eBay. It also offers feedback and support via proofreaders and editors. However, because of this, only a fraction of all applicants are accepted.
36. Writer's Work
Writer's Work offers everything you could need for landing paid online writing jobs. They offer training, jobs, portfolio assessment, and more. You can get paid between $20-$65 an hour, depending on skill level. However, it does require a one-off fee of $47.
37. Writer Access
Writer Access is especially good for people with expertise in specific areas, such as healthcare and law. You can find all sorts of niche postings there. You are paid according to rankings and ratings. Rating is determined by the number of stars you have and your experience. The more stars you have, the more you get paid. Writers earn 70% of the order price, and for advanced writers, you can get $1.40 a word or $105 an hour. However, basic payment starts at 2.8 cents a word. So you'll need to grind it out.
38. Scripted
Here, Scripted offers ghostwriting gigs for writers. You'll need to pass a series of assessments, and your name won't appear on the work once it's accepted, but it can prove lucrative. Some writers claim to have earned four figures per article.
39. All Freelance Writing
All Freelance Writing is a job board for beginners looking for new paid online writing jobs. Like a few other sites in this list, it offers payment transparency.
40. Online Writing Jobs
This free job board is for writers of any skill level. Offering between $10-$50 per article, you'll need to have a good understanding of SEO.
41. WriterBay
WriterBay.com is looking for writers who are proficient in their niche. They need high-quality papers on a deadline. You'll need to fill out an application form, pass a grammar test, write a prompt and upload an essay before then scanning your higher education certificate (so you'll need a degree).
42. American Writers and Artists Inc (AWAI)
Through its $497 course, AWAI teaches non-fiction writers how to become profitable copywriters. You can build your portfolio and earn cash simultaneously as they offer gigs that pay by word and commission (landing page conversion, for example).
43. Write Naked
Now I'm moving on to guest posting. Here, you can earn $50 for up to 600 words, writing about writing trends and essentials.
44. Flywheel
Flywheel pays up to $150 for posts between 700-1200 words. All you need to do is fill out their form or pick a post for payment.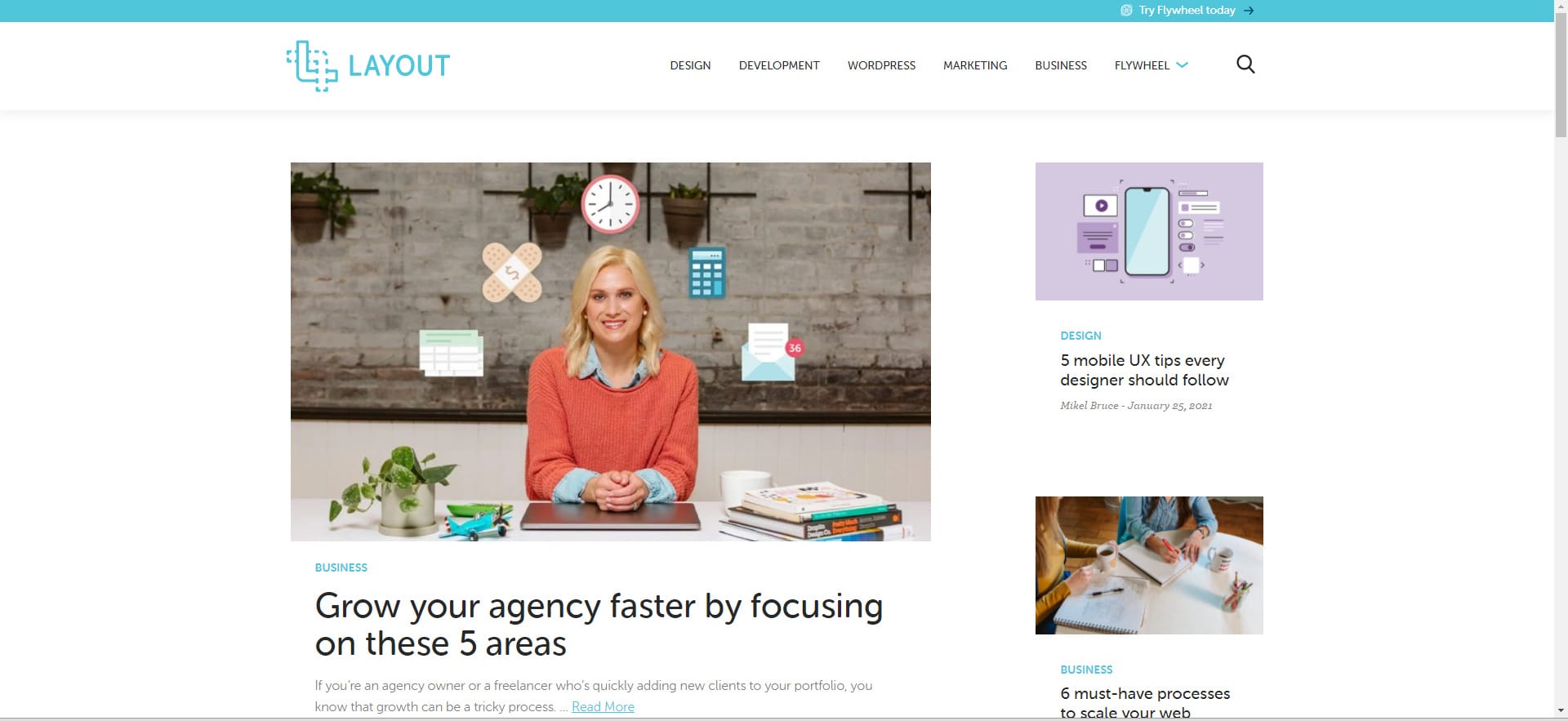 45. Freelance Mom
Freelance Mom pays $75-100 for a 900-1500 word post. They're looking for freelance-based work that offers personal, relatable stores and a 20-30 minute action plan at the end of the post.
46.  Her View From Home
This website offers $100 for 600-800 words. It's a lifestyle site for women and moms, featuring articles about parenting, kids, relationships, faith, and grief.
47. Longreads
Longreads offers $500 for personal essays ranging between 2500-10000 words.
48. MoneyPantry
MoneyPantry offers up to $150 for 700-2000 word articles written engagingly. They focus on saving and earning money.
49. Income Diary
Income Diary pays up to $200 for articles about SEO, blog design, traffic, making money from blogs, and more.
50. Cosmopolitan
You may have heard of this already, but if not, Cosmopolitan is a big-name magazine for women. For the online version, they want personal essays about any crazy college experiences. They pay $100 for an 800-word essay.
51. The Penny Hoarder
The Penny Hoarder is another website which pays for guest posted about making, saving, or growing money. Specifically: lifestyle guides, success stories, travel on a budget, smart money guides, and more. Your payment will be discussed upon acceptance of your pitch.
52. Horse Network
Love horses? You can get paid to write about them! Horse Network encourages humorous or opinion essays with an image or video. They pay $50-100 for 500-750 words.
53. Listverse
Listverse pays you $100 for writing a 10-item listicle. They're looking for unusual lists, so a good knowledge of popular culture and a sense of humor are preferred.
54. The Change Agent
This adult education magazine pays $50 for 250-1000 words. It focuses on topics around social justice.
55. Great Escape Publishing
Great Escape Publishing will pay $150 for 300-600 word articles about making a living by traveling. Specifically interviews, personal stories, and advice-based articles.
56. A Fine Parent
You guessed it - A Fine Parent pays writers for writing about parenting. They require 1500-3000 word articles and will pay $75. Submissions reopen in May.
57. Write Naked
Write Naked wants writers who know about how you can get published, so pieces focusing on publishing trends and success stories are a good fit. They pay $75 per article and ask for 450-650 words.
58. Petcha
Petcha is accepting submissions for bird-related topics around the care of parrots, canaries, finches, and doves. They will pay $100-200 for 1000 words and $300-400 for 1500-2500 words.
59. International Living
Live overseas/abroad? International Living will pay you $75 to write about it.
60. Digital Ocean
Digital Ocean will pay you up to $300 to guest post if you are well-versed in the tech world. They want tutorial-based posts with steps.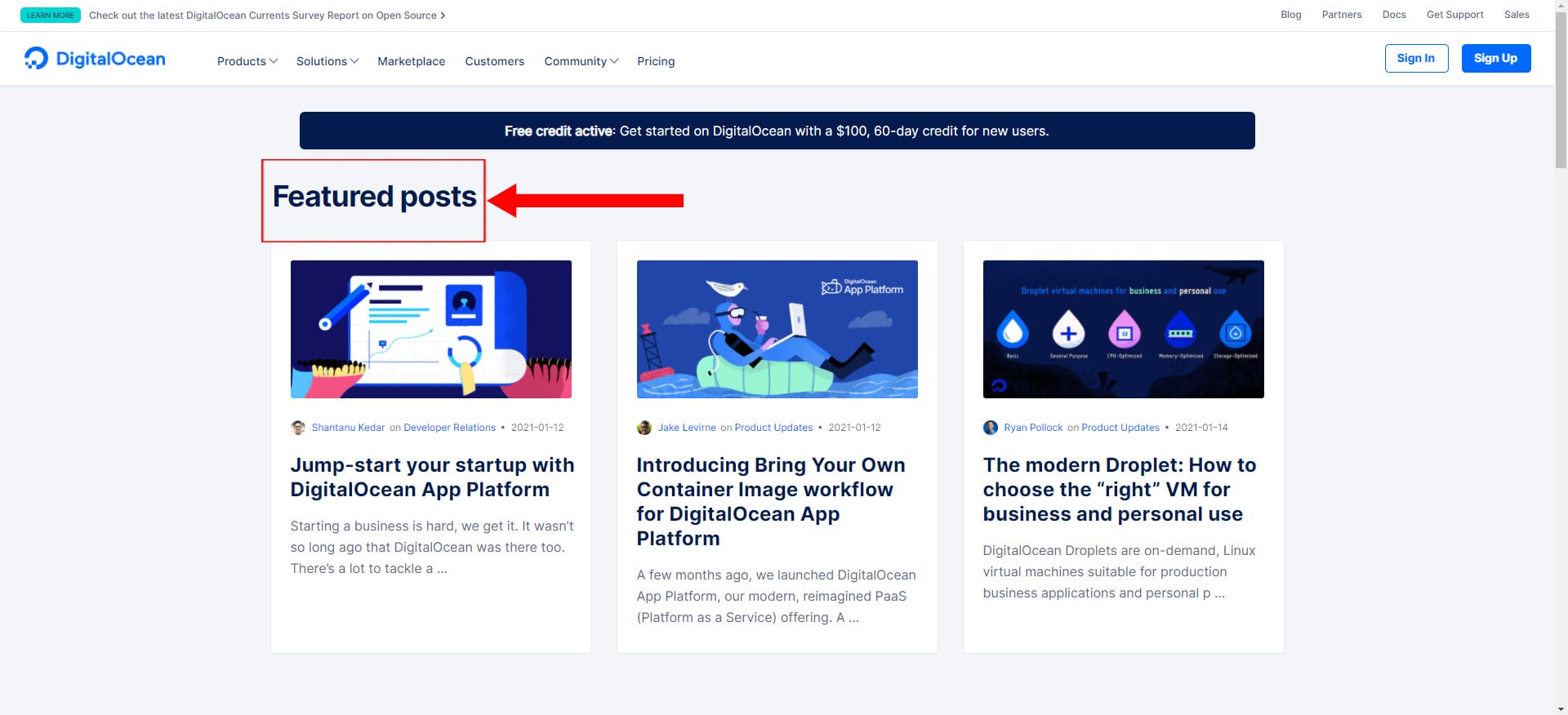 61. Sitepoint
Sitepoint like quick tips, articles, tutorials, and video content about coding and WordPress. They will pay $100 for 1500 words.
62. Back to College
Back to College pays $75-130 per post. The site focuses on older students in college.
63. Cooking Detective
Cooking Detective is a recipe, cooking, and food blog, They want reviews on anything related to cooking. For Ultimate Guides (3000-4000 words), they will pay $120-$160, and $75 for 2000+ word normal articles.
64. Cracked
On Cracked, you can get creative. You can write about pretty much anything, as long as it's funny. They pay $150-$250 per article.
65. GoDaddy Garage
Last but not least, we have GoDaddy Garage. They are looking for articles related to website design and development, freelancing, entrepreneurship and more.
There you have it
Phew, that was a lot to take in. In amongst all of those publications and job boards, I hope there is something for you. By now, I hope I've helped you realize there are plenty of ways to secure some paid online writing jobs. I've covered 65, but there will be plenty more out there.
My advice to you: don't be afraid to pitch. Worst comes to worst, you get a rejection. If so, move on to the next one. There are lots of paid writing jobs for you.