Published on

Posted under
How To End A Blog Post (13 Quick Templates)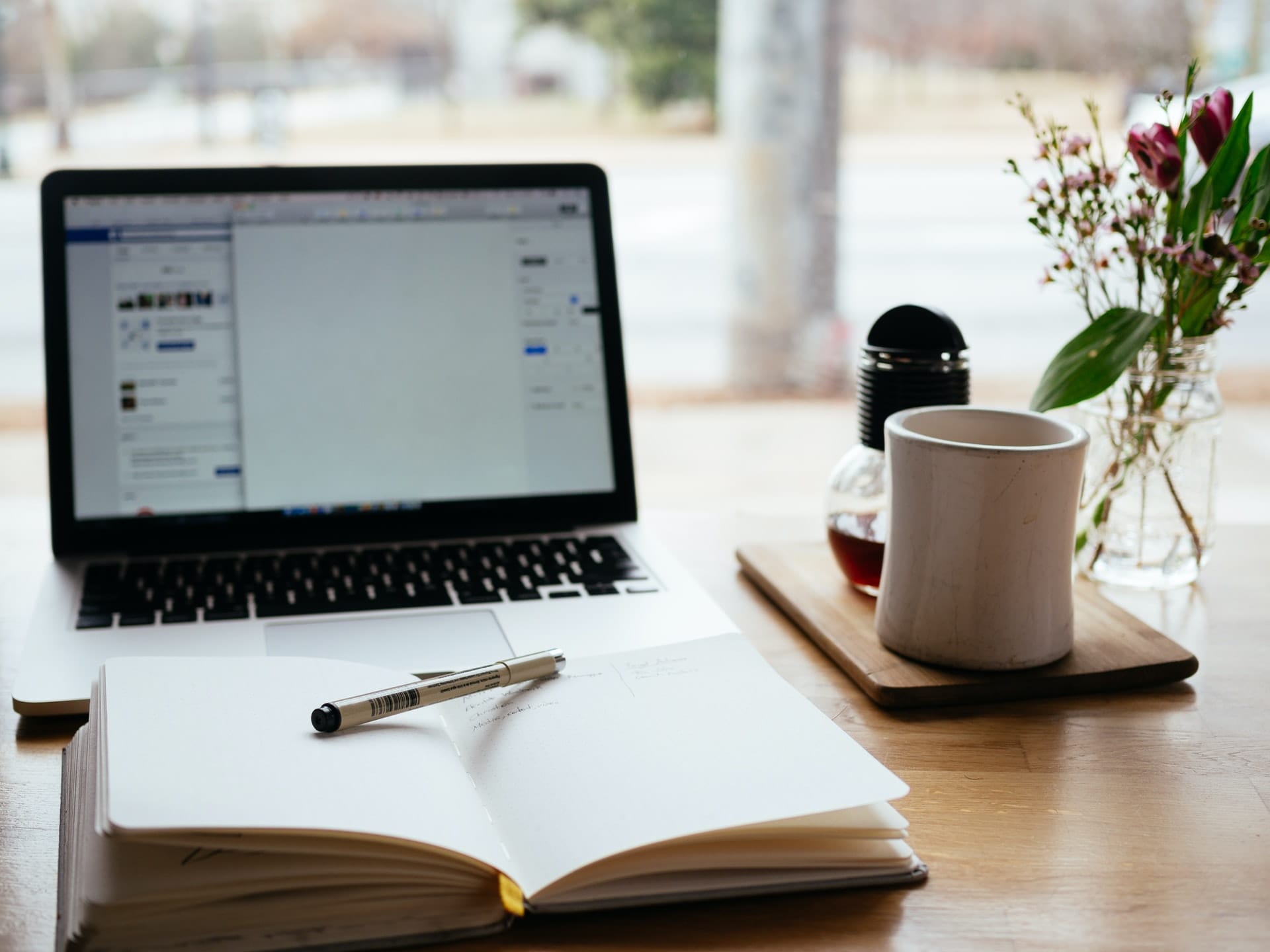 As a blogger, your aim should be to create a relationship with the reader. Your post's ending is the handshake that seals the deal. I've spoken about how important your introduction is, but learning how to end a blog post is also vital. It's the last thing the reader will see, and given they've got that far; you should reward them with something juicy.
With that being said, here are some quick templates for how to end a blog post.
1. Call To Action
A CTA (call to action) is one of the most popular ways of furthering the connection with your reader. It can come in the form of a free course (like mine below) or a link to your newsletter.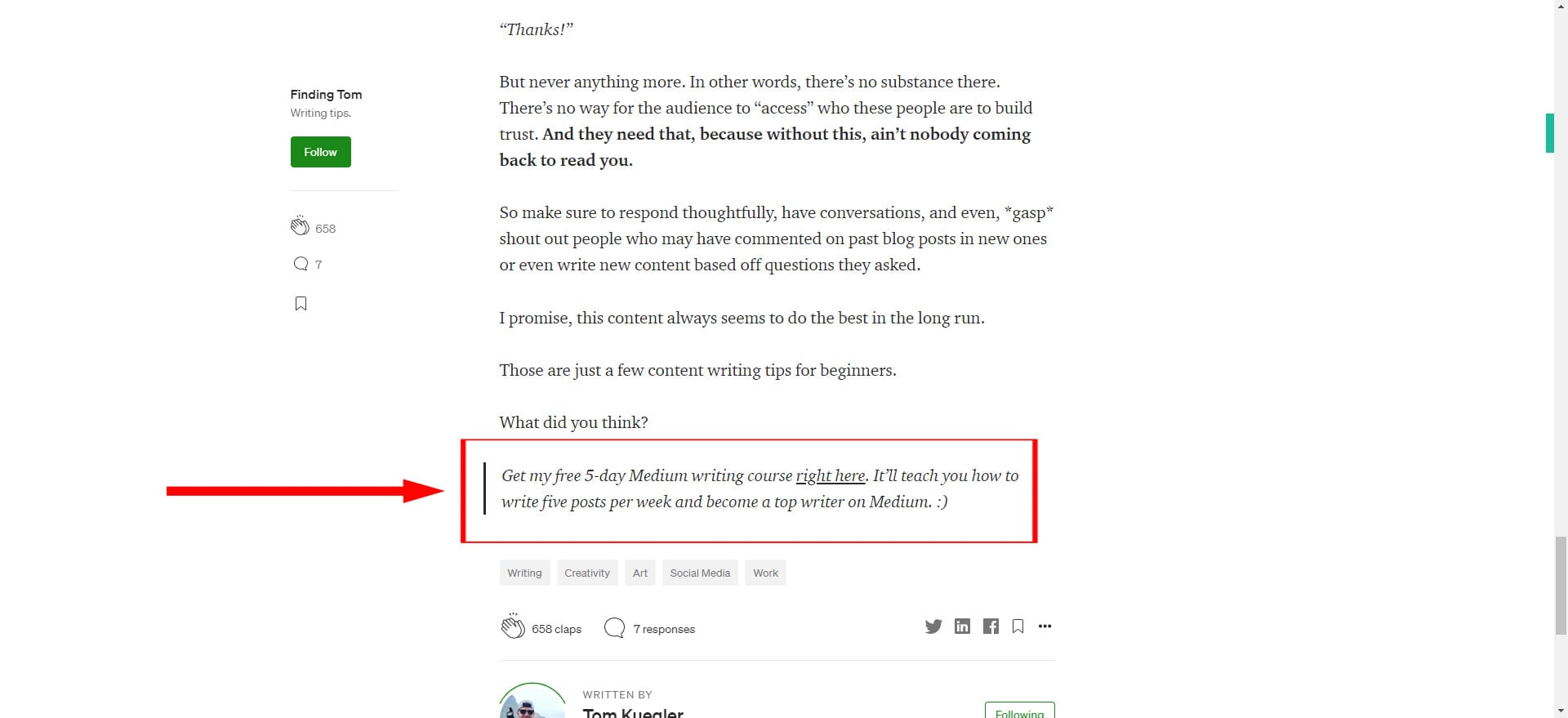 You've done the hard work with the article. If the reader likes you and your work, they might want to keep reading and learn more about you. A CTA offers that quickly and easily.
2. Ask a question
Asking a question is a great way to promote conversation among your readers. Even if it's rhetorical, they will likely answer your question in their head as they finish the piece. They may even take to the comments and respond.
You're leaving a mark on the reader beyond the last word.
3. Ask for comments
I don't see this very often, but asking for comments is an underrated way to end your blog post.
When it comes to blogging, engagement is critical. In the comments, you can develop relationships with other writers and readers, all of which humanize you more. In particular, on Medium, the comment section is perhaps the best way to engage with other users. Here's an example:

It's worked there, as you can see.
The key here? Don't be afraid to encourage conversation. Every interaction you have - physical or not - can be used for content in the future. And where better than a comment on something you've just written? You can get a feel for how people reacted to certain parts of your piece.
4. Provide social media links
Go on most blog pages, and you'll find a series of icons you can click on. Those will take you to the blogger's social media pages - Twitter, Facebook, LinkedIn, and more.
Yet again, this is a powerful tool in continuing your relationship with the reader. Unlike comment sections and email lists, social media tends to be more instant. You can make your presence known.
Plus, it's a tad easier to humanize yourself on social media. You can display your interests and quickly connect with your followers through instant messaging, for example.
5. Link to a related post
Blog post writing can be frustrating. You'll find that most of your work will do okay, but your significant successes will be down to a small number of articles. Here's what it looks like on Medium:

To make sure you get enough exposure, try linking a related article you've written at the end. It provides convenience for the reader as they can find more of your work without any effort. Plus, they will learn more.
6. No conclusion
Ending an article without a conclusion is a bold move. You're going cold turkey and effectively saying, "I'm done. I have nothing left to say." It can feel quite jarring, but it also shows confidence in your work. You don't need to keep going - you've done your job.
7. Link to a friend's blog
One of the things every writer needs to do?
Build a network.
Although it may feel like a lonely world, writing is a community. So if you have a friend who is just starting, a link to their blog could prove invaluable. They'll likely return the favor, too.
8. Link to a webinar
A webinar is an excellent way of channeling sales. I use it to promote my courses, and it works.
It also allows the reader to get up close and personal with you and what you have to offer. Just by providing it, you're showing there is more to you than one mere blog post. Learning how to end a blog post is all about furthering your connection with your readers. Showing them your face will do that.
9. Restate the article
The default setting for people learning how to end a blog post? Restate the article. Teachers told me to do this at school, and the same principles still apply.
This is an excellent way of tying everything together, potentially joining everything together in a roundabout way.
10. Detail the takeaways
You could go even further and detail the takeaways. Sometimes, particularly in a longer piece, your article's main takeaways and points might get lost. Having them at the end of your blog post gives the reader a reference point for the future.
Lay it out in bullet points (as you can see below) and force yourself to condense the information you've explained into a few sentences. Not only does it look good, but it also challenges you to extract your work's definitive statements.
11. End with a story
A good story at the end of your article can act as a winding-down tool. The reader has raced through the piece, and now you've changed the pace. It shows that, above all, you want the reader to have a good time.
More than anything, you're leaving your mark. You're ensuring they will remember you, which you'll need if you're looking to drive consistent traffic to your blog.
12. Talk about related books you like
If someone has got to the end of your article, then chances are they like reading. Why not send them to a book you like?
I don't know about you, but whenever someone suggests a good book to me, I feel a surprising amount of excitement build up. I'm like a little kid once again.
Plus, it gives the reader a sense of what you like. If they enjoy it, perhaps they'll seek you out to tell you so.
13. Learn how to develop a relationship with your readers
I've mentioned this a few times, but you want your readers to come back more consistently. An excellent end to your blog post is what they're most likely to remember.
If you're consistent, your name will become associated with top-quality pieces. That's the dream.
Think of the ending as the icing on top of the cake. You want it to look (and taste) delicious, so learning how to end a blog post should be one of your top priorities.