Published on

Posted under
ConvertKit Review (2018): A Blogger's Paradise Or Nightmare?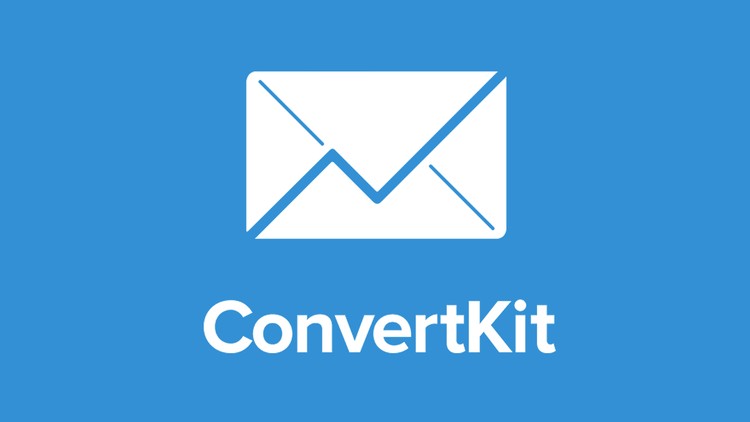 This Convertkit review was almost going to be called a "Seva review" because they changed their name JUST recently.
Then they didn't.
I'm happy they didn't. Seva as a name doesn't make much sense to me.
Okay, so you're here because you want to know a little bit more about Convertkit.
[](https://mbsy.co/convertkit/31946004)
I switched to Convertkit about 10 months ago or something and I have never been more happy with any email marketing provider.
I've tried Mailchimp, Infusionsoft, and a myriad of others, but Convertkit is so PERFECT as a blogger that all you're going to hear over the next 3 minutes is me singing it's praises.
There's a few problems with it, but for the most part, it does what I need it to do. That's why I thought I'd write a Convertkit review.
---
Why You Should Switch To ConvertKit
The biggest reason you should switch is the deliverability rate.
1. Higher Deliverability
It's MUCH higher than Mailchimp. With Mailchimp I was averaging about a 20-25% open rate (which stressed me out because I thought I was doing it wrong), but now with Convertkit I average a 37-38% open rate.
There's less stuff going to spam. More reliability. I can count on Convertkit to get that email to that inbox.
Mailchimp was just fine as a beginning blogger–I'm fond of it–but Convertkit is like the better version of the Terminator that kept coming out over the course of Terminator 1 - Terminator 3.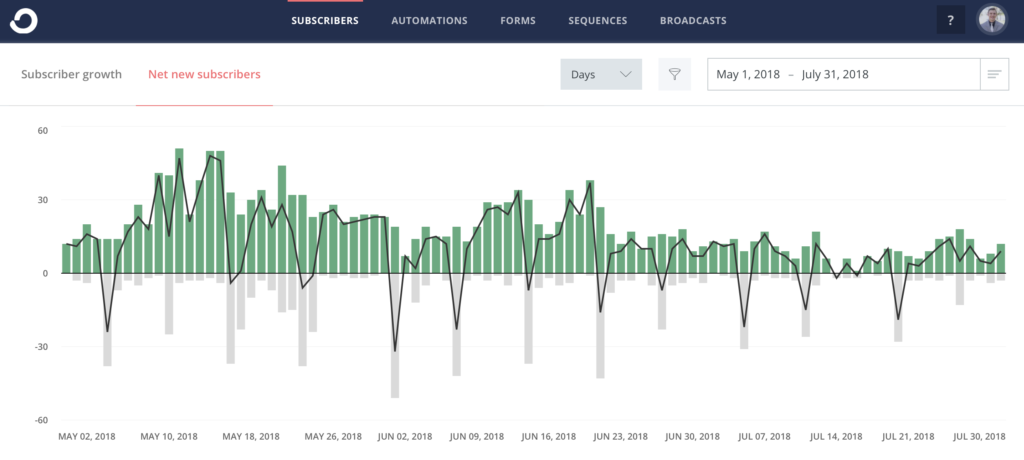 A higher deliverability rate is money in your pocket. If you have a list of 1,000 people and you get a 15% increase in open rate, that means 150 more people are seeing your message.
If you had an offer in that email, how many of them do you think would buy?
See?
Deliverability significantly impacts your bottom line–that's why I'm okay with spending $99+ every month to make sure those emails get to those inboxes.
In fact, paying that sort of seems like a steal.
2. Automated Campaigns
I've put Convertkit through everything. From email courses to virtual summits to webinar follow-ups, the automation features have been ridiculous.
It also integrates with pretty much everything out there (Teachable, Clickfunnels, WebinarJam, Leadpages), so that helps also.
For three months this year I automated my entire sales funnel and basically screwed off in Southeast Asia while Convertkit did the heavy lifting for me.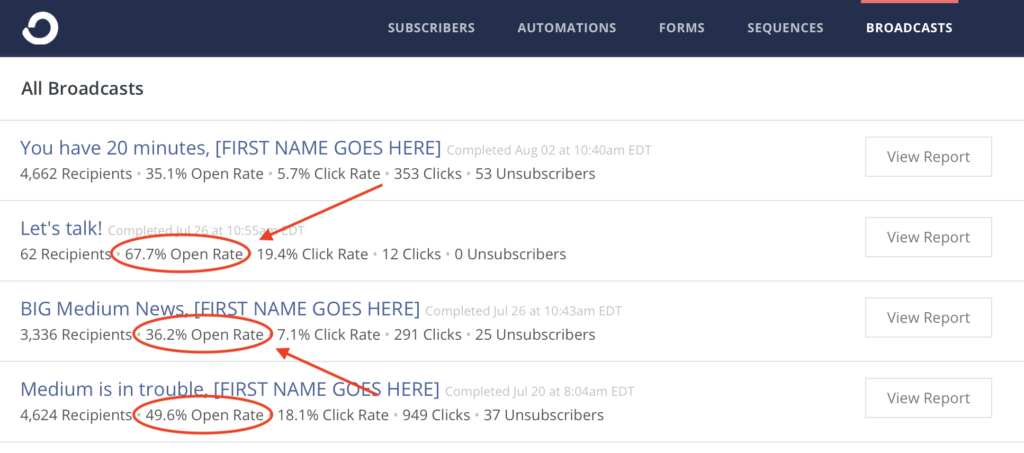 They have timers, conditionals, tags, and everything you'd need.
I automated my system in such a way that those who didn't show up to my webinar received a different email than the ones who did show up for my webinar.
I must admit that Infusionsoft's system seems way more advanced than ConvertKit's automation system, but then again I'm just a blogger–I don't need to have a powerhouse system for 900 clients.
Oh, and Mailchimp doesn't really have much of an automation system at all.
3. It's A Tag-Based Software
The biggest pro in this Convertkit review is that it's a tag-based system.
In Mailchimp subscribers sign up via a form and then get imported to a list of some sort. Then you send emails to each list individually (or all of them).
In Convertkit, it's totally different.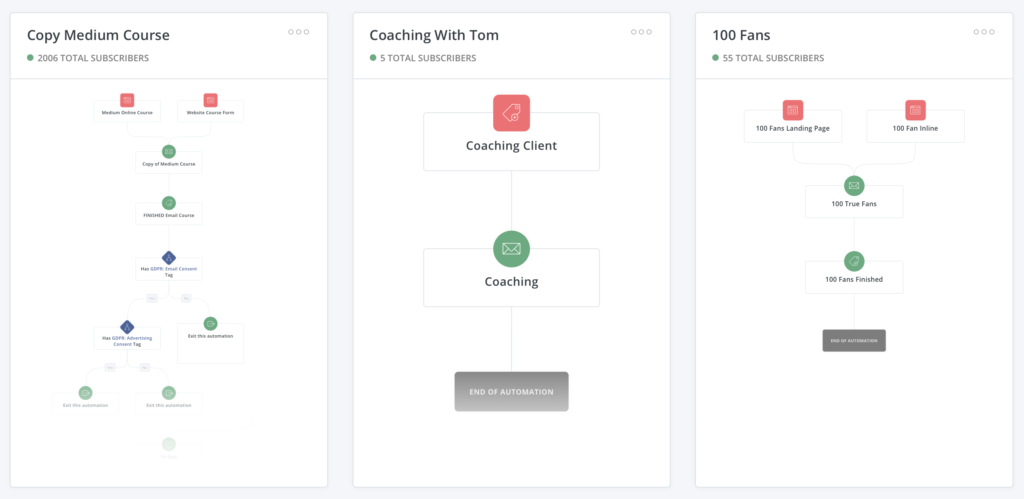 When subscribers sign up via a form, you can add them to a tag (or a bunch of them) to make note of who they are and what they signed up for.
A tag-based system is much more dynamic because you can add as many (or few) as you want to get a good picture of who someone is in your system.
Then later on when you want to send emails, you can easily choose which people will or won't get your message.
It's just easier than a straight-up list based system, because all you can do then is add or remove a list. But suppose you want to send that email to someone in that list?
It's a dilemma, and ConvertKit's way of doing things makes for MUCH better organization.
4. Dynamic Reporting (NEW)
So recently Convertkit rebranded and rolled out a few new features. One of them is dynamic reporting. You can now see a more extensive view of weekly, monthly, and daily subscriber counts as well as all the subscribers you "lost" as well.
It looks pretty awesome.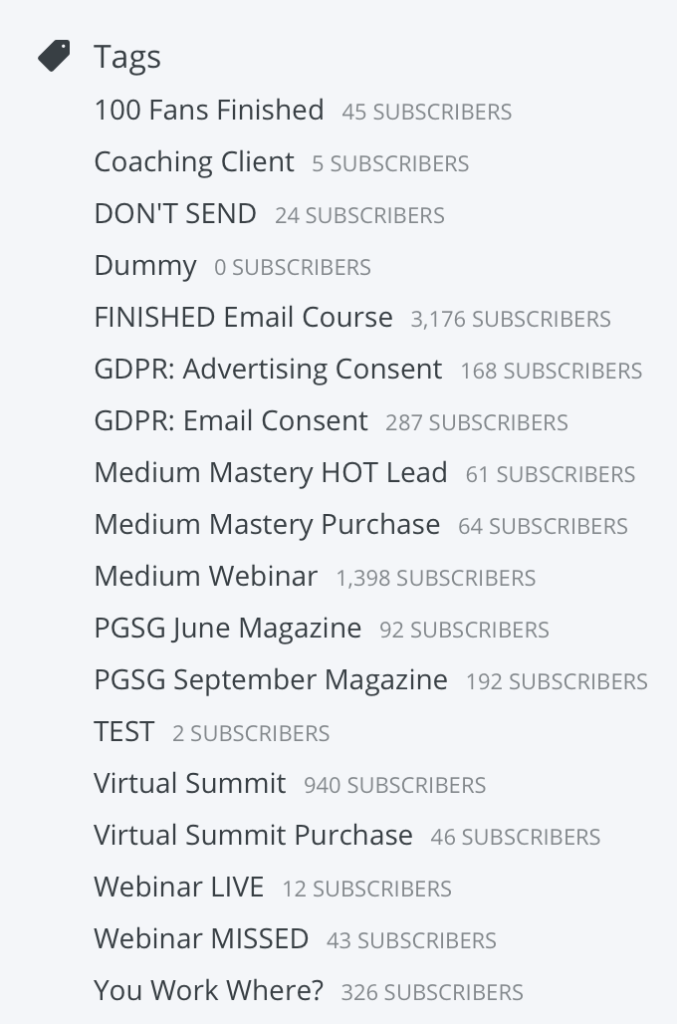 One of the biggest not-talked-about metrics of email marketing is the amount of people who unsubscribe from your list. Convertkit's most recent changes give everyone a much more dynamic view, because they used to only show new subscribers, not cancelled ones.
Who Should Switch To ConvertKit?
So far in this Convertkit review I've mentioned all the great features CK has, but I haven't mentioned who should buy it.
Look, if you can afford Convertkit, go right ahead and buy it because it's awesome, but…
I think that if you have less than 500 subscribers, there's really not much use in paying $29+ per month to use the software.
It becomes a worthwhile investment when you get past 500 subscribers because a bump in open rates means 50-75 more people will get your message and possibly buy from you. Plus, when you only have 200-300 subscribers, it doesn't make much sense to dabble with complex automated campaigns and tags.
Just keep practicing your subject lines and get closer to your audience.
That's my two cents.
A Few Convertkit Cons
In my Convertkit review I've listed a lot of pros to buying the software, but there's also a few cons to using it as well.
For one, the automation system isn't super robust. Yes, I conducted a virtual summit for 3,000 people using Convertkit, but there's more powerful solutions out there like Infusionsoft.
For me as a one-man band, it works perfectly, but I did notice that the automation system isn't as advanced or straightforward as others. Keep that in mind if you run a marketing agency or run a more robust business than me.
Also, sometimes the integrations flat-out didn't work. My integration with Teachable doesn't work. Every time someone buys my course I have to manually add a tag to them. I'm not sure whether there's something wrong on my end with how I set it up, but it's sort of a pain for me.
My Convertkit Rating: 9⁄10
So, this Convertkit review is a HUGE thumbs up!
There's some kinks to the software that make it a bit touchy and clunky, but for a one-man blogging band it's the perfect solution to monetize, reach more people, and even put on virtual events.
Convertkit is a paradise!
---
Want to get 100 true blog fans in less than 30 days? Take my free 4-day email course and learn how to get email subscribers, create video content, and secure awesome readers!
[convertkit form=718800]
---
This post contains occasional affiliate links. If you click through to purchase these products, I'll earn a small commission at no extra cost to you.