Published on

Posted under
How I Gain 600 Email Subscribers Per Month On Medium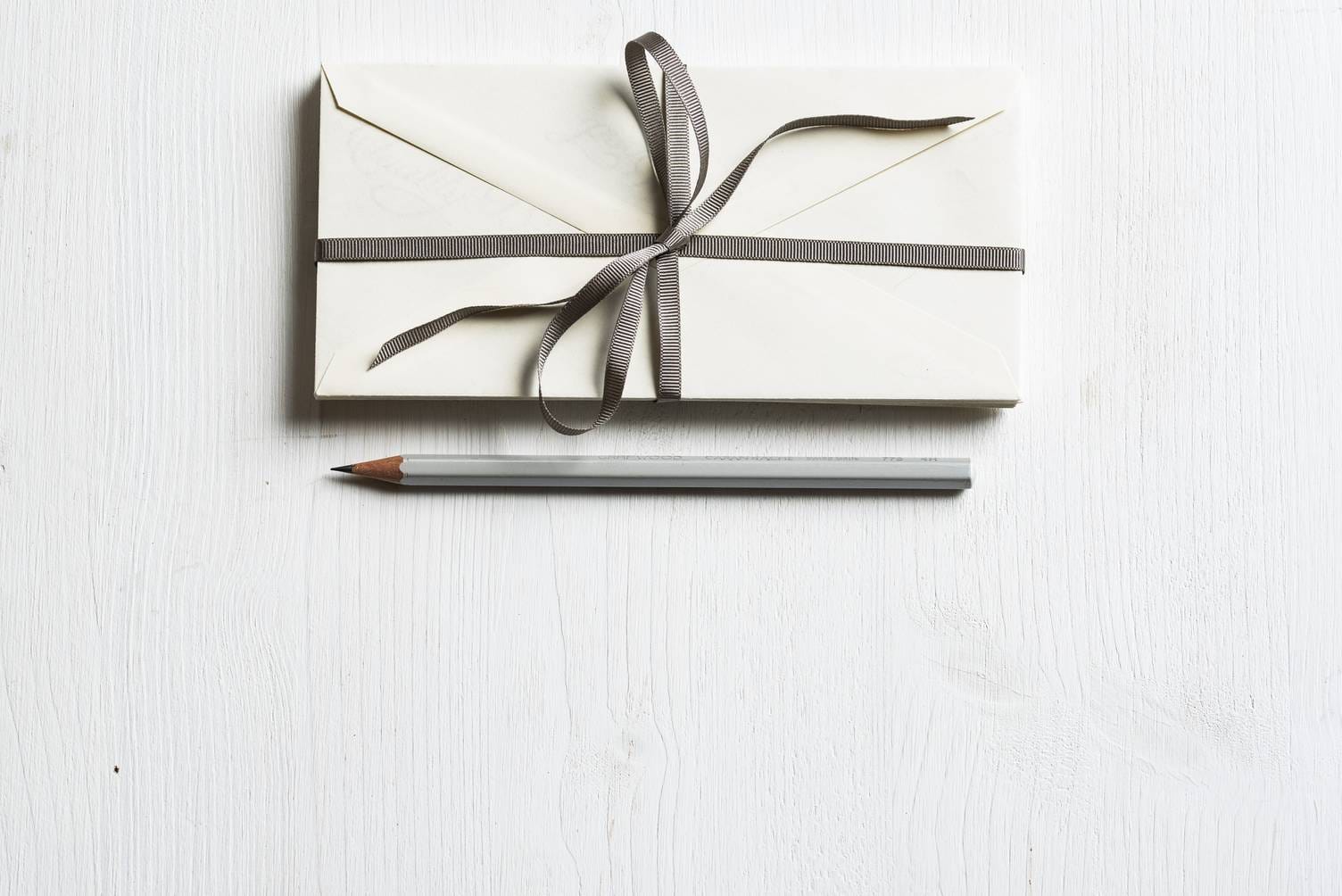 Here I am on Wordpress talking about how awesome Medium is.
Funny, right?
It's definitely ironic, but at the same time, cut a guy some slack. I still publish on Medium 3x per week, I'm just trying to bring more exposure to this amazing platform.
For anybody that doesn't know, Medium is like Twitter for writers. You can "follow" other authors, get their posts on your homepage, and even send them "private notes."
I know, it's like we're back in 5th grade passing pieces of paper to our crushes in class.
I got started posting on Medium in 2016, not thinking much of it at all. Nearly a year and a half later, I've built up a following of 19,000 and am one of the top 200 writers on the entire platform.
It's ridiculous. I get 70,000 page views per month, which dwarf the statistics I've ever received on this blog.
But I still haven't spoken about one crucial thing…
---
My Email List Grows By 600 Per Month
As you can see, sometimes it grows by upwards of 1,000 people per month–but I wanted to "average" out my earlier months to make this number a little more realistic.
This is sort of ridiculous, right?
As someone in my private FB group remarked, Medium is at the top of my funnel.
And it should be for you as well.
How can you see similar numbers? Let's get down to it..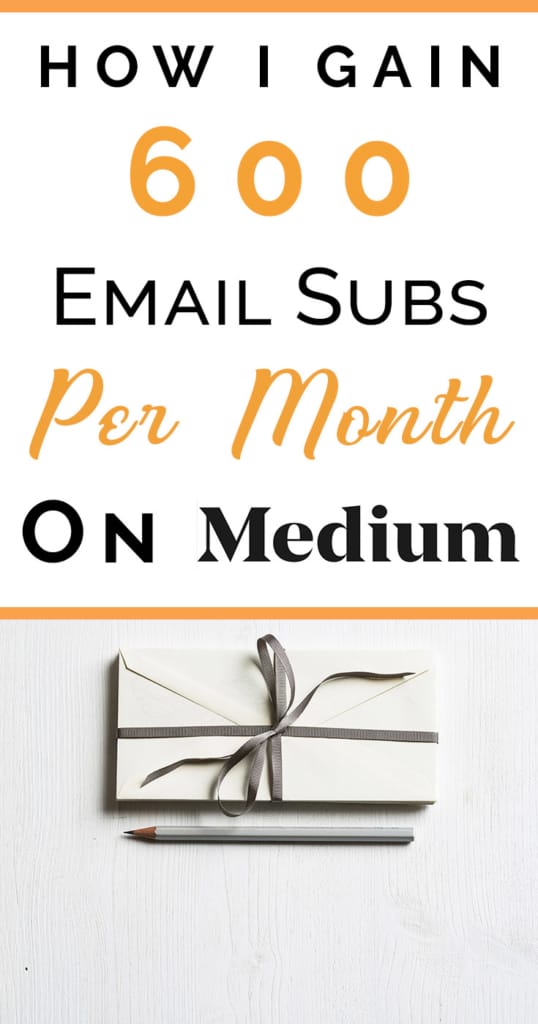 ---
Medium Is All About Publications
After you spend a fair amount of time toying around on Medium, you'll realize the name of the game is getting into big "publications."
Publications basically have their own "page" on Medium, and people can follow them just like they can  their favorite blogger.
After a while, pubs such as The Mission or Art + Marketing can build a pretty significant following. For instance, The Mission has over 400,000 followers.
Every time I post there, my stories get AT LEAST 1,000 views.
I know, it's insane.
But that's Medium, and that's also why many authors try to find any way they can to become a contributor to publications such as The Mission. 
It's basically like becoming a contributor to Inc. , except I think The Mission would actually give you more reach!
If you want to figure out how to get into bigger publications, and also learn a bit more about Medium, take my free 5-day email class!
---
Steady Posting Is Important, Too
I never fail to post 3 stories per week on The Mission. If I were just getting started on Medium, I'd actually be posting about 5 times per week.
But I'm not just starting. I've written a TON of blog posts, so I'm not about to flood Medium with EVEN MORE Tom Kuegler content.
But this is uber important.
More posts = more views = more email subscribers.
I'd recommend posting at least 3-5 times per week to any publications you can get into.
---
Always Include A Call-To-Action
One of the greatest things about Medium publications is they allow you to include a call-to-action at the end of your stories.
But only a small one.
I normally always end my stories with something like this:

And that's all you need to do. When you're getting 1,000 views for a story, expect about 20-30 new sign-ups from your call-to-action alone.
One other quick tip is to drop a link to your email sign-up landing page unannounced in the middle of your content. Don't even say it's a link to your email bribe, just drop it in where it makes sense.
I normally drop the link to my 5-day Medium email course whenever I talk about growing a following on Medium. This can easily drive a few more subscribers for you.
---
Linking In Your Bio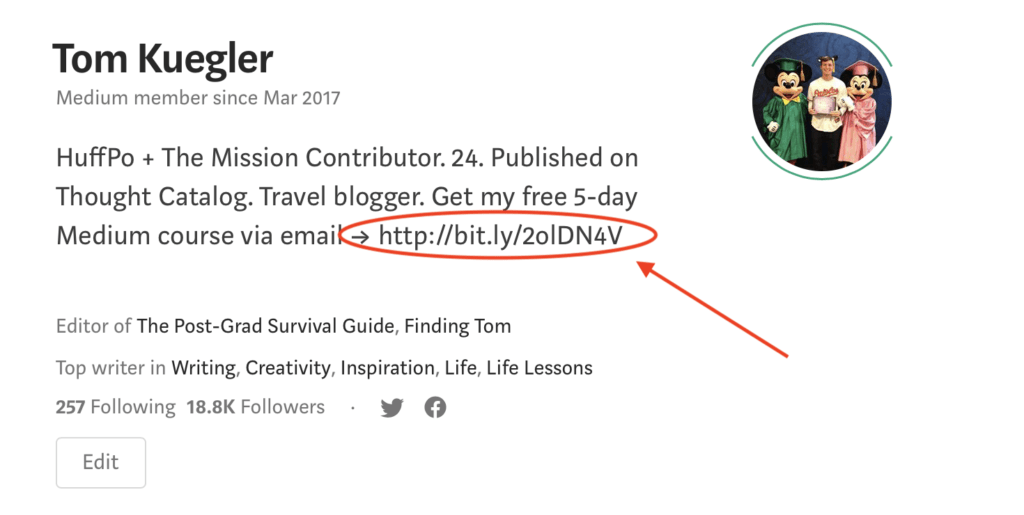 Medium does a fantastic job showcasing your profile before and after your story. They want users to know EXACTLY who wrote a particular post, which means a lot of people are likely to click back to your profile at some point.
Make sure to drop a bitly link in there to save character space.
This is an easy way to probably drive an extra 50-100 email subscribers per month depending on how much traffic your stories receive.
---
A Few More Things..
Medium is a powerhouse of a platform.
Like I said before, it should be a place that's at the very top of your marketing funnel.
You really need to get in right now, though, while it's still not that saturated.
It's so much easier to get views to your articles there than starting a WordPress blog from scratch.
I hope you give Medium a shot!
I talk a lot about blogging — could you tell? I actually have a free 5-day email course called "Your First 1,000 Medium Followers" that will teach you how to build an audience on Medium! Sign up for it right here.