Published on

Posted under
How I Made $6,052 From My Blog In March of 2018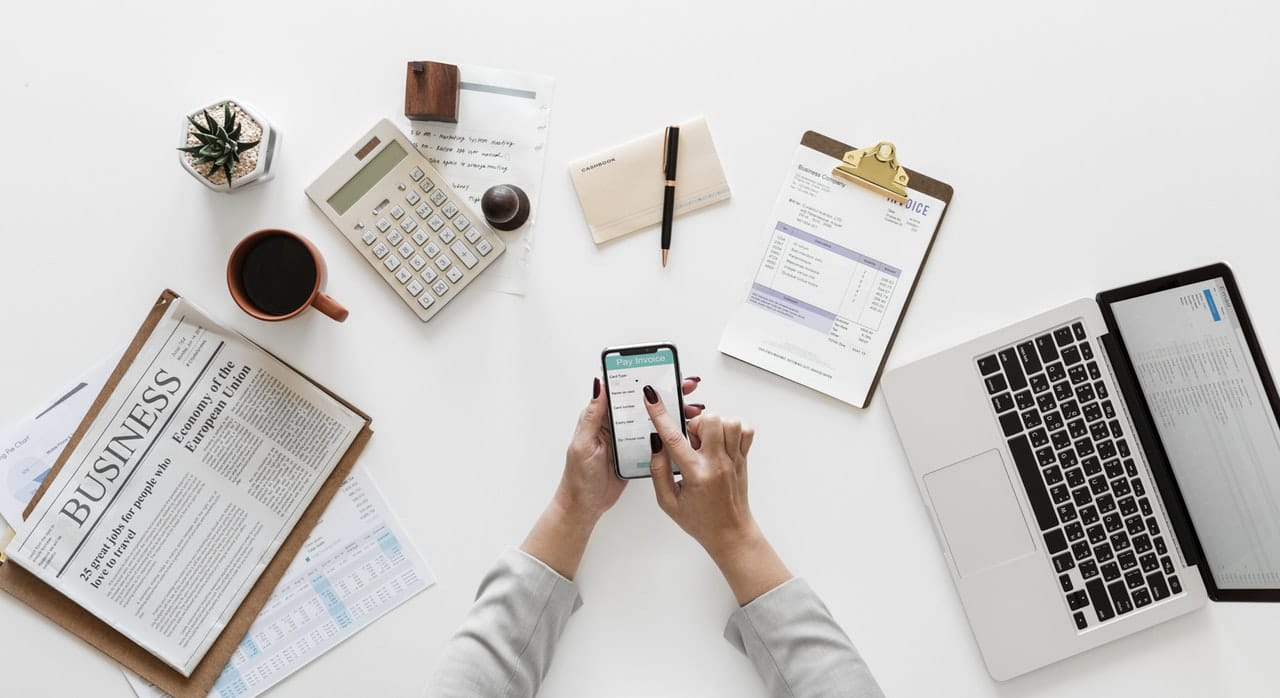 I've written over 500 blog posts the last two years alone, but I've NEVER taken a deep dive into my blog numbers like I'm about to do.
The truth is I've started to make pretty good money from my blog lately.
In fact, in March of 2018 I made more than $6,000 from my blog–and here's the kicker..
I didn't even have more than 1,000 monthly visits to my Wordpress blog then. Heck, I barely average more than 3,000 monthly visits right now!
So how did I do it?
Don't worry, this is not another one of those blog income report posts that boasts large numbers but then you realize most money was made via clients/freelancing.
I don't like those.
At any rate.. here's the two primary ways I made money with my blog in March.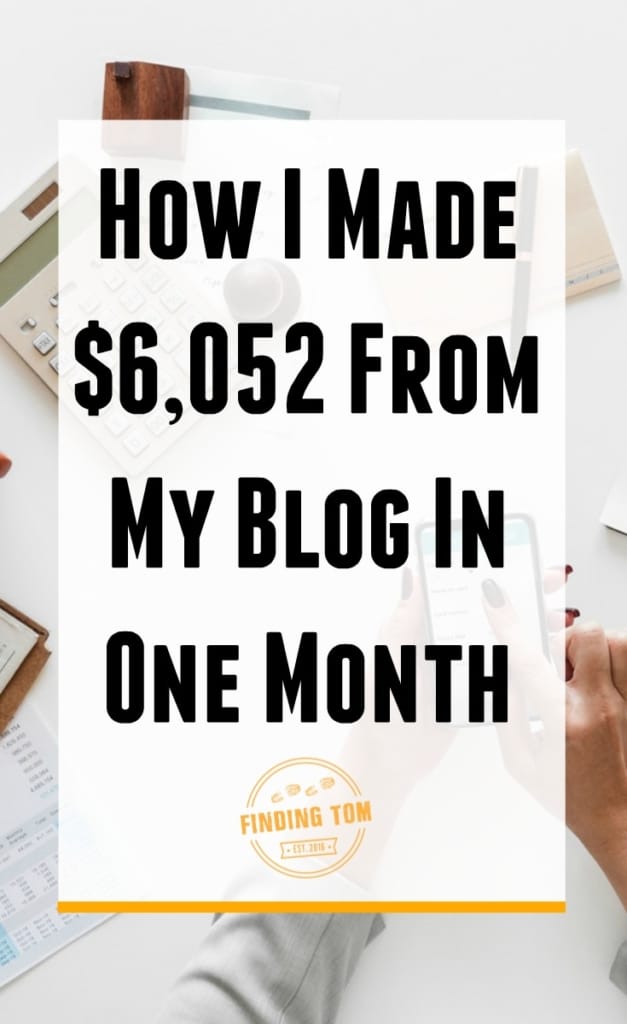 1. Virtual Summits
The lionshare of my income from March came from a virtual summit I put on. It was called the "Grow Your Blog" summit and featured 30 blogging experts from all walks of life. Chris Brogan was there, Michelle Schroeder-Gardner was there, and Dorie Clark even made an appearance.
I grossed $3,632 from my virtual summit and netted about $2,962 of that because of affiliate payouts I needed to make.
I actually talk about how I did that in another blog post / video. I'll spare my more loyal readers the re-cap and just link to both right here.
But to be honest with you, my virtual summit was a freak-event. I don't put one on every month, and most times I make most of my money via my next avenue..
2. Online Courses
Ahh, my Medium Mastery course! Over 60 people have taken this course since I launched it in November of 2017 and its been my biggest source of income as a blogger EVER.
Like, without this course I'd still be dead broke.
I made $3,090.50 with my online course in March off 27 sales.
The bulk of these "sales" were just monthly billings from students who signed up in January and February, but still, that's pretty darn good.
This is all great and everything, but to have a profitable course, you need a profitable sales funnel of sorts.
This is the part I get into the proper "How To" of this article.
How To Make Money With Online Courses In 2018
Okay, for those who don't know, here's the general gist of how to make money with an online course in 2018..
Gain email subscribers –> Provide Value –> Market/Put on a webinar –> Sell them on your online course in that webinar.
It's simple, simple stuff on the surface but is hard to actually implement.
Like, how do you get email subscribers with no traffic? To fix that problem, how do you get traffic? How do you write better content to get more traffic? How do you put on a good webinar? How do you come up with a good course topic?
The hardest part is coming up with a profitable course topic.
In the essence of time and your general sanity as a human being, I'll go over ALL this in a series of future blog posts in the coming weeks. It's honestly too much to get through and I need to lay the ground work first.
For now, let's talk about getting traffic.
How To Get Traffic To Your Blog (Without Pinterest or SEO)
First, when I say "your blog" I really just mean your blog posts. The way I've managed to get over 80,000 monthly pageviews to my blog has been because of a little platform called Medium.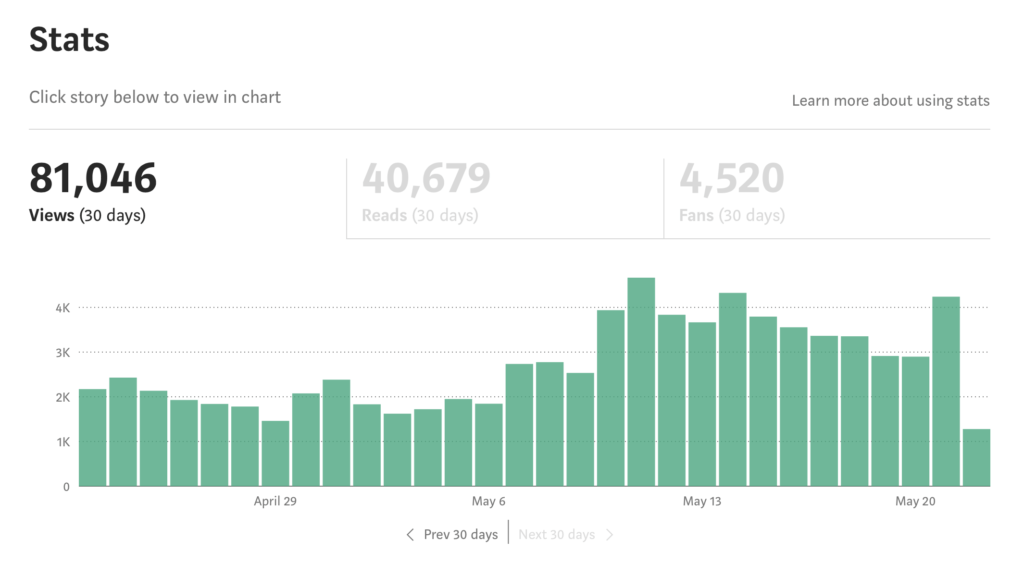 Say hello to Medium.
Medium is like the new girl/guy on the block that just moved in and is absolutely gorgeous. Then you realize they didn't just move in and that they've been in your neighborhood for years–you just didn't realize it.
That's Medium.
Above is a screenshot of how many views I get per month (just to prove it to you).
Pretty sweet, right?
And guess what? I did absolutely zero marketing with Pinterest to get that many pageviews. I've gone over how to get these sorts of numbers on Medium in other blog posts, but if you want a quick guide to getting your first 1,000 followers on Medium, I highly recommend just checking out my email course. I have everything beginners need to know right there.
I've found that for every 100 views, I get about 1-2 email subscribers. You do the math, but that means I'm getting anywhere from 700-1400 subscribers every single month.
Short answer? USE MEDIUM.
How To Turn Subscribers Into Webinar Registrations
I have an email course that people sign up for. Over a 5-day period, they basically get a lot of good information and insights into how to use Medium as a platform.
Then I have a special automation in ConvertKit that sends them an email a few weeks later asking if they want to come to my webinar!
Seriously ConvertKit, what would I do without you?
Mailchimp is great and all, but automations aren't its strong suit, so if you want to basically "set-it-and-forget-it," ConvertKit is the best option.
To give you a quick look at how solid this webinar is, I've put it on about 10 different times and I always get good feedback at the end of my Q/A sessions.
I used to use Webinar Ninja to put webinars on and it definitely worked for me with little to no problems. Pat Flynn also uses Webinar Ninja and I think it's perfect for beginners who want to put on their first webinar. It's pretty cheap and very reliable/intuitive.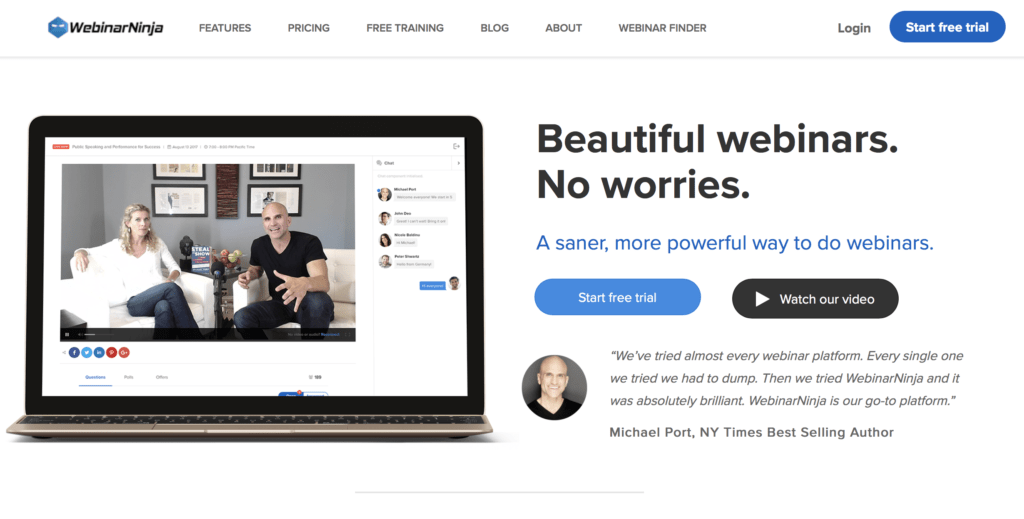 You should seriously consider Webinar Ninja if you want to put on a webinar as a beginner
To create my presentation, I just used Google Slides! It's easy to upload a powerpoint presentation file into Webinar Ninja, so I had zero problems there.
Oh, and if you want a more robust landing page creator, try Leadpages on for size. Webinar Ninja has an OKAY solution for this, but Leadpages is much better and you can easily integrate that with ConvertKIt so you can send registrants reminder emails before your webinar takes place.
Here's what my landing page looked like..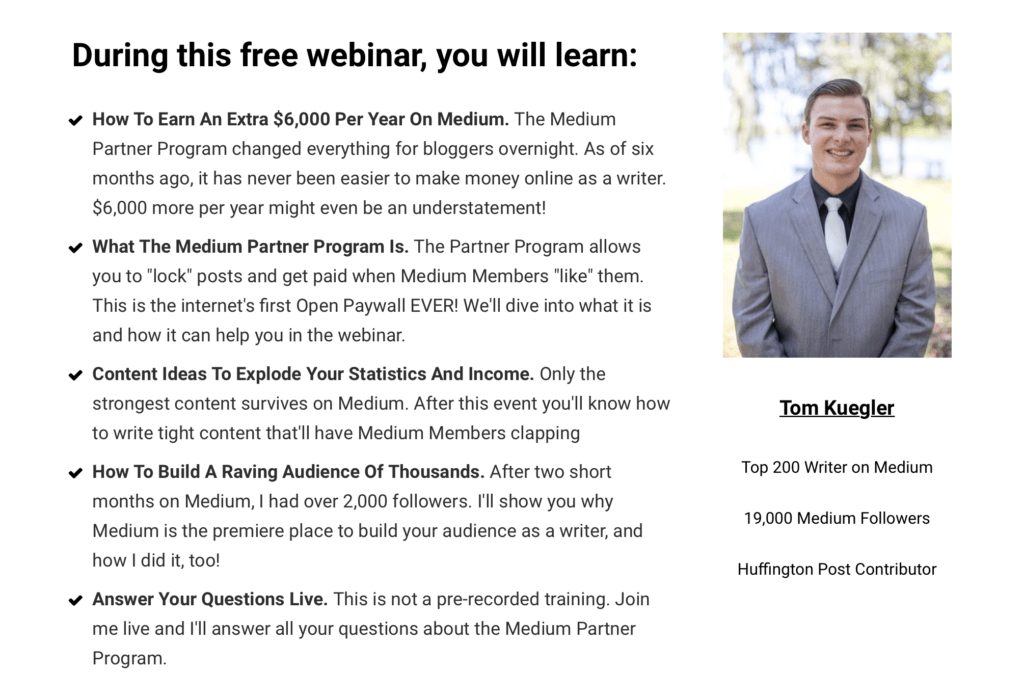 That's the basic gist.
I had about 12 course sign-ups in January and another 26-27 sign-ups in February. Most of these came from my webinar
To give you facts and figures, I drove about 603 webinar registrations in February and of those registrations about 177 showed up live. Another 179 showed up for the replay, so essentially 249 of my registrations didn't show up.
They say a 10% conversion rate on live webinars is pretty standard, so I did pretty well on that front.
27/177 = 15% conversion rate.
They also say a 30-40% show-up rate is standard also.
So if you get 100 people to sign up for a webinar, only about 30-40 of them will show up. Of those 30-40 people, only about 3-4 will buy.
These are just MY numbers for you so you know HOW I did it.
One more thing you'll need for your webinars is a place to drive students to so they can purchase your course. Back in 2017 I chose Teachable as my platform for online course creation and it was easily one of the best financial decisions I've ever made.
With Teachable you can create your own course and sales page, which is where you'll drive people to so they can sign up for your course.
Okay, I just threw A LOT at you. I hope this was good information and I hope it was beneficial to you all to see these statistics in action. Let me know in the comments if you enjoyed this and want more reporting-based stats articles from me in the future!
Want to build an audience of your own on Medium? I have a free 5-day email course called "Your First 1,000 Followers" that will teach you how I did it! Sign up for it below!
This post contained a few affiliate links. If you decide to click through and purchase any of the products I recommended, I'll receive a small commission AT NO EXTRA COST TO YOU.