Published on

Posted under
The Pacific Coast Highway: What You Need To Know

The Pacific Coast Highway was the most beautiful drive I've ever been on in my life. If I didn't physically road trip out to California, I probably wouldn't have been able to travel from Los Angeles to San Francisco by this route at all.
BUT. There's a few things you need to know if you're ever planning on doing The Pacific Coast Highway. I'm no expert, but I did make the drive and there's some things ya'll need to know before I get into any of the actual sites you need to see.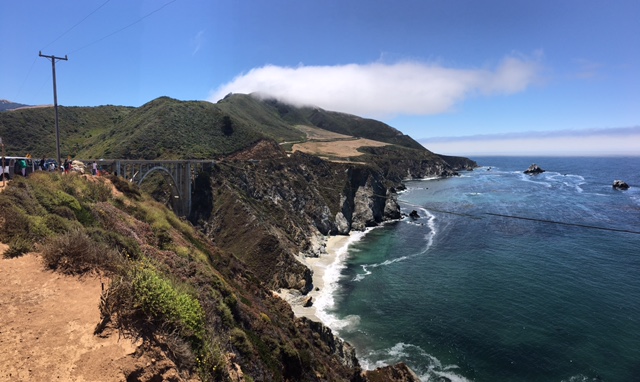 It Can't Be Done In One Day
Well, it probably could if by one day you mean 24 hours, but even then it would be a stretch. I left from Los Angeles at noon and didn't get to Santa Barbara until 4 PM. They're only 95 miles apart from one another. Which brings me to a quick sub-point:
The 'Los Angeles' section of the trip takes forever.
Don't underestimate how slow the Pacific Coast Highway can get–especially down near Malibu and Santa Monica. It took me two hours to get out of the Los Angeles area in general. So, if you're planning on doing the PCH, just keep in mind that the lower part moves very slow.
Beware Of Fog
This was a big mistake that I made. The fog rolling off the Pacific can impede your day, and views, big time. My tip would be to leave later in the day, as the fog starts to break around noon to 1 PM.
Maybe drive to Santa Barbara, stay overnight, see a few things, then leave around midday.
It's A Long And Winding Road
Unless you're trying to practice your drifting skills, the PCH isn't exactly the best road to drive recklessly on. And it's also kind of dangerous because while the views get better and better, the road takes sharper and sharper turns with it. So while you're peaking your head out to gaze at the scenery, you won't notice your car slowly running off the cliff.
Just be careful ya'll.
Things To See
Okay, my favorite part. Here are some stops that you need to make on your drive up the California coastline.
Malibu – You've definitely heard about this place, and it lives up to the reputation. I drove past so many gorgeous homes with foreign cars parked in the driveway that it was unreal. I didn't stop anywhere, so I can't give you many tips, but here's a nice website that'll do the trick for you.
Santa Barbara – I did stop here, but I was just getting In N Out. This is one place I wish I would've had the time to explore because it was freaking gorgeous. Here's some more information about it.
After Santa Barbara the PCH gets mildly boring. You get to drive through numerous crops for a while located in the middle of a constant string of mountains though. It's unreal.
Big Sur -Big Sur is one of my favorite places in the world, right underneath another location on this countdown. This area is essentially a span of cliffs overlooking striking beaches below. These beaches aren't the kind you'd see in LA though, they have jagged rocks out in the ocean, near the shore, and on the beach. It's an other-worldly place, and there's plenty of spots to stop and check out along this stretch.
McWay Falls – I actually saw McWay falls with my family three years ago. One tip is to wait for the fog to clear! If it's foggy and you're driving through here, don't even stop to see it because you won't be able to glimpse a thing.

Pfeiffer Beach – Okay, this is my favorite place in the entire world, sorry Disney World. Pfeiffer Beach is basically this cut away place that you might never even notice if you weren't already looking for it. It has pink sand, amazing rock formations, and a few trails to climb for better views.
I like it personally because of the rocks to climb. There's one rock you can scale that will lead you to the Pacific on the other side. If you're brave enough you can climb down and get sprayed by the waves that crash in. It's scary though. One slip-up and you're basically going to get slammed up against the rocks.
Bixby Bridge – Bixby Bridge is like that one ride at your favorite theme park that has no wait and you don't understand why. This stop is SUPER easy to pull off and see. In fact, it didn't even take me five minutes to pull off, grab a picture, then pull back onto the highway. It's a beautiful site.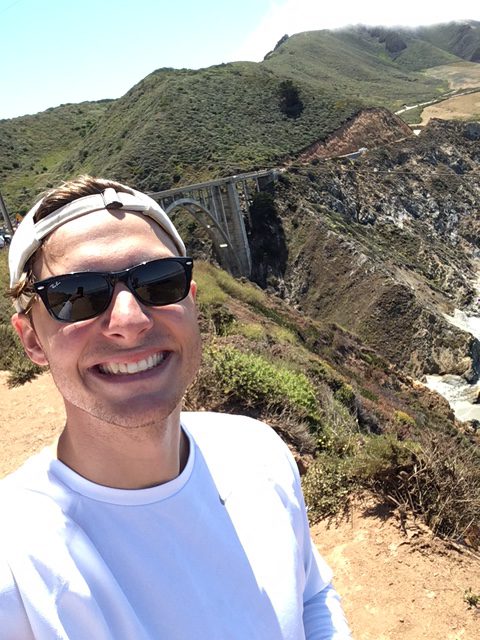 Monterey – I don't know much about Monterey or Santa Cruz, but once again, here's some information on these amazing places that'll help you out when you decide to do the trip.
On a personal note, the Pacific Coast Highway was kind of the culmination of my road trip from Orlando to San Francisco. It represented a lot of things to me. It was a revisitation of the place I visited three years prior that opened my eyes to how fulfilling traveling can be. I also decided to do the last leg of my trip on Independence Day–and I don't know what better way to celebrate independence than to travel.
But on the largest level I finished my trip doing what I had been doing for a month up until that point–driving. Driving will always hold a special place in my heart as an activity that has a lot of opportunity. It's up to you where to go, and absolutely nobody is stopping you from going.
Thanks for reading guys. Don't forget to subscribe and like my Facebook page if you haven't already.