Published on

Posted under
How Lidiya Went From Blogging Beginner To Generating Thousands Of Dollars With Her Website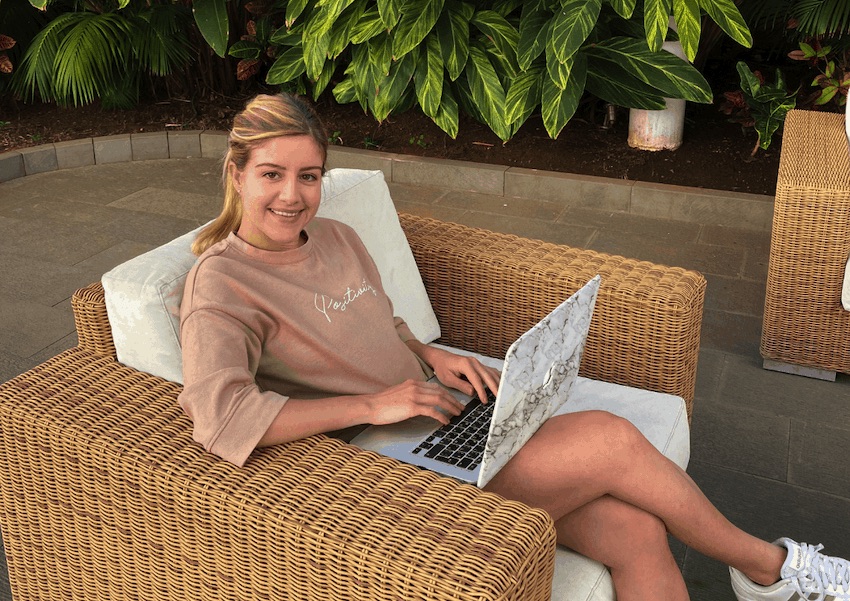 This is Lidiya Kesarovska from Let's Reach Success.
In 2013 she started her self-improvement website, Let's Reach Success, which, in 2021, has gone on to generate millions of visitors and thousands of dollars for her every single month.
I met Lidiya after doing a few Google searches and was quite impressed with how beautiful her site was, along with how she's been able to monetize her website entirely outside of a platform like Medium. You see, writers on Medium typically don't know how to monetize a personal blog.
Lidiya's done it. In fact, she's been able to create multiple income streams for herself.
She makes money with website ads, sponsored posts, online courses, and affiliate marketing mostly.
I'll try to get her onto Medium, folks, don't worry. 😉
This is an interview I did with Lidiya over email. Here's a few of my biggest takeaways that I want you to pay attention to:
Pinterest — Lidiya's managed to generate significant traffic from Pinterest to her website. Pay attention to her insights here.
Sponsored Posts — How do you even start making money with sponsored content? Lidiya's a master and will walk you through her process.
An Inside Look Into A Profitable Blogger's Mind — Lidiya was kind enough to talk about her plans for 2021 and beyond. PAY ATTENTION. It's not every day you get to see the decisions a blogger is making today that will no doubt reap rewards for themselves later.
Here's a few important links I wanted to include before we got started with the interview:
Where Can You Find Lidiya?
DISCLAIMER: This is NOT a sponsored post. I love Lidiya and found her blog online after some Google Searching and asked if she'd like to be interviewed for my blog. She agreed. This is just some good old-fashioned transparent blogging advice I think you'll find ridiculously useful.
1. When you first started blogging, what kinds of people did you want to speak to? What was your message?
When I started my blog Let's Reach Success, I knew absolutely nothing about the blogging industry, or online business in general for that matter. I simply wanted to write on the topics I'm passionate about. Back then that was anything related to personal growth. Now, my main categories are Business, Blogging, Financial Independence and Lifestyle Design. Basically, I'm always documenting my journey and sharing what I learn along the way.
So there wasn't any goal behind the blog in the first 2 years in terms of targeting a specific audience or monetization. I was earning as a freelance writer on the side and was publishing a lot of content on the blog, which naturally attracted some readers and they began engaging with the blog posts. That inspired me to learn more about the publishing industry and blogging in particular and see what I can improve to turn this into a business.
Soon, I started treating my blog as a business and things began happening. I invested in a better hosting provider as well as other tools. Started experimenting with ads and affiliate marketing, optimizing my content for search engines, promoting it on different platforms, etc.
I was targeting anyone interested in personal growth then, there wasn't a specific group of people that I was speaking to. Unlike now when I'm mostly targeting women who want to build an online business, or female bloggers, coaches and content creators who want to grow their existing business and align it with their true purpose.
As for the message behind my content and anything I do online, well I've always wanted to inspire and educate. I believe we all have unlimited potential, we can all change for the better, get out of the system and become self-employed. From then on, we can strategically create not just an aligned business but the exact lifestyle we desire.
2. How many blog posts do you typically publish per month?
Things have changed a lot since the early days of my blogging journey. I'm now focused on creating and selling online courses, podcasting, growing my email list, building my brand, etc.
But whether it's blog posts or another form of content, I always believe we need to show up at least once a week with a new, valuable piece of content. Currently, for me that's a new podcast episode (which is also published as an article on the blog so both readers and listeners can enjoy it) or a new interview with a business owner.
These are the most valuable posts I create and sharing them with my audience on social media and via the weekly newsletter is how I serve my people on a weekly basis.
One of my main blog income streams is sponsored content so I also publish articles sponsored by brands. These look like any other blog post, still provide value, but just include a link to the client's website. So that's new content too.
In the past, I also accepted guest posts and have published many, many of these. So there was always fresh content to share with my audience even if I didn't publish anything that week.
3. You talk a lot about the different income streams you've created. If there was a pie chart showing how much you made with each different stream as a percentage, what would that look like?
The biggest part of my income comes from sponsored content on the blog, next is ad revenue (which is passive income and directly related to traffic).
My 2 other income streams are affiliate marketing and selling digital products, and these 2 are what I want to turn into my main sources of income, actually.
I break down my monthly earnings and expenses in my blog income reports, which can be found here. I don't publish these anymore but the ones you'll find are super valuable and show my journey to $5K months as a full-time blogger.
4. What's been the biggest traffic generator for your blog? SEO, Pinterest, etc.?
SEO was always my top traffic source. It's thanks to all the content I had published over the years and the SEO knowledge I'd gained (completely self-taught) that I was able to grow the blog traffic.
Most of my traffic to this day is coming from some of the top performing pages, which are articles published years ago. That's the beauty of organic traffic and that's why every blogger should create long-form, well-optimized content.
Later, I started paying more attention to Pinterest as it's a goldmine for bloggers. In fact, it's probably the easiest way to get a lot of traffic quickly to a new site.
I took a course, learned all I could about the platform (it's more of a search engine than a social media channel and that's why I love it) and started gaining traffic.
Thanks to SEO (long-term traffic which takes time) + Pinterest (short-term traffic), I was able to grow the blog to 100,000 monthly page views, which directly grew my ad revenue.
5. Is Pinterest worth it? I tried a few years ago to get traffic there and never found much success.
Absolutely! In fact, let me share something I did recently that's the only proof you'll need.
I'm now more of a course creator rather than a blogger, so I was looking for things to outsource related to the blogging business. I've never hired anyone else before, but I just did my first hire 2 months ago and it was a Pinterest Manager & Strategist.
She is amazing and as I simply didn't have time to manage my Pinterest account, create new graphics and follow trends as the algorithm is often changing, I wanted to leave that in the hands of someone specializing in exactly that.
But of course, you don't need to outsource it. I'm just saying how powerful that platform is and the fact that I still haven't made the most of it all those years.
But for any blogger who wants to try it out, go ahead and create your Pinterest business account and boards. Use Canva to create beautiful Pinterest graphics for each of your posts, optimize them and share them. Learn what you can about the platform, create multiple Pins for each piece of content to have a better chance of ranking, schedule them using a tool like Tailwind, and make sure to follow the best Pinterest practices. I've outlined them here.
6. Sponsored content seems to be a big revenue generator for you. Can you break down how you go about partnering with sponsors?
That was something I never expected or planned, actually, but yes, indeed it turned out to be my biggest source of revenue for so many years. While there are plenty of strategies and steps I can share about affiliate marketing and selling digital products, for blog sponsorships it comes down to this:
First, build an authoritative site. Domain Authority matters here and many elements play a role in it (traffic, enough content, site speed, on-page and off-page SEO, backlink profile, etc.)
Building a presence on other channels matters too. Having an email list as well as an audience on one or more socials will help.
Then, let others know you're open to sponsorships. Eventually, brands will contact you, but for a start, have a page for sponsors on your blog, get your media kit ready and join marketplaces for bloggers (platforms that connect publishers with brands). Even if you don't get an offer any time soon, you'll be on the radar of brands as they are constantly looking for bloggers to partner with.
Then, you can prepare a pitch and contact the team behind any tool you're using, product you've tried or brand you love and that you'd like to partner with.
Then, you can find lists of similar companies and reach out to them too.
That's basically how you get in the game, see how the industry works, decide your rates, make your first money from blog sponsorships, and form connections (which might mean regular orders later on).
7. In a typical partnership for you, what kind of content do you create for your sponsors? What work do you need to do to fulfill your end of the partnership?
I offer different packages but now it mostly means someone contacts me, I share all the details and conditions and decide if they are a good fit. We both decide on a topic for a blog post suitable for my audience, and they deliver the content.
I review it, get paid in advance and publish it (and make any necessary changes).
But things definitely weren't like that back in the days. I didn't have any confidence in myself or my platform and was letting others decide my rates and the conditions. Now, it's all up to me and I say No 90% of the time, so I can only work with those willing to meet the criteria.
8. You mentioned in your October report that you've started breaking your weeks down into doing specific things all day on any given day. For instance, Monday is about mindset where you journal, take courses, research, etc. How are you finding this workflow so far?
That was a fun experiment and it worked well. I don't do it anymore which only goes to show how much flexibility there is in this business model, and that I'm changing all the time.
When I was theming my days, my focus was on Digital Products, Email Marketing and Branding. 3 aspects I had been overlooking up until that point. So I had to make many changes in my mindset and workflow, one of which involved having days of the week dedicated to each of these.
This allowed me to see progress faster and be laser focused on one aspect for the whole day. So theming my days definitely served its purpose. Now things are different again and that's okay.
9. You've recently started a podcast. How has that been for you? What's your goal with the podcast in 2021?
Starting the podcast was one of the decisions I took related to the 3 things mentioned above that I wanted to improve — Digital Products, Email Marketing and Branding. These were my stepping stones to growing my business in the direction I wanted, I just started targeting ambitious women who want to build an abundant business and was back on Instagram, so podcasting was something that made total sense.
I still write all the content for each episode and share it as an article, it can rank organically, and the readers of the blog can still see new posts. But there's also audio content and I know many people prefer that over reading. Not to mention I myself became a bigger podcast listener than ever in the last 2 years.
The podcast was also a way to not be in the role of a full-time blogger anymore and remember there's a bigger thing going on — serving people on different platforms, in different formats, building my brand (as I was hiding way too much before that), using my voice, and sharing topics related to building your dream business, spirituality, mindset, strategies, etc. That's an interesting combination of topics and I'm really passionate about it, so getting podcast episodes out is super fun.
10. What are some of your favorite things to do when you're not working, and how do you avoid working too much as a blogger?
Haha, yes! My work is so closely related to my lifestyle that oftentimes it's hard to stop. But I had my hustle seasons, especially when I was transitioning from a freelancer to a blogger.
That was challenging and it required huge mindset changes. It's similar to going from an employee to a business owner, I guess. You can start a business but you might create yet another 9 to 5 job for yourself because you're thinking like an employee. So I had to go from the freelancer mindset to the blogger mindset. Now that's in the past and I'm truly grateful.
I am able to work less these days because I did the work then — I created passive income streams, I learned all I could about blogging, and now I mostly manage things and keep creating content weekly.
The work I do now is related to my new direction — an online course business. That's so interesting and requires so much new knowledge and business activities, that there's always something to do :)
I don't need to have full workdays, though. I structure my days and weeks depending on social life or anything else I have to do outside.
I do have weeks where I'm super motivated, such as when creating a new course, during a launch, etc. so I forget about everything else and let my creative juices flow.
After that, I can relax more and complete other work-related tasks.
Another thing that allowed me to step away from the hustle mentality (which I believe is necessary for a bit, though, as it helped me build discipline) is the fact that I got into spirituality.
I saw that 90% of business is inner work so I stopped seeking the perfect strategy and following all the shoulds, I started tuning into my intuition as opposed to always listening to logic, I allowed space in my business, let go of anything that wasn't serving me, analyzed the causes of fear and discomfort related to selling and marketing, etc.
I also got into personal energetics and learned a lot about myself in a whole new way, which explained a lot. This brought alignment and abundance into my life and business and I basically stopped resisting change, welcomed more flow and ease into my work and life, and most importantly — I feel good all the time.
11. Talk a bit about your mission and how you've niched down and gotten really focused with WHO you're talking to. Why is this so important to go more niche in the blogging world?
I always knew niching down was important but I had no idea what to do. Which just means I wasn't ready for it and that's okay.
It wasn't until the beginning of 2020, when I started questioning everything I was doing, re-evaluated my whole business model, took some amazing business courses, and wanted to have an actual brand and to only serve those I can help the most, that I narrowed down my ideal students. And I say students as this change was inspired my the online course aspect of my business.
There can be many readers of the blog, many email subscribers, but those I can really touch are the ones who want to dive deeper into my work and that can happen through my courses. So I wanted to know who that ideal student is and create programs with them in mind.
Once I did, things became much easier.
Many people are afraid that if they niche down, they will turn half of their existing audience off or will miss out on opportunities. But that fear itself is not the lack mentality you want in your business or the energy you want to create content from.
Once I niched down, no one complained. Anyone can still benefit from my free content and enroll in my courses. Just my messaging changed as I know who I' targeting and this allowed me to achieve more consistency and alignment. And I've seen many other entrepreneurs experience the same.
So, don't be afraid to niche down.
12. Where do you foresee yourself in the rest of 2021 and beyond? What projects/products/platforms will you take a look at?
Here's the vision in a nutshell:
Create more and better programs to have an aligned product suite (where no 2 programs will be the same, each will complement the next, and can turn one-time students into regular clients)
Get better at sales and marketing
Get better at launching (that's a whole new game, haha!)
Invest in my biggest course so far (that will be next month) and implement all I learn from my mentor
Create webinars + improve sales funnels to be able to sell programs passively
Work with affiliates (I have an affiliate program but am not actively managing it. In the future, there might me an Affiliate Manager helping me as that's a lot of work but the ROI can be crazy.)
Get to a point where most of my income is coming from my products (and maybe remove ad revenue and stop doing sponsorships at that point)
In terms of revenue, there will be six figures in the near future.
All these are related to the strategy and the scaling, but one thing is sure — with anything I do, I provide value (that's why 90% of my content is free and always will be) and want to serve better.
I will also keep investing in my own education, working on my personal and spiritual growth, and sharing the results.
13. Last question — Why the Netherlands? 😄 (I'm sure it's great and just want to know what was the specific draw was for you — I can't wait to visit one day)
Relocating to the Netherlands was probably the biggest lifestyle change I've made. It's thanks to my business income so I'm super grateful for that.
As to why this exact country, well I definitely wanted to move out of my home country (Bulgaria) and start from scratch, I still wanted to be in Europe, and the Netherlands is where I was called to move in.
It was one of the best decisions I've ever made and it still feels good here. But for the first time, I'm actually saying I'm open to something else. So we will see how things go in the future.
Conclusion
We hope you loved this interview with Lidiya Kesarovska from Let's Reach Success. Who should we try to interview next? Let us know in the comments. :)